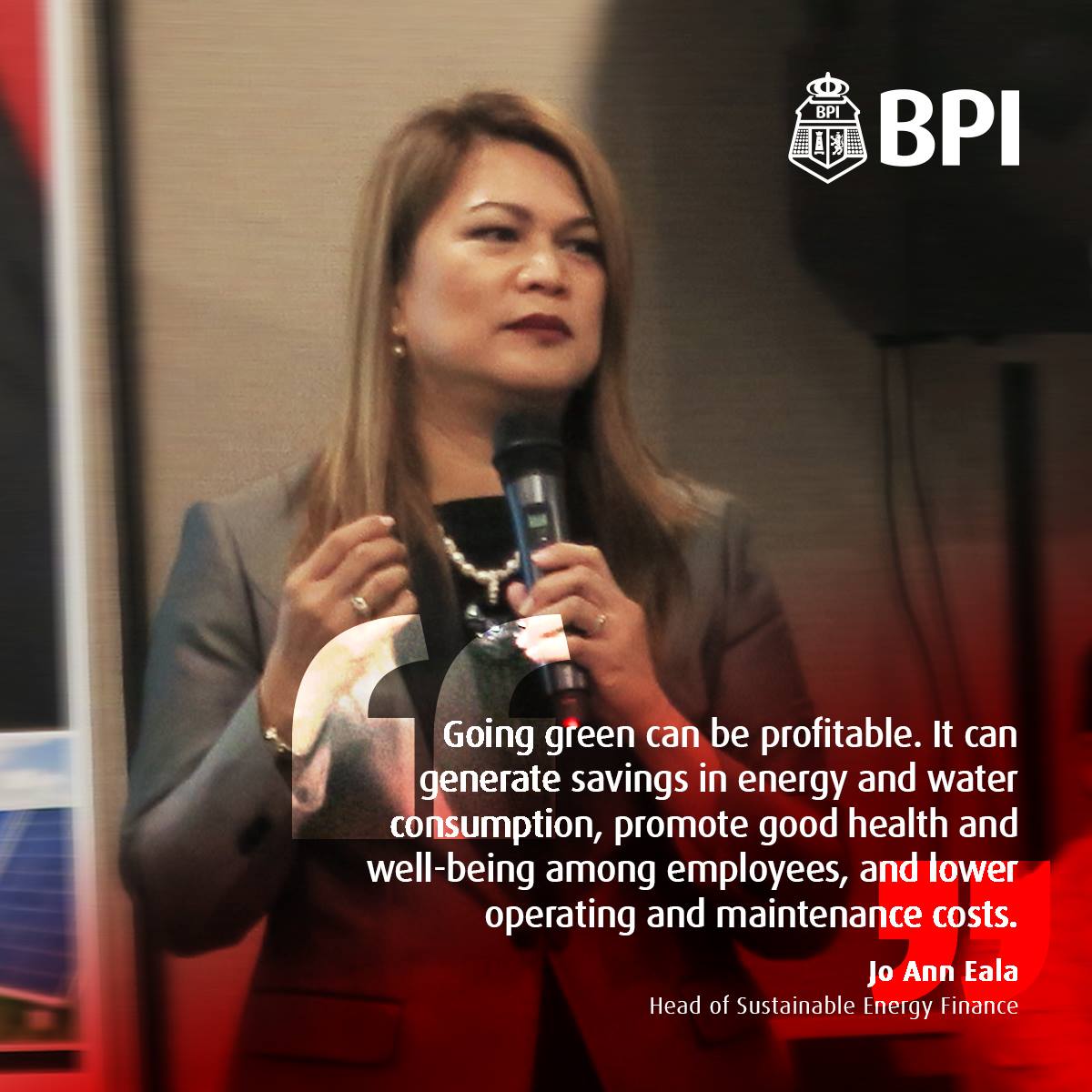 Real estate businesses can be made more profitable through green financing,
according to Bank of the Philippine Islands (BPI).
BPI's green financing program can help businesses adhere to the regulations of the Philippine Green Building Code (GBC) enacted in 2016, which mandates resource efficiency in building design, construction, and operations.
Businesses who continue to fuel the growth of the real estate sector with their demand for buildings and office spaces can turn to more eco-friendly practices and raise their profitability by thinking green, said the BPI report.
BPI Sustainable Energy Finance Head Jo Ann Eala said green financing is not merely a laudable or noble idea that can help save the environment, or something that looks good in the annual report.
"Going green can be very profitable. It should be part of long-term planning not only for the environment, but also for businesses who want to be around for generations. Green building innovations generate notable savings in energy and water consumption, promote good health and well-being among employees, and lower operating and maintenance costs," Eala said.
According to the Department of Energy (DOE), account for a significant 36% of national energy consumption. The country's Greenhouse Gas (GHG) emission levels are expected to escalate if more businesses and real estate companies erect more buildings without regard for the environmental impact of these structures.
"Green buildings, while part of the global view to create a sustainable society, are still considered merely 'nice-to-have' by many businesses in the country. That view is slowly changing with the strong business case presented by green financing," said Bank of the Philippine Islands (BPI) Head of Sustainable Energy Finance (SEF) Jo Ann Eala.
Some of the Green building innovations cited by the BPI report:
1. energy efficiency (e.g., LED lights, inverter aircons/efficient chillers)
2. renewable energy (e.g., solar on the roof)
3. water efficiency (low flow faucets and showers, dual flush systems)
4. climate change mitigating initiatives (using low carbon footprint materials)
"Some people think that mere adoption of these innovations will suffice. Through our certified consultants, we help project owners and managers to see the quantitative impact on capital expenditures as well as operational expenses as each innovation is implemented in the project," added Eala.
BPI reminds businesses to consider the regulatory implications of not going green. Among the Philippine Green Building Code's six components are — energy efficiency, water efficiency, solid waste management, material sustainability, indoor environmental quality, and site sustainability.
Facebook Comments