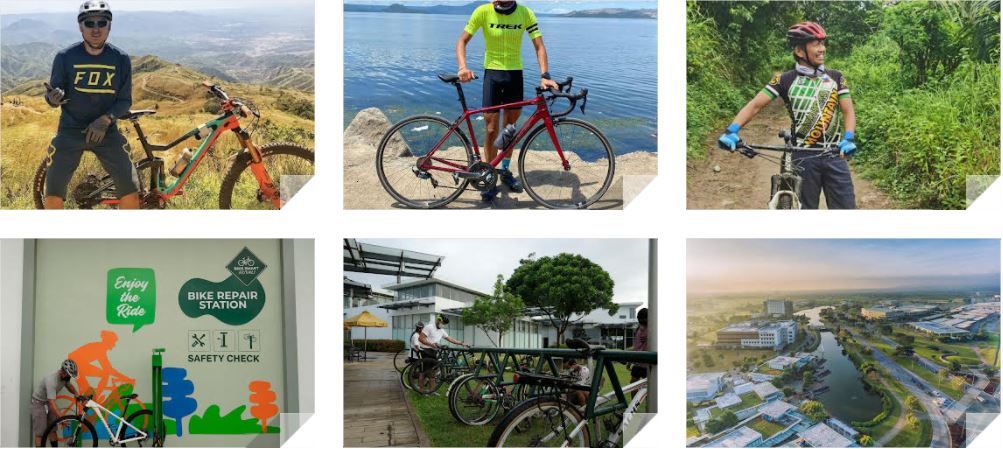 A responsible biking program is being pioneered in the Philippines' Ayala Land Nuvali community, a favorite destination of bikers.
As the country continues to adapt to the implementation of community quarantine protocols, people find themselves in a state where maintaining physical fitness and mental wellness is even more critical. Personal efforts in keeping a fit and healthy mind and body include biking.
Thus, Ayala Land endeavored to pilot a Bike Smart Program in Nuvali, Laguna, one of its established estates where there are 45,000 bikers monthly. The program institutes guidelines and governs the biking community within Nuvali, to make it not only a bikeable city but more importantly, promote a positive biking community culture.
Nuvali is a popular and preferred biking destination in the South. Its beautiful outdoor landscapes and open spaces, wide roads, and close proximity to long-distance bike ride destinations such as Tagaytay, make it the go-to place for leisure biking. Whether for trail use or just leisure rides, Nuvali became a natural choice for fitness aficionados from different parts of Luzon, experienced and novice bikers alike.
The Bike Smart Program will debut in Nuvali but will soon be rolled out in all of the Ayala Land Estates, including Vermosa in Cavite and Arca South in Taguig.
The Smart Bikers Program
In an effort to instill a sense of responsibility among the biking community, Ayala Land's goals are geared towards promoting a responsible biking culture in all their estates.
To better understand the situation among the residents, the biking community, and the car riding public, Nuvali Project Development manager Mark Manundo shares, "We decided to do a focused group discussion amongst bikers and the residents. We learned from that session that the main problem is a number of bikers do not follow the proper etiquette on the road. At the same time, some car riders also need to be courteous and give way to these bikers."
This program aims to educate bikers about biking etiquette and advocate safe riding in the estates and ultimately, everywhere else they go. "We have seen the importance of knowing the proper etiquette on the road as a biker. This will prevent accidents and avoid conflicts on the road," he continues.
Athlete and cyclist Miko de los Reyes says it is a vital task to focus on biker education. He continues, "especially for the newbies, many of whom may not be aware of proper road etiquette."
Bikers should maintain a conscious effort to be aware of their surroundings whenever they bike. Endurance athlete and coach Ige Lopez explains, "Cycling can be fun but you have to be responsible enough to know your limitations and your skill level as well as how to co-exist in a 'bike-friendly environment/city' by knowing the rules/safety etiquette and basic troubleshooting of your bike."
To ensure a harmonious sharing of the lanes with the car riding public, Coach Parabanne "Bans" Mendoza encourages bikers to be mindful, "Most of the time, a rider forgets to be mindful of other road users or the surroundings. Reaction on the bike is important and dependent on what is happening around you to avoid being in an accident or causing an accident."
With the hope of enjoying the biking areas now and in the future Erlan Olavere of Xikad Cycling Club shares a quote: "Leave nothing but bike tracks, take nothing but pictures, and kill nothing but time!"
Responsible biking starts with you
Follow Road Signs- As bikers share the road with other motorists and pedestrians, it is essential to understand and follow road signs to ensure everyone's safety. This is alongside the use of proper hand signals when turning left/right, stopping, or slowing down.
Wear Proper Safety Gear- Road mishaps prove enough that wearing safety gear is important. The head should be protected using the correctly sized helmet. The eyes should be protected by eyewear from the glare of the sun or debris. Reflective gear is also advisable so bikers are visible to other riders and drivers, especially at night. The feet should also be protected by proper closed shoes. If possible, a bag or box of basic tools and bike lock should also be brought. Bringing along extra clothes may sometimes be necessary depending on the biker's trips. Lastly, bikers should carry any form of hydration to help them in tough road conditions.
Share the Road Responsibly- One should know the etiquette on the road and the different guidelines and road safety rules for cyclists of different establishments and cities. It is important for bikers and joggers to stay in one line for safety as they share the road with the car riding public. Bikers should be aware of their surroundings as they pass different roads and establishments.
Gearing towards a safer biking community
Through the 42.1 km bike lanes along Nuvali's main and connecting roads, Bike Smart paved the way for bikers and the car riding public to exist harmoniously. To ensure road safety, new signages were put up along with "sharrows" or shared right of way markers on the shared roadway lanes. There is also a designated bike path with a separate area allotted for off-road biking that is pedestrian and jogger-friendly.
The program is inclusive of assistance to the biking community to make their biking experience in Nuvali a breeze. To provide ease to the bikers, various amenities were made available for public use. Nuvali's patrons may delight in the free use of bike racks around the estate.
In need of a quick fix? Nuvali also has an available bike repair station in place at Solenad 1 and in Camp N. Further, Nuvali boasts of a Post-Crash Emergency Response Service as additional assistance to the bikers. The estate is manned with courteous security personnel, as well, to help with directions around the area.
Biking in Nuvali
Whether you are a beginner or a seasoned biker, you can enjoy the ride at Nuvali. With remarkable tracks that offer majestic and scenic views, Nuvali offers both off-road biking and running trails to its patrons. It is also a perfect destination for rest and relaxation as it is embraced with lush greenery surroundings.
If you are new in the biking community, Nuvali offers a safe biking venue for training. Camp N Trail System is Nuvali's ultimate destination for aspiring and advanced bikers. It is an excellent adventure zone with obstacles and challenges to test one's physical limits and mental abilities, with features like the 8-kilometer trail that serves as an introductory trail for mountain bikers. Camp N offers Beginners' Bike Skills Training to hone newbies' general biking skills. From its launch in November 2020, it has served over 10,000 bikers despite the lockdowns.
Camp N operator Mon Jocson talks about why Nuvali has stood out as a prime destination for bikers. He shares that one of Nuvali's DNA codes is cycling, "I am glad that they built the necessary infrastructure to accommodate all types of riders. It's so inclusive. They have paved, well-maintained roads, and they also have Camp N to offer singletrack trails for all levels of mountain bike riders," making Camp N one of the reasons why cyclists travel to the South to experience prime outdoor adventure.
More bike-friendly spots in the Philippines include the Bambike-led tourism spots in the walled city of Intramuros in Manila and the island of Guimaras, and the SM Supermalls.
Good News Pilipinas is celebrating its 15th Anniversary in 2021 by giving away prizes! Subscribe to this website and  Good News Pilipinas! TV YouTube channel and enter the raffle by telling us what you like about our stories in an email to editor@goodnewspilipinas.com
Facebook Comments