Sohoton and Panhulugan Caves have been the prime tourist destinations in Basey, Samar but unknown to many the same caves served as shelters for local families when the Yolanda supertyphoon hit the province in November, 2013 and Ruby in December, 2014.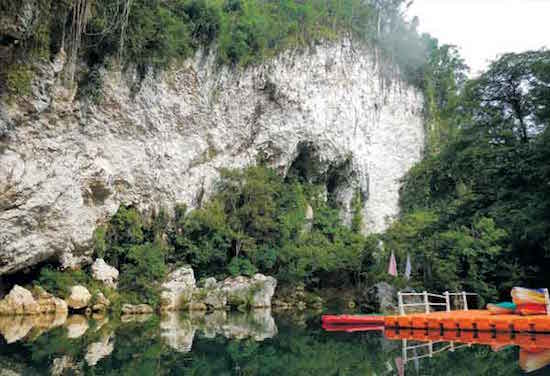 The two strong typhoons damaged homes and livelihood, with Yolanda packing 315-kph winds and Ruby causing Cadac-an River to overflow. However, Barangay Guirang in Basey posted zero casualties.
The secret to the village survival? Its caves.
Visitacion Colinayo, chairwoman of the barangay, orchestrated the relocation of the village folk to the caves anticipating the storm damage. Colinayo said she had the caves set up as evacuation centers with generators, water, dried fish, canned food and rice.
Around 195 families were reported to have sought shelter inside Sohoton Cave's 16-foot-high cavern. Sohoton is reputed to be Southeast Asia's 3rd largest cave which can fit at least 500 persons.
The villagers stayed in four Basey caves for at least a week while their houses were being rebuilt.
When the Provincial Disaster Risk Reduction and Management Council (PDRRMC) came to the village to take them to a different evacuation center, the locals declined the offer and stayed in the Samar caves.
"We didn't have to worry despite the strong winds outside or the rising waters from the river below. The cave was high enough and its sturdy walls kept us dry and safe. It was better than staying in an overcrowded evacuation center," Chairwoman Colinayo told the Philippine Star.
The caves of Barangay Guirang were not the only safe havens for villagers during typhoons. There were reports of Sikob and Tarambungan Caves in Guiuan, Eastern Samar used as shelters for evacuees.
Facebook Comments