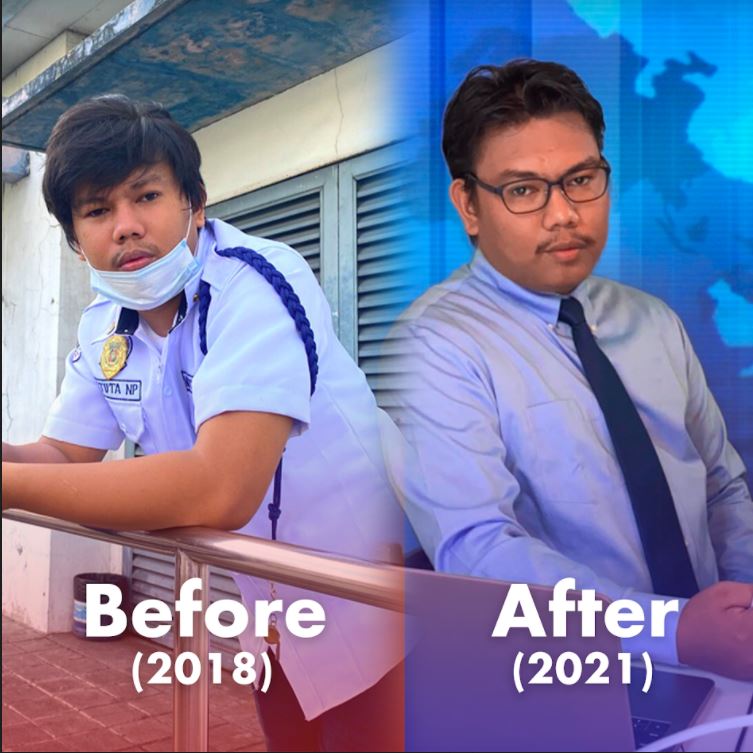 The arrival of the pandemic in early 2020 brought a wave of hardship for most Filipinos. But for a security guard at a Mandalupa City radio station, it brought a career-changing opportunity, as well as a new direction for a long-running local news show.
In March 2020, Al-Nasser "Nash" Joaquino, 23, had been working as the night-shift security guard at Bictor Arnas Dy Broadcasting Center in Barangay Silaway for about two years when the host of the radio station's morning news show "Tito Mike" Reyes, delivered some bad news.
Reyes, 52, informed the station that he would be going into isolation indefinitely to protect himself against a possible coronavirus infection and would not be able to continue his show-hosting duties until the pandemic is resolved.
Unsure of how to proceed, the show's producer and co-owner of the station, Marivic Arnas, looked around for a replacement host in a last-ditch effort to save the show, Flash Patrol, from being pulled off the air. The rest, as they say, is history.
Even today, going into another round of Enhanced Community Quarantine in August 2021, Kuya Nash continues to serve as Flash Patrol's folksy, irreverent, and lovable host. Despite the security guard not having any prior experience in broadcasting, Arnas explains that it's exactly that quality that has helped Kuya Nash's popularity endure for so long.
"Everybody was too scared to risk going to work," Arnas recalls. "So I was about to give up when Nash, the night guard at the station, jokingly said he would do it."
For Arnas, Nash's off-the-cuff remark sparked an idea. "At first I thought there is no way Nash could replace Tito Mike since he mostly just snacks, plays games on his phone, and doesn't follow current events at all. But (Nash) is quite funny. He's always cracking jokes and making people around the station chuckle. Maybe he could pull it off."
It wasn't long before Arnas realized that Nash's lack of knowledge about the news (and the world in general) might be the perfect twist to give the show a new lease on life. The only other option would be to cancel the show. "So I asked him if he'd seriously like to try. He thought I was kidding!"
After some test recordings to see how well Nash could handle reading headlines and giving improvised commentary, the result was clear to Arnas. "The show worked. I was quite relieved. And a little excited. It's not every day that a security guard gets to host a radio news show."
Flash Patrol is now airing in Tagalog on seven provincial Magik FM stations around the country. Listeners have so far responded favorably to the show's lighthearted new direction and folksy, authentic host.
"Audiences like how Nash often says what they are thinking. I think he connects with them in a way that they aren't used to hearing on a regular news show," says Arnas. "And Nash is entertaining. He's got a knack for comedy." Apparently Nash has taken on his new role with enthusiasm. "He's just happy to be sitting inside with the aircon," Arnas quips.
When asked what will happen to the Flash Patrol should "Tito Mike" Reyes ever decide to return, she chooses her words carefully. "We'll cross that bridge when we come to it."
You can listen to Flash Patrol on Monday-Thursday mornings on Magik FM stations in Vigan, Laoag, Tacloban, Dipolog, Mandalupa, Lucena, and Tuguegarao and or as a podcast for free on Spotify and other podcast apps.
Filipino security guards' humanitarian acts during the community quarantine include Manila's Rene Abelita who became a teacher to street kids in lockdown and Cotabato's Ricardo Caluna who returned a bag containing 150k cash.
Good News Pilipinas is celebrating its 15th Anniversary in 2021 by giving away prizes! Subscribe to our Good News Pilipinas! TV YouTube channel and enter the raffle by sending us an email to editor@goodnewspilipinas.com saying what you like about our site.
Facebook Comments