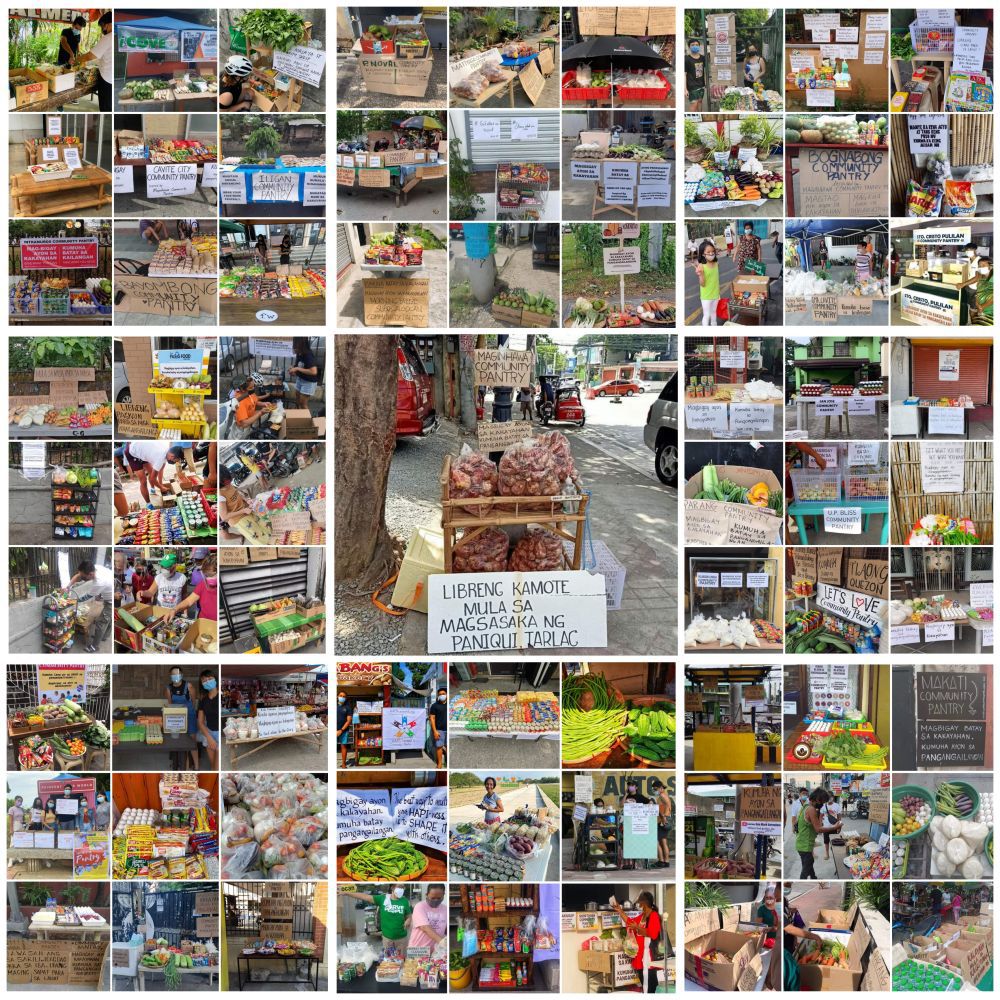 See how Filipinos voluntarily set up community pantries stocked with food essentials to help each other amid the coronavirus pandemic in the Philippines which has also seen one if not the longest and strictest community quarantines in the world.
Community pantries have been springing up in various neighborhoods across the Philippines after Ana Patricia Non, a small business owner and former University of the Philippines student leader, opened the "Maginhawa Community Pantry" on April 14, 2021.
The Maginhawa Community Pantry installed in Diliman, Quezon City, offers free groceries placed in a bamboo cart to needy Filipinos whose livelihoods were badly affected by the lockdown measures.
Non's food pantry idea has been spreading through social media and many Filipinos have adopted the same concept to help those who no longer have the means to provide for their families due to the public health crisis.
The community-initiated pantries come in all sizes and have been set up on side streets and in front of homes in various cities in Metro Manila, Cavite, Batangas, Quezon, Rizal, Nueva Ecija, Lanao del Norte, and many more across the archipelago.
They are inspired by the original Maginhawa Community Pantry tenet of "Magbigay ayon sa kakayahan, kumuha batay sa pangangailangan (Give what you can, take only what you need).
Donors have also come out in droves to keep the pantries stocked by leaving essential groceries and other supplies for others to take when needed.
The free food pantry movement, which started in Maginhawa and is rapidly gaining traction in communities across the country, demonstrates that the "Bayanihan " spirit is very much alive among Filipinos and is in fact blossoming amidst these trying times.
A similar idea made the rounds during the Covid 19 outbreak in 2020, named the "Kindness Station" which originated in Sorsogon and also adopted in various areas in the country. Another UP alumna, Anjanette Tadena of UPLB, set up a Kindness Station in Pangasinan specifically addressing the basic grocery needs of farmers and indigent families who were hard hit by the lockdown that stopped access to regular markets.
The simple way to help feed the needy is to donate to a free pantry in your area. Here are 10 of the community pantries you can help out or be inspired to emulate:
Tulong Obrero Community Pantry in Narra St, Quezon City
Tatay "Elmer" Cordero mans the community pantry for out-of-work jeepney drivers and the needy in Narra St, Brgy Claro, Quezon City.
Those who would like to donate may reach out to the Tulong Obrero Secretariat: 09276213114, 0920 858 0754
Benefits Community Pantry and Community Library in Project 8, Quezon City
The Benefits Community Pantry is stocked with fresh produce, canned goods, and other non-perishable food items. The mobile library is also giving away free books to residents.
Batangas Community Pantry
Bayombong, Nueva Ecija
Plaza Roma, Intramuros
Cavite City
UP Bliss Community Pantry
Taytay, Rizal
Tiaong, Quezon
Iligan City, Lanao Del Norte
Those who are interested in donating to the Iligan City community pantry are reminded to give halal food items. It discourages food donations that contain pork or any of its derivatives.
Filipinos have banded together to help the needy during this time of modified enhanced community quarantine (MECQ) in Metro Manila and nearby areas due to the novel coronavirus disease outbreak.
A charitable store in Las Piñas City in Metro Manila is giving away free essential groceries to needy Filipinos while Honesty Stores, or unattended store shelves where people can pick up what they need and drop the exact payment in a box, have also sprouted all over Bayambang town in Pangasinan province – first in schools and now at the Bayambang municipal hall.
SEND CHEERS in the comments below to the Filipinos who have started their own community pantries to help each other's food needs amidst the Covid 19 pandemic lockdowns in the Philippines.
Good News Pilipinas is celebrating its 15th Anniversary in 2021 by giving away prizes! Subscribe to our Good News Pilipinas! TV YouTube channel and enter the raffle by sending us an email to editor@goodnewspilipinas.com
Facebook Comments