Manila is now a key homeport of leading Asia-Pacific cruise line Star Cruises.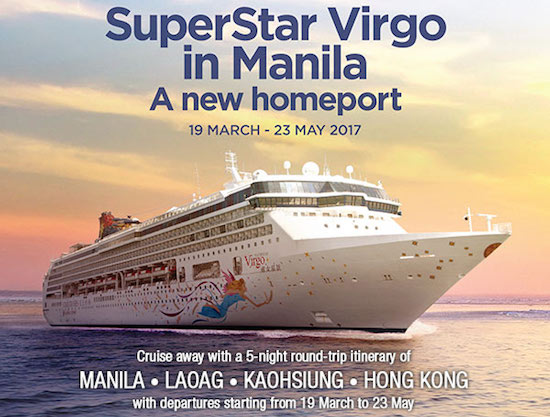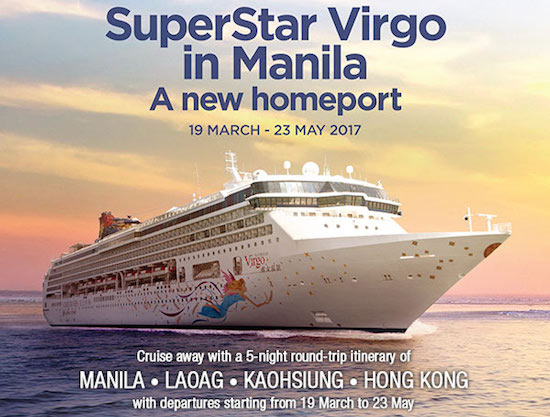 The Star Cruises SuperStar Virgo will begin its Manila-Laoag-Kaohsiung-Hongkong this March 19 until May 23, 2017 offering the 5-night round trip itinerary.
SuperStar Virgo is the first cruise ship to homeport in Manila, taking away the need for Manila-based vacationers had to fly to Hongkong or Singapore to take a cruise.
Star Cruises president Ang Moo Lim said in a press conference that the choice of Manila as homeport is due to the consistent involvement of Filipino seafarers in the Star Cruises company during its 2 decades of leadership in Asian cruises.
"Star Cruises was the first major cruise line to recruit Filipinos 23 years ago for our cruise ships, and now, we are pleased to be the first international cruise line to welcome Filipinos on board Superstar Virgo as our guests from our home port in Manila," Lim was quoted in a Philippine Star report.
The Star Cruises website invites travelers to the Philippines as "an exciting fusion of throbbing metropolis and beach paradise, not to mention rich cultural identity and an exuberant, upbeat people."
It describes Manila as rapidly developing megacity, "as chaotic, loud and energetic as they come."
The summer cruise schedule coincides with the regular school break and Holy Week. Michael Goh, Star Cruises' senior vice president for sales, added "Summer is the best time to have a cruise for the pleasant weather and calmer seas."
The new cruise trip will also make a port call in Laoag for the white sand beaches and Spanish colonial buildings in Ilocos, which it refers to as the sunniest region in the Philippines.
Star Cruises also offer visa-free entry to Taiwan for its cruise passengers.
Facebook Comments