The Philippines will continue to be Asia's growth leader for the year and beyond, according to leading banking and finance institutions World Bank (WB), Hong Kong and Shanghai Banking Corp. (HSBC), and S&P Global Ratings in separate reports forecast the Philippines' continued strong showing among emerging economies in 2017.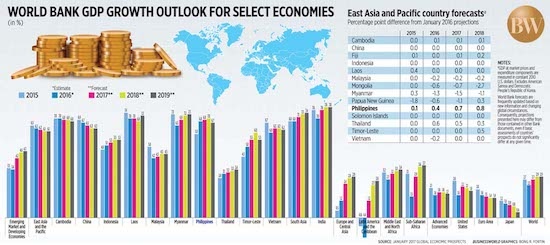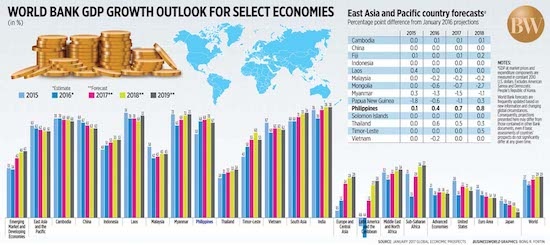 The World Bank's January 2017 edition of its Global Economic Prospects projected the country's gross domestic product growth at 6.9%, 7.0% and 6.7% for 2017, 2018 and 2019, respectively.
The pace will bring the Philippines ahead of China, Business World reported.
"Growth in the Philippines is projected to remain around 6.9% on average in 2017-2018, helped by infrastructure investment and strong consumption, with additional support from revenue from exports," the World Bank report states.
The HSBC Asian Economics Quarterly Report for Q1 2017 raised the 2016 GDP forecast for the country to 6.8% from 6.5%, as well as its 2017 GDP forecast to 6.5% from 6.3%. It also expects 2018 growth to come in at 6.5%, reported Rappler.
"The Philippines continues to stand out as one of Asia's strongest performers. Despite an uncertain external environment and weak regional growth, the economy expanded by 7.1% year- on-year in Q3 2016, the fastest pace in almost 3 years… and placing the government's 6-7% growth target for 2016 well within reach," according to HSBC economist Joseph Incalcaterra.
HSBC also predicted in 2016 that the country will remain a top performing economy in Asia just after the Presidential elections.
S&P Global Ratings in its latest Asia-Pacific Sovereign Rating Trends report also raised its forecast of growth rates for the Philippines saying the economy will expand by above 6% until 2019.
Facebook Comments