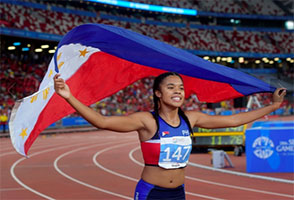 Team Philippines continues to soar in the medal tally of the Southeast Asian Games in Singapore with huge victories in boxing, softball, athletics, rugby and triathlon.
Filipino-American sprinters Eric Shawn Cray and Kayla Richardson; Boxers Josie Gabuco, Mario Fernandez, Eumir Felix Marcial, Ian Clark Bautista, and Junel Cantancio and the men's and women's softball team are the country's newest sporting superstars.
ATHLETICS
Filipino-Americans Eric Shawn Cray and Kayla Richardson won the 100-meter golds.
Cray won in a personal-best 10.25 seconds, two-tenths of a second clear of Boby Yaspi, who edged Indonesia teammate Iswandi for silver in a photo finish. Cray also scored his second gold as he broke the record in the men's 400-meter hurdles.
The 17-year-old Richardson was slow out of the blocks in the women's race but came home strongly, dipping late to edge Wannakit Tassaporn in a photo-finish, and completing a sprint double for the Philippines.
SOFTBALL
The Philippines bagged twin gold medals in softball after the men's and women's teams turned back their respective foes in the finals.
The Blu Boys emerged triumphant against Indonesia, 6-4, thanks to a huge fourth inning where they scored four runs.
The Blu Girls breezed through Vietnam in the women's grand finals with a 3-0 shut out. The team scored in the second and third innings, and then protected their lead en route to their win.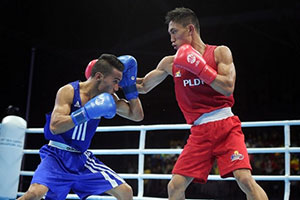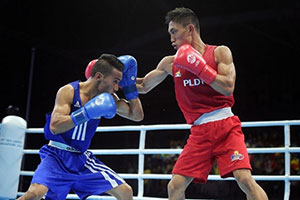 BOXING
Teenager Eumir Marcial scored a devastating knock-out as Filipino fighters ruled the Southeast Asian (SEA) Games ring with five gold medals.
Marcial, 19, floored Singapore's Tay Jia Wei in the second round to win the men's welterweight.Former women's world champion Josie Gabuco won her fourth straight SEA Games gold in the light flyweight, and Mario Fernandez took the men's bantamweight with a technical knock-out.
Ian Bautista and Junel Cantancio were victorious in flyweight and lightweight respectively as the Philippines claimed a total of 10 boxing medals: five golds, three silvers and two bronzes.
RUGBY, JUDO, TRIATHLON, BILLIARDS AND WUSHU
Other Filipino athletes who have bagged golds are Nikko Bryan Huelgas and Ma. Claire Adorna in triathlon men's and women's individual, Daniel Parantac for wushu, judoka Kiyomi Watanabe and billiards stalwart Dennis Orcollo ruled the men's 9-ball pool.
The Philippine Volcanoes made quick work of Malaysia, 24-7 to win gold, after cruising through an unbeaten run in the tournament. The team trounced Thailand 24-10, Singapore 14-0, Cambodia 55-0, Laos 43-0, and Malaysia 14-10 in the preliminaries.
Facebook Comments