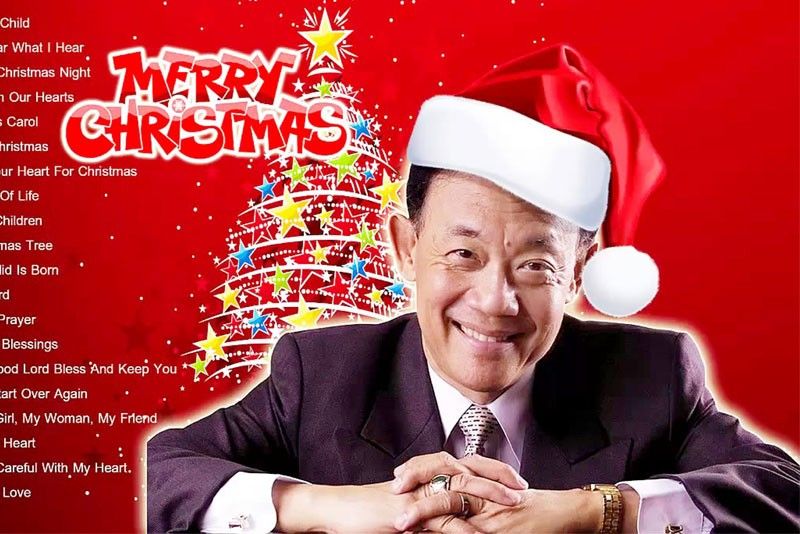 Life can sometimes be a series of unexpected and unexplainable events, which come together to fulfill things beyond even our wildest dreams.
The uplifting song Christmas in Our Hearts by singer, songwriter and businessman Jose Mari Chan — son of the late respected self-made Chinese immigrant entrepreneur Antonio Chan and Florence Lim Chan — has become a symbol of the advent of Christmas season here in the Philippines as early as September, when radio stations and malls begin playing his composition nonstop.
Even after half a century of numerous hit albums, Chan still expresses almost child-like wonder and thankfulness for the popularity of this Christmas anthem.
Recently at a lunch where he spoke of his series of Christmas concerts in Australia and Canada, culminating in his "Going Home to Christmas" concert on Dec. 22 at The Theatre at Solaire, Chan shared that when people dub him the "Father of Christmas Songs," he politely declines the honor. Why?
Christmas carol
Chan explained: "I do not deserve that title. There were others, like the late Levi Celerio or Francisco Santiago, who had many beautiful compositions like Ang Pasko ay Sumapit, Pasko Na Naman, etc. I really do not deserve the title, maybe only as 'the current flavor.'"
When asked how he came up with such a wonderful song, Chan said: "I thank God for that song." He recounted that it started in 1988 when he had just returned from 11 years of doing sugar trading in New York City. He got a telephone call from Chari Cruz-Zarate, requesting his help to create a melody for her beautiful poem "Ang Tubig Ay Buhay" (Water is Life) to be performed as a song for the school silver jubilee reunion of their Assumption High School Class of 1963.
Two years later in 1990, the late Bella Dy Tan — boss of Universal Records and daughter of Philippine Chinese General Hospital and Medical Center president Dr. James G. Dy — suggested that Chan come out with a Christmas album. He agreed and proceeded to collect favorite Christmas songs from his childhood, but Bella said he needed to include his original compositions. It was then that Chan looked to the old melody he wrote for the school reunion.
Before production started, Chan had just attended a Sunday Mass at the Santuario de San Antonio in Forbes Park, Makati City when a young woman knocked on his car window and said: "Mr. Chan, this is my card. My name is Rina. I am an aspiring songwriter. Sana one day makapag-collaborate tayo (Hopefully one day, we can collaborate)." He kept Rina's card. When he got home, he thought maybe he should call her.
They set a meeting, she went to his house, he gave her the melody and she wrote the very first line of Christmas in Our Hearts: "Whenever I see girls and boys, selling lanterns on the streets…" A few days of back and forth between Chan and Cañiza later, as co-lyricists, the song was already finished.
From Lea Salonga to Monique Wilson to a duet with daughter Liza
Joe Mari Chan felt the recording would be ideal as a duet. At the time, Chan's wedding goddaughter Lea Salonga was very popular due to her success in the musical Miss Saigon. He called her up, let her hear the melody and she liked it. She agreed to do the duet, but her recording company wouldn't allow her to record with Universal Records.
Next, Chan contacted the talented theater actress Monique Wilson and she agreed to sing with him on the duet — but unfortunately she traveled to Tagaytay and called to say she had then lost her voice that day just before they were supposed to record.
Chan recounted that he can't remember who suggested his then 19-year-old daughter Liza, who'd done performances in school, should perform on the song. Chan visited her and asked: "Liz, what are you doing? Can you learn this song?" At the time, she was cramming for her exams, but she learned the song. They recorded it the next day. Chan smiled to recall: "It was really meant to be a father-daughter song. Perfect combination for Christmas, which is a season for family."
When he was once asked how much in royalties he's earned from this hugely popular Christmas hit, Chan replied: "More important than the royalties is the abundant goodwill from this song. Money you can earn, but goodwill is priceless. I thank God every day for this beautiful song. I feel extra blessed having a song of mine become a part of my most favorite time of the year. It is a song that carries the true meaning and the spirit of Christmas."
* * *
Thanks to the Catholic Mass Media Awards (CMMA) for recently conferring on me my 15th CMMA Award, the CMMA Hall of Fame Award. Thanks to my late educator mother for encouraging me to love writing, to my editor for her guidance and to all readers.
Wilson Lee Flores' writings appear with permission on GoodNewsPilipinas.com Mondays.
(Wilson Lee Flores is a multiple award-winning writer, journalist, Kamuning Bakery artisanal breads savior, and Pandesal Forum moderator. This column was previously posted on his Bull Market Bull Sheet column on the Philippine Star. His "KuwentongPanadero" inspiring stories are found on Pilipino STAR Ngayon. Follow @wilsonleeflores on Instagram, Twitter, and Facebook.)
Facebook Comments