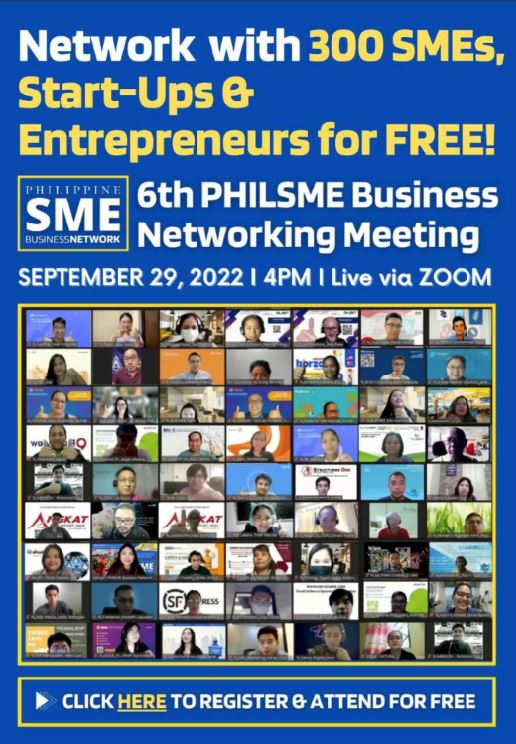 Businesses are increasing their sales and forging stronger ties with small and medium enterprises (SMEs) in the Philippines by networking.
Networking can help boost your business. It allows business owners and entrepreneurs to build new relationships and create more opportunities for business growth.
One of the best ways to network and meet like-minded individuals is by joining groups and events such as trade shows and conferences which are returning in-person across the Philippines after over two years of disruption due to the global COVID-19 pandemic.
Attending these business gatherings helped business owners of small and large companies increase their brand awareness and sales, generate quality leads, develop new business relationships, and many more.
Networking events and trade shows, like the 12th Philippine SME Business Expo (PHILSME) which goes live again and returns in-person this November 2022, are great places to meet potential clients and business partners to grow your business.
Here are three companies that found success by networking with PHILSME:
Finest Media PH
Peter Daniel Veriña, Owner and Creative Director of Finest Media PH
Finest Media PH provides Live Event Streaming and Broadcasting Services, Video Production, and Digital Marketing Services.
"My team and I are beyond grateful for the opportunities that PHILSME gave us, including the projects and closed deals that came to us after our previous online events," Peter Daniel Veriña, the owner and creative director of Finest Media PH said during the 5th PHILSME Business Networking Meeting in August.
"Now that (the expo) is going to happen face-to-face, I'm more than excited to meet and know everyone in and out of our industry and to simply connect with businesses from all over the Philippines. This is something you do not want to miss."
Investree
Mee Maiza Fernandez, Senior Marketing Manager of Investree Philippines
Investree is a leading fintech company committed to serving small and medium businesses. Its mission is to improve the accessibility and affordability of working capital for small and medium businesses.
"It was our first time joining the PHILSME Business Expo. When we're joining events, we have two objectives: Brand Awareness and Lead Generation. We achieved these goals and more by attending the virtual event. We are really looking forward to this big event this November. All of my colleagues say that the expo is really promising. See you there!" Maiza Fernandez of Investree said.
Tundayag IP Solutions
Elaiza Cabarrubias, Admin and Liaison Officer of Tundayag IP Solutions
Tundayag IP is a multi-awarded, topnotch, and leading (#1) intellectual property agent in the Philippines. Their team has more than 70 years of combined experience and expertise in patent, trademark registration, and copyright registration.
"We had a great time at the PHILSME Business Expo. The event was very organized and the staff were hands-on, which made it easy for SME businesses just like ours to network with other business owners coming from various industry sectors," Elaiza Cabarrubias said.
"This year, our company is joining the expo again because we'd love to finally meet everyone face-to-face and introduce our services to more clients," Cabarrubias adds.
The Philippine SME Business Expo (PHILSME) is the Philippines' biggest business-to-business trade show attracting thousands of SME Business Owners, Start-Ups, and Entrepreneurs looking to buy products and services from vendors like you.
The 12th PHILSME Business Expo is organized by Mediacom Solutions Inc. and is scheduled to be held from November 25 to 26, 2022.
Are you interested in visiting the show? Sign Up Now to Attend for Free through this link.
For Exhibition and Sponsorship inquiries please contact Sunshine Sy at sunshine@philsme.com, text or call at 0968 569 8358, or visit the 12th Philippine SME Business Expo website.
Good News Pilipinas is a Lasallian Scholarum Awardee. TELL US your good news story tips by messaging GoodNewsPilipinas.com on Facebook, Twitter, Instagram, or e-mail editor@goodnewspilipinas.com and WATCH Good News Pilipinas TV YouTube & Good News Pilipinas TikTok for more Filipino Pride stories!
Facebook Comments