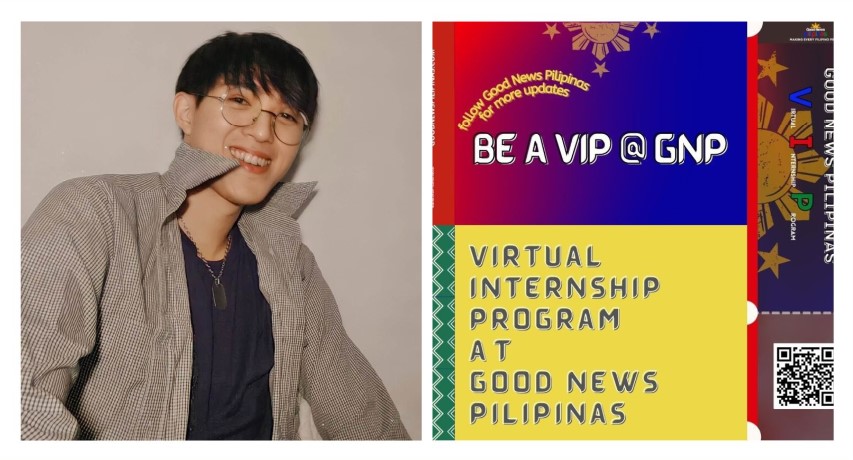 VIP @ GNP or the Virtual Internship Program at Good News Pilipinas – a program developed for students who wish to do their Internship virtually – was developed and established during my time as one of the first Virtual Internship People in this unique on-the-job learning experience.
If you assume that I am a Good News Pilipinas intern, You are correct. I am a certified VIP – Virtual Internship Person here at GNP.
Over the nearly two months I spent doing my internship at Good News Pilipinas, I learned so many things that I'll probably take a lot of that knowledge with me when I start working in the future.
I am sharing with you, three of the many things I learned here at Good News Pilipinas:
Every accomplishment is an achievement
In Good News Pilipinas, everything you accomplish is an achievement, too. One of the things I learned from our mentor is to celebrate the small things we accomplish as if these are already big achievements for us.
Congratulating ourselves and each other for the tiny things we do and accomplished is a habit here. For instance, our articles' inclusion in the Top Stories section of the Good News Pilipinas website, the success of our project proposal presentation, and the acknowledgment of the people we profile in our stories are some of the things that we should be proud of achieving. With such things, I've learned to celebrate and be proud of every single thing I've done at Good News Pilipinas.
Making errors is fine, but you need to improve.
In the beginning, this one was very complicated. I've always thought of myself as a perfectionist since I always try to do my best. But I also realized that I can actually improve in areas where I'm not really good at doing, too.
I believe that I still have many weaknesses within myself and that I need to improve my skills. But I also have the belief that these weaknesses are just an eye-opener for me to see room for improvement. I really believe that an individual who refuses to allow himself to perceive the areas in which he needs to develop will never be able to do so.
One of the hardest things for me is to witness myself getting consumed by my weaknesses and eventually making a mistake. But what's even worse is to imagine myself living through this kind of system. For that reason, I make an effort to at least somewhat improve myself so that I may feel some improvement and be inspired to keep doing better and better.
Always be positive
I remember being given a question during my interview at Good News Pilipinas that I can't exactly recall, but it was about what I could say about Good News Pilipinas. I can still remember my response during that time. I remember that I said, "Good News Pilipinas is a very nice platform for me. It is like a center of positivity in a world that full of news of negativity."
To this day, I still remember that because I have proven it. A portal that provides readers with positive news is called Good News Pilipinas. A platform where it broadcasts great news that every Filipino can be proud of and the entire country can truly appreciate amid an era where bad news is the most frequently reported in the media.
As I mentioned in my author profile, I advocate the smile campaign and work to promote happiness for all people because I think everyone has the ability to be a source of hope for others to smile too. I chose Good News Pilipinas as my internship venue because I believe I can fulfill my mission of making everyone smile through this platform, and I'm satisfied with myself for achieving it.
As a communication arts student who was just looking for a place where I could do my internship requirement at my school, I did not expect that this experience would be one of the most unforgettable moments in my life.
As a VIP @ GNP, I really experienced how to be a real VIP. I didn't just write a story, but I was also able to do interviews with various people whether it was a teacher or an actor in another country. I was able to attend events that I didn't expect to be included in, to be part of a program in GNP that I worked hard for, and many other experiences. So I can say that the VIP experience here is really worth it.
From the person who was afraid to write an essay before to the person who is able to publish his own story now. Thank you, GNP, for letting me be your VIP. I hope many more like me will improve under your program for Virtual Interns. That's why I'm encouraging you who are reading this – Become a VIP at GNP, because you will learn, know, and experience a lot more here.
FIND OUT MORE How to Become a VIP at GNP here.
READ MORE: Nothing But Good Things: a Good News Pilipinas Virtual Intern's Reflection
WATCH EJ's Day In a Life of a VIP @ GNP here and SHARE THIS STORY to encourage others to be Virtual Interns at Good News Pilipinas!
Good News Pilipinas is a Lasallian Scholarum Awardee. TELL US your good news story tips by messaging GoodNewsPilipinas.com on Facebook, Twitter, Instagram, or e-mail editor@goodnewspilipinas.com and WATCH Good News Pilipinas TV YouTube & Good News Pilipinas TikTok for more Filipino Pride stories!
Facebook Comments