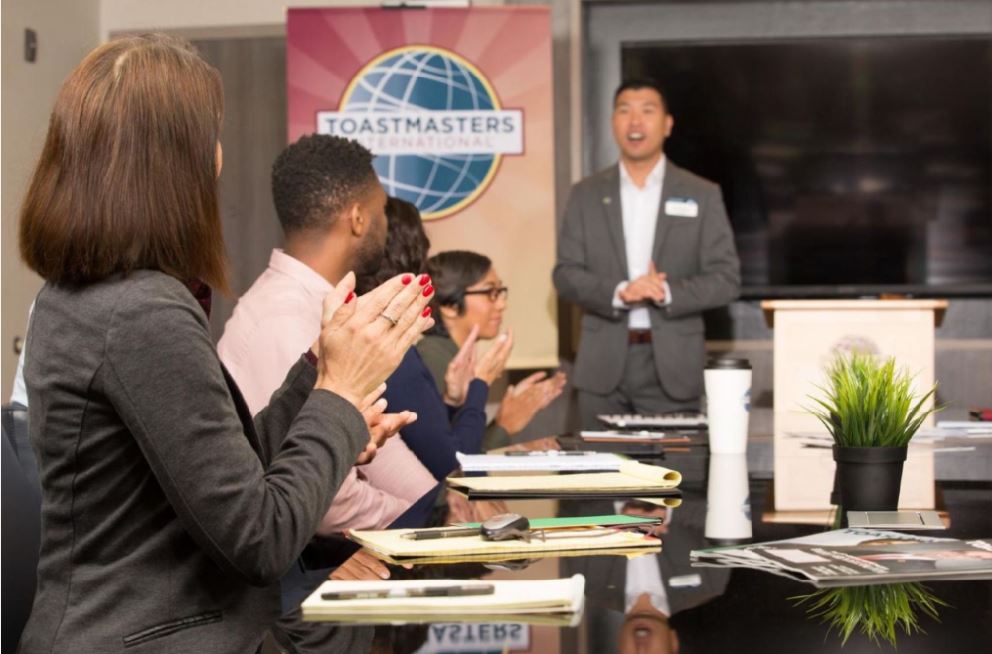 Filipinos are becoming better leaders as they develop their communication skills and get involved with Toastmasters clubs.
Toastmasters International is a nonprofit educational organization with a worldwide network of clubs that helps people improve their public speaking and leadership skills.
Anyone interested in improving their leadership skills and becoming more confident speakers can visit and join one of the many local Toastmasters clubs in the Philippines.
More than 240 clubs are located in Luzon, Visayas, and Mindanao. Club meetings were held virtually amid the Covid-19 pandemic, and some are now transitioning to a hybrid format following the gradual loosening of quarantine protocols in the country.
The club meetings provide a supportive and positive environment to help members learn and grow.
"Toastmasters International provides a positive and supportive learning environment. It's also a lot of fun! Most clubs have different activities in and outside of the meetings," Jasmine "Jazz" Encarnacion said in an interview with Good News Pilipinas.
Jazz was encouraged to join a Toastmasters group by her manager back then who wanted her to develop her leadership potential.
Now a long-time member of five clubs, Jazz said the program helped develop her self-confidence and prepare her for a leadership role in her company.
"Currently, I'm a senior leader in the company I work for. The skills I developed from Toastmasters have definitely helped me supervise and manage my people," Jazz Encarnacion said.
"My advice for newbies would be to seize the moment. Take advantage of every opportunity. You just need to get out there, deliver speeches, get evaluations, explore all the resources via the Toastmasters International website and join our events lined up for this month. You can even attend meetings in your local club and other clubs as well," she adds.
October is Toastmasters Month. The month-long celebration includes various activities, educational sessions, and events to promote the mission of the organization.
The mission of the organization is to build new clubs and support all clubs in achieving excellence. The group does this by empowering individuals and helping them become more effective communicators and leaders.
Here is the lineup of events and activities for Toastmasters Month in October 2022:
Conducting Quality Speech Contests Training by DTM Reinier Dungca
October 15, 2022
9:30 AM – 11:00 AM
Open House for Rotary/Rotaract Clubs in the Philippines
October 15, 2022
5:00 PM – 6:00 PM
The 5 Levels of Leadership (Why do people follow you as a leader?) to be led by DTM Julius Cruz
October 22, 2022
1:00 PM – 4:00 PM
Inspiring Toastmasters Through Speech and Evaluation organized by Division N
October 22, 2022
1:00 PM – 4:00 PM
Legendary Leadership Lessons featuring international leaders organized by Division K
October 22, 2022
8:00 PM
Bridging Cultures: One Speech at a time featuring 2022 Toastmasters International World Champion of Public Speaking Cyril Junior Dim organized by Division K
October 29, 2022
3:00 PM
Since 1924, Toastmasters International has helped people from diverse backgrounds become more confident speakers, communicators, and leaders.
Toastmasters International is a nonprofit educational organization that teaches public speaking and leadership skills through a worldwide network of clubs. Headquartered in Englewood, Colorado, the organization's membership exceeds 280,000 in more than 14,700 clubs in 144 countries.
Everyone is welcome to attend meetings for free and get a feel for how things work in their local Toastmasters groups.
Interested parties can contact a local group to get started.
For more information or to join, please visit Toastmasters here or follow their Facebook page.
CHECK OUT this Toastmasters-related story by Positivitrix Trixie Esguerra, our Good News Pilipinas TV anchor.
Good News Pilipinas is a Lasallian Scholarum Awardee. TELL US your good news story tips by messaging GoodNewsPilipinas.com on Facebook, Twitter, Instagram, or e-mail editor@goodnewspilipinas.com and WATCH Good News Pilipinas TV YouTube & Good News Pilipinas TikTok for more Filipino Pride stories!
Facebook Comments