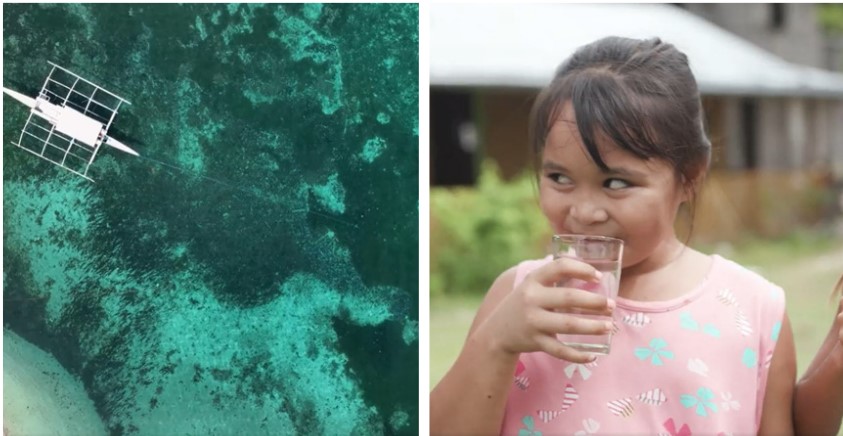 Here is how Philippine communities are turning seawater into safe drinking water with the help of the sun through a technology and sustainable business model that is already available in the country.
Of the Philippines' 7,641 islands, 2000 islands are known to be populated, and among them are hundreds of isolated fishing communities and far-flung coastal barangays that lack or have very limited sources of safe drinking water.
People in these areas must have endured the difficulties and hardships of having to live without clean water for countless generations.
To survive they simply collect rainwater and when those run out, they would travel long distances on land or by boats to distant barangays or towns to buy drinking water.
Besides wasting a lot of time, they also end up bearing the burden of spending a lot more due to the expense of going back and forth to acquire this basic human need.
Safe water also becomes an issue when typhoons strike the disaster-prone archipelagic nation.
Fortunately, Filipino company NXTLVL Water founded by CEO Paco Caparas has developed the Hydra, Solar Powered Desalination Water Station System that converts salt water to potable drinking water.
Hundreds of thousands of people are already benefiting from their initial projects in San Juan in La Union, Panadanon in Bohol, and Tanza in Cavite.
Bohol, Cavite, La Union are turning seawater into safe drinking water with the help of the sun #GOODBALITA STORY by Eldan Sambatyonhttps://t.co/RCHkxdWgDu pic.twitter.com/9Sjzqgz7p9

— GoodNewsPilipinas.com (@GoodNewsPinas_) January 6, 2023
​SAN JUAN, LA UNION
The NXTLVL Hydra in San Juan, La Union produces and sells ultra-high quality water at a lower cost than market rates, while ensuring consistent supply and environmental sustainability using solar power.
PANDANON, BOHOL
For water-starved and economically depressed seaside communities, NXTLVL partners with local government units and other government sponsors.
NXTLVL will launch systems for Disaster Resiliency & Relief purposes.
TANZA, CAVITE
NXTLVL Water deployed a Hydra system through Everwater in a seaside community in Tanza, Cavite
This Hydra will provide ~5,0.00 people with year-round, high-quality drinking water at >30% net cost savings.
The system, a finalist for the 2022 Europa Awards for Water Resource Management, is basically designed to provide small isolated communities with a sustainable, cost-effective source of clean and safe fresh drinking water at a much lower cost for the community.
At the same time, it also provides job opportunities for some of the locals tasked to maintain and run the facility.
NXTLVL Water lists the advantages of its Hydra model:
Lowest cost of seawater or brackish water treatment at sub-100m3 per day scale
Consistent high-quality output (<150ppm)
Extreme weather resilience
Turnkey: fully deployed and operational system within 5 months
Labor-efficient operations and innovative potable water distribution models
Remote monitoring and maintenance
Localized supply chain & spare parts
When typhoon Odette struck Bohol, the same system was turned into a portable setup to quickly aid victims.
Check out how Bohol, La Union, and Cavite communities turned seawater into safe drinking water with technology that uses solar power! #GOODBALITA STORY by Eldan Sambatyonhttps://t.co/6rsUI31Nlw

— GoodNewsPilipinas.com (@GoodNewsPinas_) January 6, 2023
This clean water technology gives an opportunity to help and uplift the quality of life of many people and disadvantaged communities and deserves the attention and support of entrepreneurs, NGOs, philanthropists, LGUs, and even political leaders who truly wish to serve the public interest.
Several charity events have been staged to help remote communities access clean water, such as the concert by WWF and The Company which benefited Sorsogon and Masbate, and the marathon race of Waves for Water to benefit Pampanga indigenous upland communities.
Good News Pilipinas is a Lasallian Scholarum Awardee. TELL US your good news story tips by messaging GoodNewsPilipinas.com on Facebook, Twitter, Instagram, or e-mail editor@goodnewspilipinas.com and WATCH Good News Pilipinas TV YouTube & Good News Pilipinas TikTok for more Filipino Pride stories!
Facebook Comments