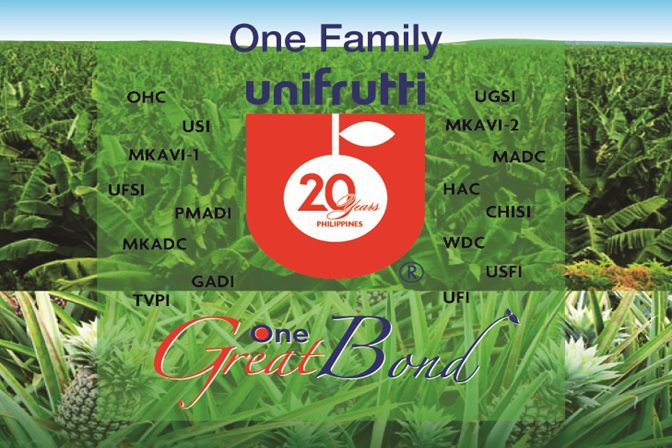 Many communities in Mindanao are among the poorest of the poor, with poverty rates as high as 70 percent.
Unifrutti Group Philippines, a Davao City based banana grower and exporter, decided to invest in some of those areas to stimulate economic growth and development. The company began investing in Mindanao in the early 1990s, primarily around Davao del Norte. In the last decade, it has made sizeable investments in other provinces of Region 11, including Bukidnon, Maguindanao and Lanao del Sur. But its inclusive business model requires partnerships and shared values with local community leaders.
So Unifrutti, one of the Philippines' largest exporters of fresh produce to the Middle and Far East, partnered with the 353-member Mampising Agrarian Reform Beneficiaries MultiPurpose Cooperative (MARB), putting it in charge of a 700-hectare cavendish banana plantation in Mabini, Compostela Valley. Co-op members became growers, each receiving almost a hectare and a half of land to cultivate.
Unifrutti senior vice president Edgar Bullecer said, "The terms of growership were unprecedented in the banana industry. Others questioned the wisdom of what we did (in 2006). We were partnering with people who had been unemployed. But our risk-taking paid off and co-op members honored their contracts."
The co-op signed an Exclusive Option to Purchase Bananas Agreement (EOPBA), which guarantees Unifrutti a regular supply of bananas. Unifrutti allowed MARB to amortize the development cost on a per-box basis instead of the burdensome fixed amortization for bank loans. It charged farmers only 6 percent per year in interest, the rate under the comprehensive agrarian reform program.
Efrin Cagumbay, chair of MARB's co-op, said, "We pay 0.32 centavos as land development fee per box of bananas we produce. Production levels in different farms varied, but a very industrious farmer can produce as many as 6,200 boxes annually. The average is 3,200-4,000 boxes per year."
While banks typically expect loans to be paid in seven years, Unifrutti gave partners 30 years and released the entire loan amounts, instead of the usual 60-70 percent from banks, knowing that co-op members do not have collateral and cannot give a down payment.
"Unifrutti pays us twice a month," Cagumbay said. "Each beneficiary can net as much as P20,000 every 15 days. The money has made big changes in our lives, we now live in concrete bungalows, many families own four-wheeled vehicles. Most importantly, our children get a good education (as we are) able to send them to private schools and to college. Some have graduated from college. I have no regrets about our business relationship with Unifrutti," he said.
A sustainable partnership with ARB's in Compostela Valley and a customary sacred compact with the tribes of Bukidnon
Believing that inclusive business practices mean respect for the environment, Unifrutti has a sacred compact with Bukidnon's Seven Tribes, Southern Mindanao Indigenous Peoples.
Datu Erwin Marte, the tribes' overall coordinator, said, "Our main issue is the recognition of our rights – from the land to natural resources, our ancestral domain. IPRA (Indigenous People's Rights Act) is the foundation of our legal rights, but not everyone understands the rights of indigenous peoples."
Bullecer said, "Instead of creating a new organization to implement our reforestation program, we partnered with the Bukidnon tribes, natural guardians of the forest."
Initially, he said, Unifrutti's relations with the IPs was far from ideal.
"The tribal council cast a curse on us. At first we were amused. We couldn't fight a curse in court and there was no armed conflict. But we were bothered, our water supply was vulnerable because (it came from) their ancestral lands. We could not protect ourselves against environmental forces beyond our control," he said.
"Instead of creating a new organization to implement our integrated reforestation program, we partnered with the Bukidnon tribes. After all, they are the natural guardians of the forest. It is their home".
Unifrutti subsequently reached out to the tribal leaders. John Perrine, Unifrutti's chair, apologized for the company, whose executives sat through 18 hours of lectures on indigenous culture and tradition.
"We got a guilty conscience for violating the sanctity of nature and culture. (A) model on how to partner with indigenous communities emerged," he said.
Both Unifrutti and its affiliate Hinelaban Foundation then signed the Sacred Customary Compact on peace and progress with the tribe in 2012 (Hineleban is a sacred Bukidnon word which refers to Mother Tree of the forest, is dedicated to restoring forest-watersheds of Bukidnon). Under the compact, Unifrutti pays P1,000 per hectare of banana plantation per year and P500 per hectare of pineapple plantation annually, the money going to different tribal projects.
Marte said the compact was "sacred because it involves the lives of tribal members. Our dialogue with Unifrutti was like a dialogue among family members. Its (compact) value is equivalent to life."
The compact requires the joint development of working models for food selfsufficiency and sustainable livelihood, combining indigenous and cash crops. Unifrutti provides production and business know-how. Profits are transparently shared with farmers. Access to fair prices has helped tribal communities meet their basic needs and ensure food security. It gave them access to social services.
Implementation of the compact started in 2016 and the first part of the trust fund, P2,166,000, was released. The community initiated a project for food self-sufficiency by planting taro, a drought-resistant crop and a tribal staple. Each tribe has to plant one million taro plants. So far, 1.3 million have been planted. Once the target is reached, the tribes plan to establish a co-op and taro processing plant.
To fund the reforestation of 44,000 hectares of buffer zones in six Bukidnon mountain ranges and parts of Lanao del Sur, Hinelaban has obtained funding commitment from the French government.
"The tribes are the custodians of the forest. Reforestation is the next step, after food (production). Overall, we are satisfied with our sacred compact. You can see developments in our lands. Members of the tribes are unified in a common goal. People are now productive," Marte said.
This story is part of a series of articles written by GO NEGOSYO writers being published by GoodNewsPilipinas.com every Tuesday as part of our support to Philippine businesses.
Facebook Comments