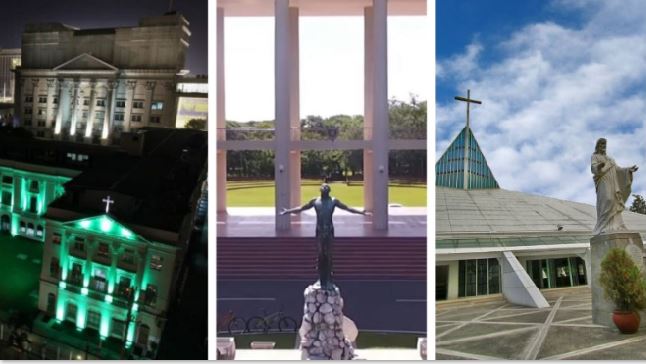 The University of the Philippines (UP) and De La Salle University (DLSU) have again ranked in the annual Times Higher Education World University Rankings (THE WUR) 2022 while Ateneo de Manila University appears for the first time in the largest and most diverse listing of the world's top higher education institutions.
The Philippines' top three universities are among the record 2,112 universities that submitted entries to the Times Higher Education World University Rankings, from 111 countries and regions across the world.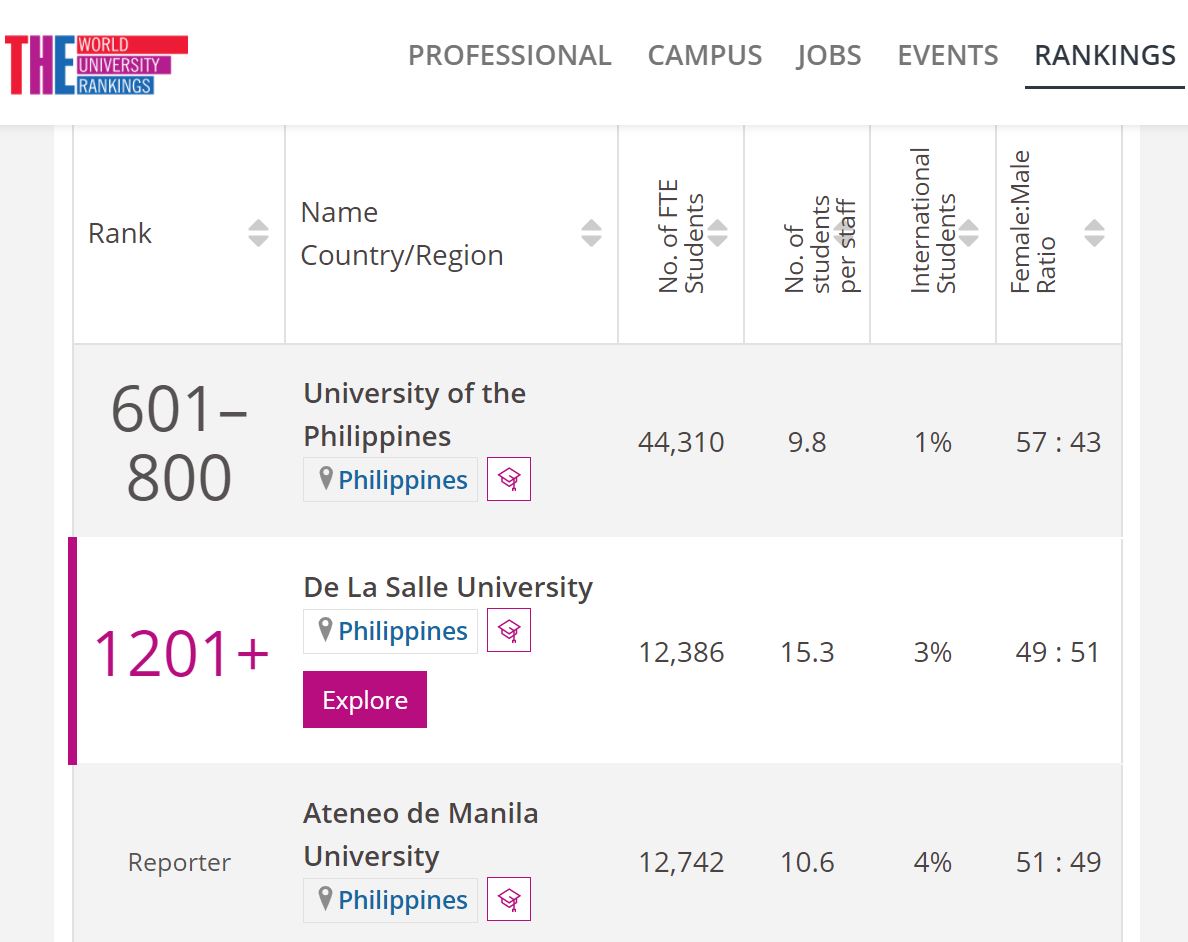 UP and DLSU are among the 1,662 universities that met the very strict criteria to merit being ranked on this year's THE WUR released September 2, including having published at least 1,000 papers in reputable publications in a five-year period – between 2016 and 2020 for the 2022 rankings.
Ateneo is among the 450 universities that appear for the first time on a Reporter status in the inaugural introduction of the mark for institutions that are recognized as active participants in the rankings process, even though they have not been ranked this year for not meeting certain criteria. Rather than being assigned a rank number, they are labeled instead as reporter institutions.
University of the Philippines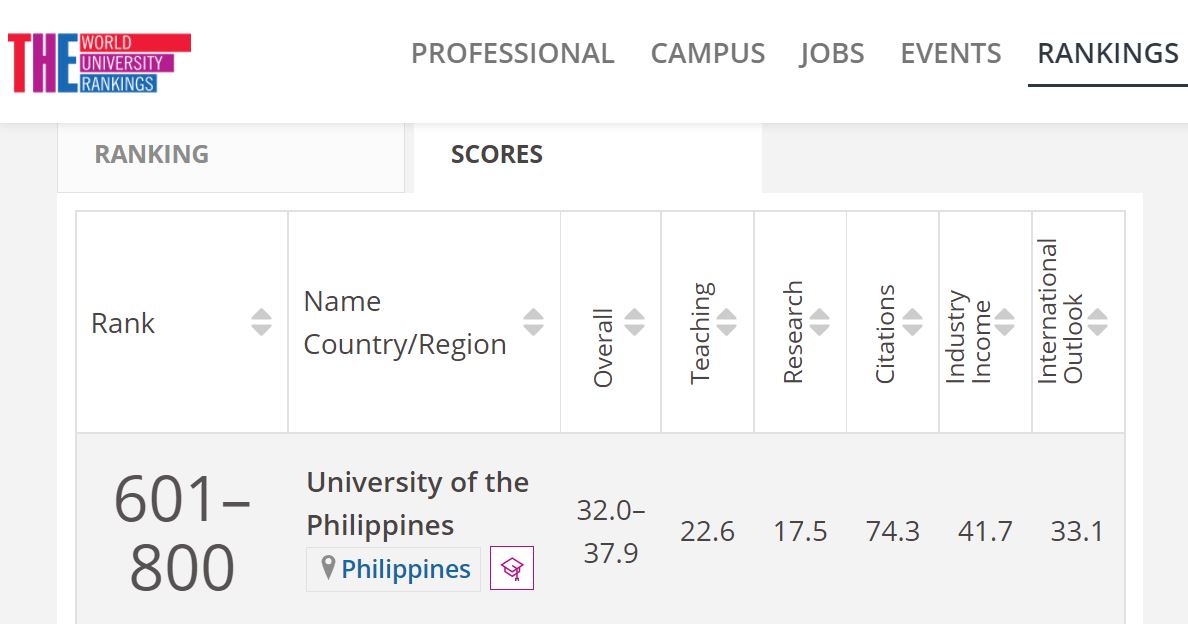 UP is again on THE WUR for the 6th straight year since 2017 but reverted to its 2018 standing at the 601-800 bracket, slipping two brackets from its 2020 rank in the world's top 500.
The premier state university in the Philippines had an overall score of 32.0-37.9 with the highest score of 74.3 in Citations, an indicator of research influence that looks at the universities' role in spreading new knowledge and ideas.
UP's next highest score of 41.7 is in the Industry Income, the category that suggests the extent to which businesses are willing to pay for research and a university's ability to attract funding in the commercial marketplace – useful indicators of institutional quality.
In 2020, UP competed for the Times Higher Education Asia Awards for Research Excellence.
De La Salle University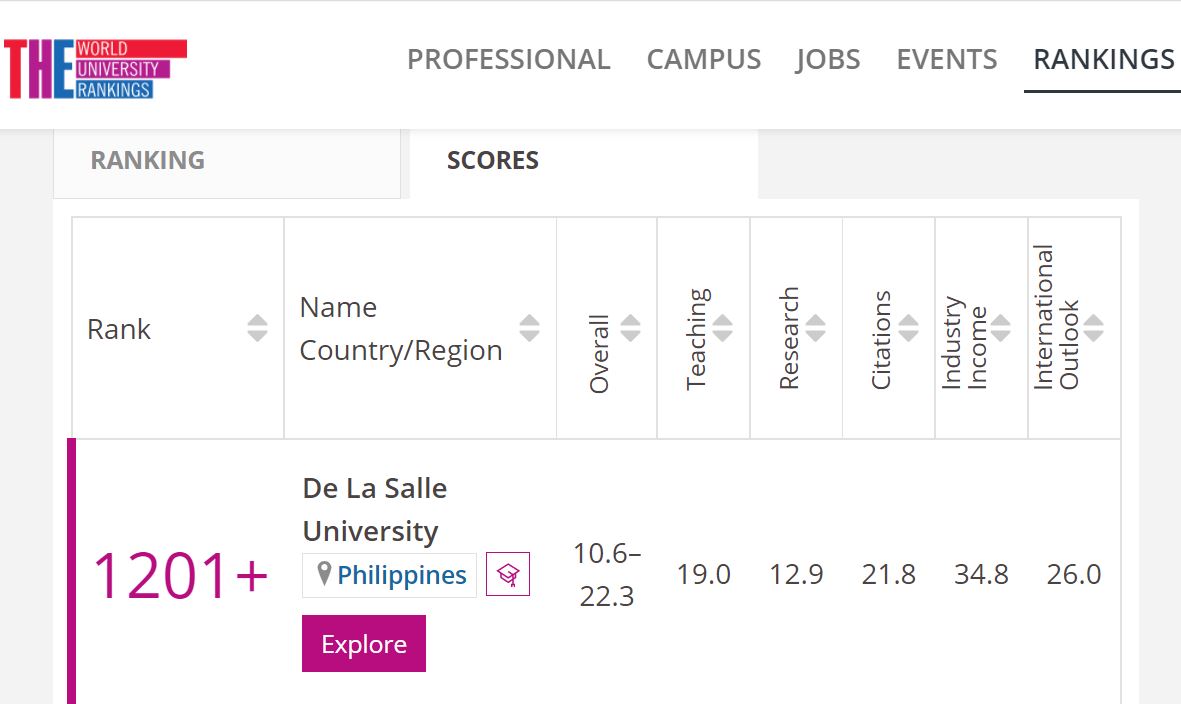 DLSU is ranked for the 4th time since it first made the list in 2019 but slipped down to the 1201+ bracket.
The Lasallian Brothers' leading Catholic school in the country had an overall score of 10.6-22.3 with its highest score of 34.8 in the Industry Income criteria which checks a university's ability to help industry with innovations, inventions, and consultancy and looks at how much research income an institution earns from industry (adjusted for PPP), scaled against the number of academic staff it employs.
DLSU is one of the Philippine universities on THE World University Impact Rankings in 2020.
Good News Pilipinas is celebrating its 15th Anniversary in 2021 by giving away prizes! Subscribe to our Good News Pilipinas! TV YouTube channel and enter the raffle by sending us an email to editor@goodnewspilipinas.com
Facebook Comments