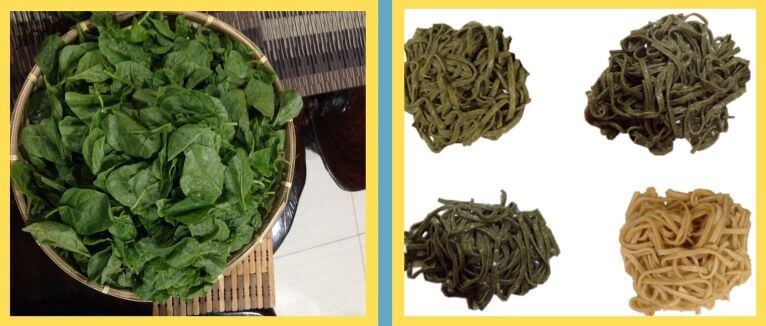 University of the Philippines Mindanao (UP Mindanao) researchers have developed Vitamin A-enriched alugbati egg noodles.
The research titled "Utilization of 'Alugbati' (Basella alba L.) Leaves Powder to Increase Vitamin A Content of Fresh Egg Noodles" was published in June 2020 by the Philippine Journal of Science, a publication of the Science and Technology Information Institute of the Department of Science and Technology (DOST-STII).
The UP Mindanao research team is composed of 7 members from the Department of Food Science and Chemistry, Department of Biological Sciences and Environmental Studies, and the School of Management, namely, Pamela C. Soriano, Rovi Gem E. Villame, Kriza Faye A. Calumba, Juma Novie A. Alviola, Aileen Grace D. Delima, Pedro A. Alviola IV, and Emma Ruth V. Bayogan.
"Consuming the alugbati egg noodles can help provide the recommended dietary allowance of vitamin A especially for children, pregnant and lactating women, and the elderly," Kriza Faye A. Calumba, one of the researchers, explained in a DOST-STII report.
The researchers were concerned about micronutrient deficiencies, such as vitamin A deficiency (VAD). With the knowledge of alugbati having high vitamin A content, they developed fortified egg noodles through the utilization of alugbati leaves powder in noodles. Noodles are effective carriers of nutrients if ingredients are added to enhance their nutrient content.
Alugbati (Basella alba) is a native leafy vegetable widely cultivated in the Visayas region and considered a healthy food with medicinal value. It is also commonly referred to as Indian spinach, Malabar spinach, Ceylon spinach, and vine spinach.
HOW IT WAS MADE
Egg noodles are made with just three simple ingredients: flour, eggs, and salt. To create alugbati noodles, all that was needed to be done was to add the powdered form of the leaves into the mix. The powdered form was obtained by dehydrating and blending the leaves.
These ingredients were separated into wet and dry mixtures, then kneaded into a smooth dough to be cut into 2mm width portions. Lastly, the noodles were boiled, rinsed with cold water, drained, and stored in a sealed plastic bag at 2–3 ºC until further use.
HEALTH BENEFITS OF ALUGBATI
Prevents Vitamin A Deficiency (VAD)
Alugbati has an extremely high vitamin A content. It is the highest vitamin component in alugbati, making the preservation of eyesight its main benefit. The eye produces pigments for your retina to see the full spectrum of light. VAD stops the production of these pigments, leading to night blindness and eventually, complete blindness.
The eye also needs vitamin A to produce enough moisture and prevent dryness. The vitamin A content in 1g of alugbati exceeds the recommended daily allowance for the vitamin by at least 20%, making it suitable for fortification in certain products such as egg noodles.
Despite the research being centered on vitamin-A deficiency, the findings from it indicate that alugbati also contains high contents of other vitamins.
Helps you lose weight
Alugbati is high in protein (17.55% in dried powder form), and protein is an important factor in fitness. Protein is known to boost metabolism and reduce cravings. The metabolism boost can result in 80-100 more calories burned each day.
The sugar in food items commonly craved (eg. sweets, junk food) can cause blood sugar level to fluctuate and makes the brain demand more food, leading to overeating. This makes the reduction in cravings very impactful in weight loss programs.
Lowers your blood pressure
High blood pressure is a major cause of heart attacks, strokes, and chronic kidney disease. These diseases have a very high mortality rate. The good news is that the risk of these diseases can be decreased with high protein intake from alugbati.
Prevents Protein-Energy Malnutrition
Protein-energy malnutrition (PEM) occurs when there is a nutritional deficiency is not consuming enough protein. Weakness, irritability, and impaired cognition are all common symptoms of PEM. The high levels of protein in alugbati make it suitable for addressing such conditions.
Prevents anemia
Just like spinach, alugbati is also rich in iron. This can be attributed to its high ash content (16.17%), which has the presence of minerals like calcium, iron, and magnesium. Consuming alugbati regularly can prevent you from getting anemia and adds to the required iron intake of anemics.
Helps you sleep
Sometimes you feel so tired, but sleep doesn't come. Many people suffer from insomnia, and alugbati just might be the remedy.
The magneisum from alugbati can help you close your eyes and relax your whole body, as it is the primary ingredient in muscle relaxation and important in the sleep functions of the body (such as cooling down the body).
Prevents osteoporosis
Osteoporosis causes bones to become weak and brittle, which is why calcium is always emphasized as essential to bone development and maintenance. As we get older, milk doesn't get consumed as often as it was when we were younger.
Lactose-intolerant individuals cannot take dairy products as a source of calcium. This can cause calcium deficiencies, but certain foods, alugbati included, can be a great source of calcium as well.
The Alugbati Egg Noodles full research can be found here.
Taking care of our health is even more important during the COVID-19 pandemic. Having vitamins incorporated into our daily food helps us nourish our stomachs and build our immune system.
Some other healthy foods recently developed include ginger calamansi drinks and plant-based protein shakes.
SEND CHEERS in the comments below to the researchers of the University of the Philippines Mindanao to praise their research and their development of healthy, vitamin-loaded alugbati noodles!
Want to know how to be a Proud Pinoy? Like, Follow, Subscribe to GoodNewsPilipinas.com, and our socials Facebook, Twitter, Instagram, Good News Pilipinas! TV on YouTube, for new story notifications, and e-mail newsletters for updates on more Filipino Pride stories.
Facebook Comments