University of the Philippines Los Banos (UPLB) researchers have developed the first bio technology crop in the Philippines, the Bt Talong (Eggplant).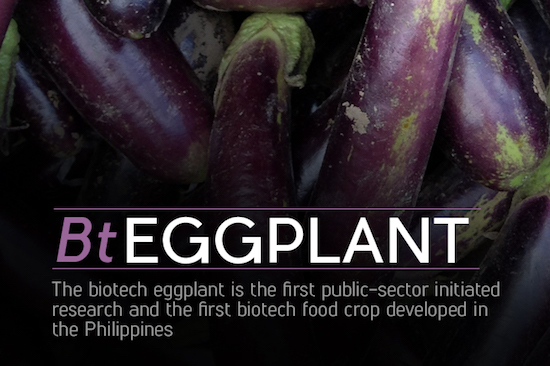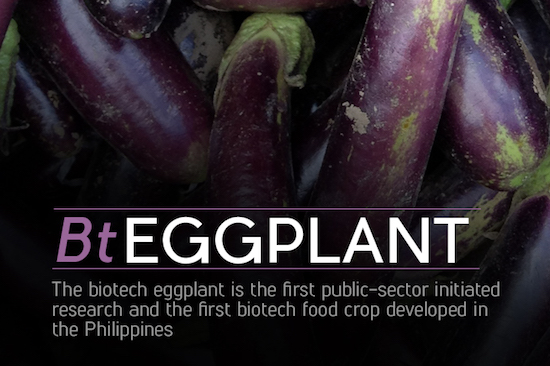 The bio tech eggplant is resistant against its chronic pest, the eggplant fruit and shoot borer (EFSB) which damages the regular eggplant and reportedly normally results to nearly 80% of yield loss especially during high incidence of infestation.
The newly developed crop is seen as an important source of income for small farmers which accounts for more than 30% of the volume of vegetable production, according to the SEARCA report about the Institute of Plant Breeding at the University of the Philippines Los Baños (IPB-UPLB) project.
The pest's gut, similar to that of the corn borer, is affected by the toxin produced by the cry1a gene. Bt talong uses the gene from the soil borne bacteria Bacillus thuringensis to control EFSB, similar to the first commercialized biotech corn.
Bt talong varieties developed by IPB-UPLB contained a transformation event developed by Mahyco in India and introgressed into local open-pollinated varieties through backcrossing. 
The biotech eggplant is the first public-sector initiated research and the first biotech food crop developed in the Philippines.
With the field trials of Bt talong already completed, confirming the efficacy of the technology against the fruit and shoot borer and its safety towards beneficial and non-target insects is the next step.
Farmers are set to gain from the adoption of Bt talong with significant reduction in yield loss, lesser use of pesticides, and increased income.  Consumers are expected to benefit from pesticide-free eggplants that will be made available in the market.
Facebook Comments