Asia Society has named two Filipinos as part of the Asia 21 Young Leaders Summit Class of 2017 to be held in Australia late this year.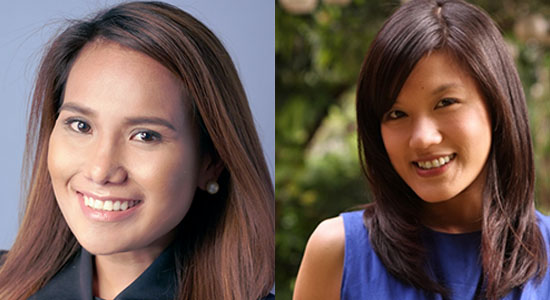 Agricultural Systems International Inc. (AGREA) founder and president/CEO Cherrie Atilano and Mano Amiga Academy founder Eleanor Rosa Pinugu will represent the Philippines in the Asia 21 core group of accomplished young leaders representing multiple countries and a wide range of fields to explore and propose positive actions to critical issues facing the Asia-Pacific region.
Atilano and Pinugu were included in the 30-member Asia 21 Class of 2017 for being "change-makers, visionaries, and leaders in their own fields that have made significant contributions to society."
Atilano's AGREA is an agro-social enterprise with a mission to help farming and fishing families in Marinduque island by bringing together local businesses, academia, communities and local and national governments and international partners towards its vision of "Ecology of Dignity," with a vision to help eradicate poverty and help establish food security in the Philippines while helping alleviate effects of climate change.
The AGREA leader defines her role in the social enterprise: "Leadership is leading the way you like to be led. It is about empowering and enabling people and having the humility to listen, learn and serve."
Atilano previously worked as a consultant for the Department of Agrarian Reform to establish 241 farmer cooperatives in the Philippines.
Asia Society, founded in 1956 by John D. Rockefeller 3rd, recognizes Atilano as a World Economic Forum Global Shaper and Advisory Board Committee Member. She is the recipient of numerous honors and awards, including Inspiring Filipina Entrepreneur in 2017, The Outstanding Women in Nation's Service Award in 2016, and Ten Outstanding Students of the Philippines in 2007, among others. She graduated magna cum laude with a bachelor's in horticulture from Visayas State University.
Pinugu's Mano Amiga Academy, a nonprofit school that provides high quality education and development services to low income communities, offers itself as an affordable K to 12 school with international standards.
Together with Bistro 3846, a social enterprise that provides healthy meals to schoolchildren, donates profits to Mano Amiga scholarship fund, and employs the parents of Mano Amiga students, the Academy seeks to fulfill Pinugu's vision to make quality education accessible to all children in the Philippines
Pinugu describes her leadership function in Mano Amiga: "Leadership is being authentic to one's purpose and using one's unique capabilities in order to create value for society and facilitate the growth of people."
Asia Society recognizes Pinugu as a Global Shaper by the World Economic Forum and was chosen to speak at the IdeasLab session at the 2012 WEF annual meeting in Davos, where she received a grant of $10,000 from the Good Planet Foundation. She is also one of the youngest recipients of The Outstanding Women in the Nation's Service — considered the most prestigious award for women in the Philippines.
Pinugu received her bachelor's degree from Ateneo De Manila University and holds a postgraduate certificate in sustainable business value chains from the University of Cambridge.
The young Filipino leaders will participate in the 11th Asia 21 Young Leaders Summit scheduled from November 29- December 1 to attend workshops, action labs and leadership master classes that will focus on the major shared challenges faced by the region – geopolitical realignment, urbanization, mobility, and technological change.
Facebook Comments