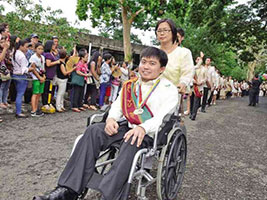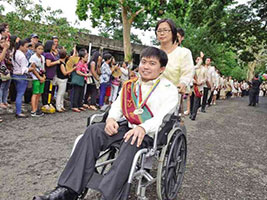 A state university student with a rare and debilitating disease has managed to overcome his disability to graduate Cum Laude with a GPA of 1.5 in Computer Science.
Carl Adrian "Ady" Castueras, a University of the Philippines Los Banos graduate of the class of 2015, suffers from Duchenne Muscular Dystrophy (DMD), a rare degenerative muscular disease caused by a faulty gene for dystrophin that produces protein in muscles. The genetic disorder weakens his muscles and currently has no cure.
Castueras' disease has progressed from the age of 8 and he has been using a wheelchair since then.
His mother, UP Statistics graduate and former marketing executive Mayette, has been Castueras' constant companion wheeling her son to school up until he finished his university studies. The young Castueras is unable to maneuver his wheelchair and cannot lift his arms but is able to write.
Mayette recounts how they faced the challenge of moving Ady up the stairs of school buildings with the help of maintenance personnel and a second wheelchair waiting on the next level. The UP Diliman graduate waited for her son outside his classroom, at times allowed to sit inside the classroom. Their unique situation made them a popular pair on the sprawling Laguna campus.
Ady proudly wore his "sablay" sash bearing the UP colors as he was wheeled into the graduation grounds of UPLB by his mother.
His mother talks about how Ady's studying in UPLB away from his Batangas family home challenged the entire family. They decided to let Ady study in UPLB to allow him to socialize with other people regardless of his condition.
The UPLB student says his disability shouldn't be made as a justification to not do better and achieve his dreams.
Facebook Comments