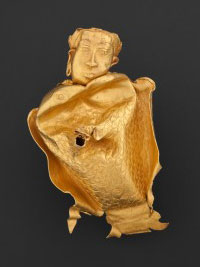 Around 120 Philippine gold artifacts will be showcased at the Asia Society Museum in New York beginning September 11, 2015 to January 3, 2016.
The recently excavated relics—from jewelry to lavish ornaments discovered between 1960s and 1981, showcase the richness and sophisticated metalworking tradition during the golden age of Butuan, a city in the Southern Philippines.
The Asia Society Museum exhibit "Philippine Gold: Treasures of Forgotten Kingdoms" attests to the prosperous seafaring trade in Southeast Asia through an early Asian economic boom from the 10th and13th century.
Community leader and philanthropist Loida Nicolas-Lewis says of the collection, 'The Filipinos, before they were called Filipino, were making beautiful, artistic, exquisite jewelry from gold. So it's like King Tut of Egypt being discovered and coming to the Metropolitan Museum. Everybody went to see it. This is our King Tut."
Organizers were recently at the Philippine Consulate in New York to promote the exhibit. "We are aiming for spectacular, not just a special this fall," Tom Nagorski, executive vice president of Asia Society said.
Some of the highlights of the ancient Philippine gold display is a mythical creature, half-woman and half-bird gold vessel known as "Kinnari", and a delicate Torso ornament "Upavita", worn by high ranking datu or supreme chief over one shoulder and across the torso.
Most of the works are on loan from the Ayala Museum and the Central Bank of the Philippines and have never traveled outside the Philippines to be exhibited.
However, organizers said that the value of collection is off limits to the public. "One of the ways to help secure is not to announce the value of all the objects or to divulge the details where to secure the object," Adriana Proser, senior curator for Asia Society, said.
The ancient Philippine gold Asia Society Museum assures 24-hour security for the gold artifacts from the moment they arrive in New York until it returns to the Philippines.
Facebook Comments