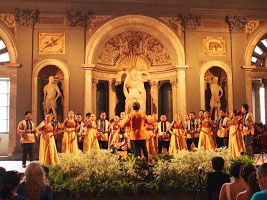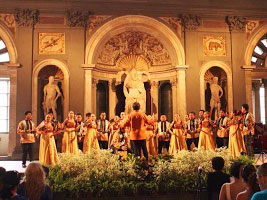 THE University of Santo Tomas (UST) Singers won the Grand Prize, the Golden David trophy, for Best Choir at the recently concluded Florence International Choral Competition in Italy.
Under the baton of its founder Fidel Gener Calalang Jr., the 32-member ensemble from Asia's oldest university bested 14 other choirs from the USA, England, Estonia, Japan, Bulgaria, Italy, China, Poland, Armenia, Hong Kong, Spain.
The UST Singers swept the competition as it also won the First Prize in all four categories—Sacred Music; Mixed Choir; Modern and Contemporary Music; and Pop, Folk, Gospel and Barbershop.
Calalang was also awarded two special prizes: Best Interpretation of the contest piece, "Vergine O Natura" "by Gaetano Lorandi; and Best Contemporary Composer's Arrangement, for his choral arrangement for solo and choir of "My Heart and I" by Ennio Morricone.
UST Singers' baritone Roberto Tagalog won the Best Male Soloist Performance for his rendition of Ruben Federizon's "Gabag-an."
The jury was composed of seven choral experts from Italy, Japan and the Netherlands.
Competition performances took place at historic venues such as as the Palazzo Vecchio, Salone dei Cinquecento, Basilica di San Croce, Basilica di Santa Trinita and Auditorium Saint Appolonius.
The UST Singers was founded in 1992 by Calalang, a faculty member of the UST Conservatory of Music. The choir is composed of students and alumni from different UST colleges.
The UST Singers is the only choir to have won twice—in 1995 and 2010—the Pavarotti Prize, or Choir of the World, title from the Llangollen International Musical Eisteddfod in Wales, United Kingdom, one of the world's oldest and most prestigious choral festivals.
The UST Singers is on its 28th international concert tour covering European countries.
Facebook Comments