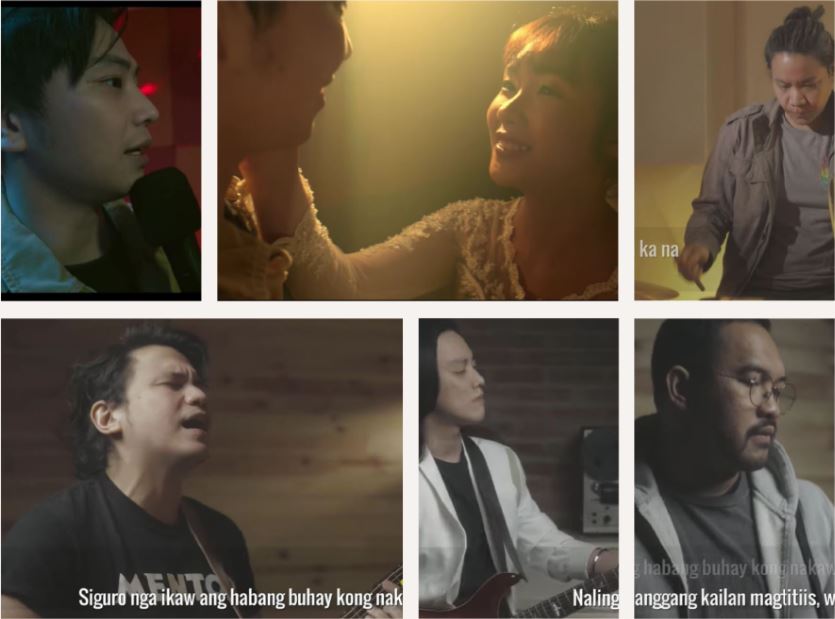 Valentine's blind date vloggers turned real-life lovers Jai Asuncion and Agassi Ching, popularly known as the JaiGa love team, star in the Korean drama-inspired song "Siguro Nga" by Sponge Cola.
Popular pop-rock band Sponge Cola debuted the music video of their new single on February 10, 2021, featuring the two popular YouTube content creators whose love story is opposite to that of the story of the song.
It turns out, Yuzon is a close friend of Agassi and is the producer of Ching's song "Jairah" that he wrote for Jai.
The JaiGa love story started in Ching's vlog "Hokage moves blind date challenge (Valentines Special)" uploaded on YouTube on February 12, 2019. After a few months of dating, the pair became an official couple. To this day, the JaiGa couple continues to inspire and bring the "kilig" factor to their followers and subscribers.
The song was first heard over Facebook Live in early December 2020 and was initially titled "Team Good Boy" in reference to the Netflix hit series Start-up's Han Ji Pyeong character portrayed by Kim Seon Ho. The character's heartbreak left such a great impression on Yael Yuzon that he was inspired to quickly pen a song about the one who got away, of missed chances, of one-sided love, and of keeping a secret to protect a loved one. The new song was eventually officially released as "Siguro Nga" on December 30.
In the music video, the JaiGa couple portrays two fictional romantic characters trying to move forward in their respective lives but burdened by their memories together and their love song.
Agassi is seen singing "Siguro Nga" in a neon-lit karaoke bar while Jai is sitting on the couch, silently crying. Towards the end of the music video, Jai is seen wearing a wedding dress while facing Agassi – both smiling and crying at the same time. The video ends with Agassi leaving and Jai back in the karaoke room wiping her tears away as she is consoled by her friends.
The "Siguro Nga" music video has since amassed over 140,000 views within a day of its posting on YouTube.
"Maraming salamat po, Sponge Cola sa pagkuha saamin at isang malaking karangalan ang maging parte ng musika ninyo! 🙌🏻" Jai Asuncion wrote in the comments.
Fans of the JaiGa couple and Sponge Cola heaped praises for the song and the music video of the Sony Music release.
"Ang lungkot nung meaning nung song. Solid talaga SC since then! Kudos to Spongecola, JaiGa, and the whole team! Share ko lang thoughts ko, ang ganda ng shot! Kahit isang venue lang lahat yun. Ang creepy ni aga para talaga siyang multo nung paglabas niya ng door tapos ang galing ni jai nakakadala yung iyak niya huhu. This couple never failed to amaze me! Dimo masabing hanggang dito lang sila kasi ang dami pa pala nilang kayang gawin na di lang napapakita on cam. I just hope that the story won't happen in real life sa couple nato. I will be upset." – Eliza Lomuntad
"Perfect song, it matches sa pinagdadaanan ko ngayon. I just lost the woman I love, the only one can always understand me, the woman that I've been with. For so many times, life tested our relationship and we fought together but now she's gone." – Mark Anthony Lundang
You, too, can sing it on your own – check out this Karaoke Version made just for you!
WATCH the full music video here and SEND CHEERS to JaiGa, Valentine's blind date vloggers starring in the Start-up Kdrama-inspired song by Sponge Cola!
Are you a Proud Filipino? Get more good news stories on Filipino Pride! Subscribe to GoodNewsPilipinas.com and our YouTube channel: Good News Pilipinas! TV
Facebook Comments