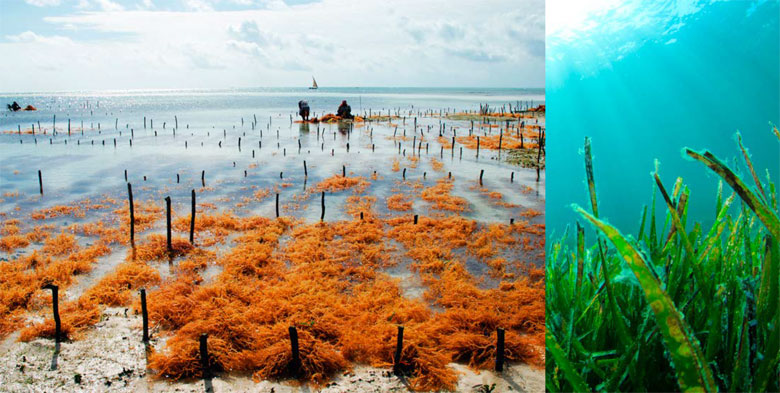 "The problem with seaweed farming was that the selling price was low due to the intense competition from other places that were able to harvest a lot because they had bigger areas. Our area was just too small," said Nestor Acosta.
Acosta is one of the seaweed farmers in far-flung areas of Sulu, among the most impoverished in the country, who had been struggling in years past to raise their families.
Today seaweed farming is providing a steady source of income for Acosta and other families living in those coastal areas.
A professor of Marine Science and a group from the University of Hawaii once came to the Philippines looking for seaweed. They approached Rosalind Wee, matriarch of the Wee family, whose company was then dealing in mother of pearl, dried sea cucumbers, abalone, shark's n and shells for buttons.
That was why Wee, realizing the need for seaweed in various products, began studying about the seaweed and how to harness it. Today, the seaweed enterprise is part of the W Group Inc., the holding company for the family's food ingredient solution, investment and real estate businesses.
"When we started with seaweed, we let go of the other marine products. In seaweeds, the volume is bigger, around a thousand tons. The consistency of seaweeds is also better than that of mother of pearl," Wee said.
Research and development helped in seaweed processing. W tapped the Marine Science Department of the University of the Philippines, which had been doing a lot of research on seaweed, to find other uses for the product. They came up with carrageenan.
Touted as one of the best solutions to the food shortage not only in the Philippines but throughout the world, carrageenan is a water soluble gum used in different food products for its gelling, thickening and binding properties.
Today, it can be found in such varied products as ice cream, processed meat, jellies, sauces and beer, as well as non-food products like toothpaste and pharmaceutical gel capsules.
The W Group's product ensures stability and jobs for poor coastal folk
"We have been in the seaweed business for the past 45 years. There were times nobody was buying. Now everyone's buying and it has been continuous," Wee said.
Seaweed can be cultured in seaweed farms. Where it used to take 45-60 days to harvest, that time has been reduced by half courtesy of the UP Marine Science Department, according to Wee.
"From the beginning, we have only been the processors," she said. "It is the BFAR (Bureau of Fisheries and Aquatic Resources) that has the mandate to plant seaweeds and monitor the areas."
Areas that have been among the more violent places in the Philippines are the sources for seaweed. "When we buy seaweeds from a place, we ensure that peace and stability will follow. Our company has been buying seaweeds from Siasi in Sulu and Bongao and Sitangkai in Tawi- Tawi," Wee added.
The W Group also ensures the protection of the 
ecosystem by ruling out areas where there are fishponds since seaweeds serve as food for fish.
"When we started with seaweed, we let go of the other marine products. In seaweeds, the volume is bigger, around a thousand tons. The consistency of seaweeds is also better than that of mother of pearl."
Wee reveals that a big problem in island provinces like Sulu and Tawi-Tawi is the dearth of banks. This is the reason why transactions are coursed through middlemen, allowing thus another layer between seaweed farmers and manufacturing companies.
She also admits that the supply and demand for seaweed is quite volatile. "Right now there is a big demand for seaweed. During the rainy season, we have an unfilled demand because the rains destroy the salinity of the seawater, resulting in a low supply. When the weather is good, we have excess supply," she said.
"WHEN WE BUY SEAWEEDS FROM A PLACE, WE ENSURE THAT PEACE AND STABILITY WILL FOLLOW. OUR COMPANY HAS BEEN BUYING SEAWEEDS FROM SIASI IN SULU AND BONGAO AND SITANGKAI IN TAWI-TAWI
Currently, the W Group is also in the provinces of Palawan and Bohol in a joint venture with American company Cargill USA. It exports seaweed to the United States, China, Russia, South Korea, Japan, Malaysia and India.
The company has been undergoing a transition as Wee passes on the business to her sons.
Wee sees their business as a way of helping the people who live in coastal areas like Acosta and his family.
"It is important to the seaweed industry to have the product be a source of income. Whenever we go to an area to look for sources of seaweed, we always ask ourselves, 'How can we help the locals? What are their problems? Will they be taken advantage of by middlemen?" she said.
Wee and her family have tried to provide the answers to their questions and solutions to the problems through their dedication to the industry.
This story is part of a series of articles written by GO NEGOSYO writers being published by GoodNewsPilipinas.com on Tuesdays as part of our support to Philippine businesses.
Facebook Comments