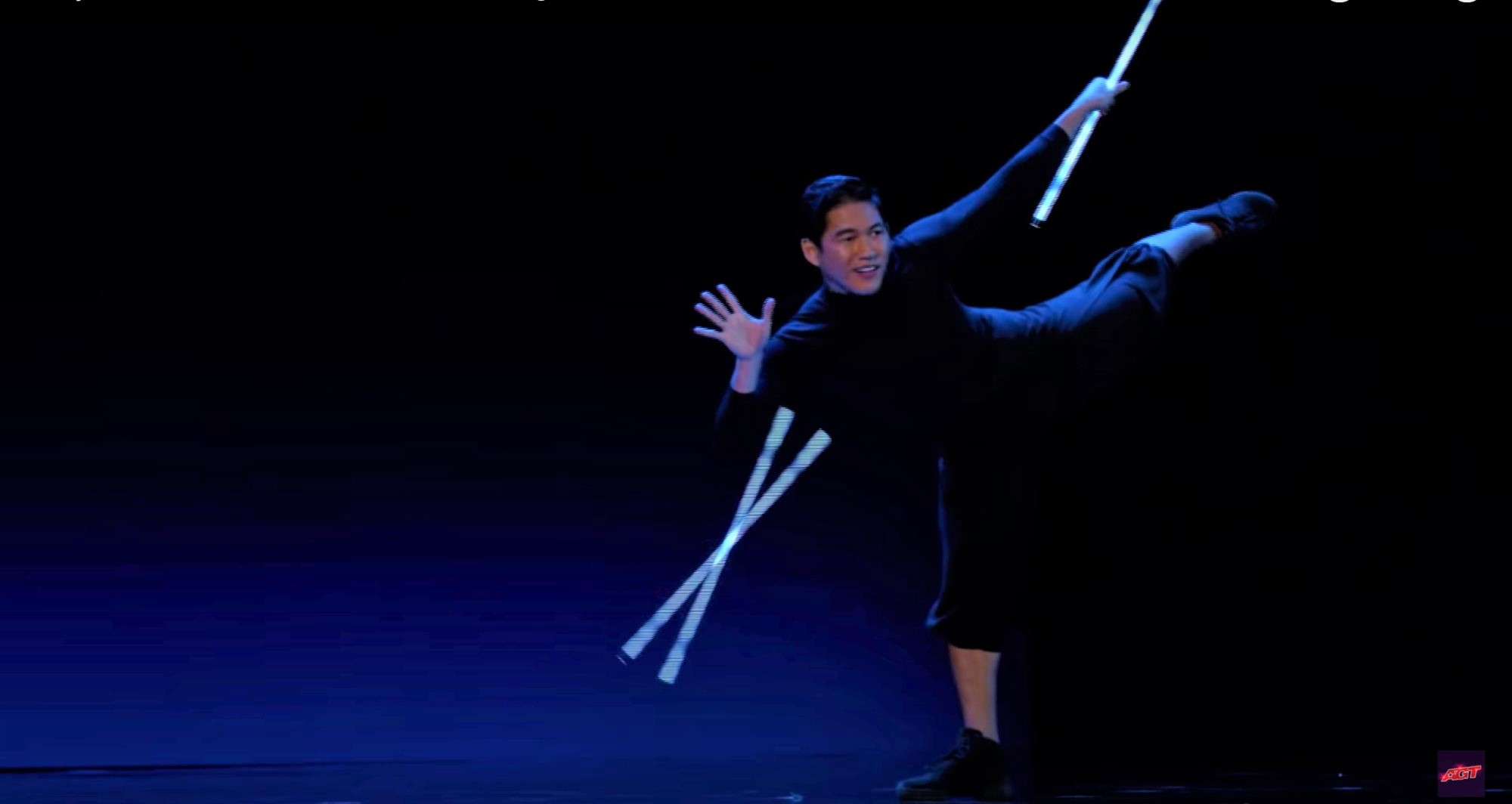 Filipino circus dancer Ehrlich "Firechill" Ocampo has captivated judges and viewers worldwide on the latest season of the United States-based talent show "America's Got Talent" (AGT) stage with his stunning act with the leviwand and hula hoop.
Ocampo, who has performed for the Cirque du Soleil, traveled all the way from the Philippines to audition for the reality show and pursue his dream while proudly representing Filipinos and his country.
"I gave up everything to pursue my performing," Ehrlich Ocampo said as he introduced himself to the judges in the audition.
"People thought I was crazy. I didn't think I'll make it here…I am here fighting for myself, my family, my friends, my community, my country," he added.
In the latest AGT episode which aired on July 13, 2021, (July 14, Manila time) it was revealed that the Filipino dancer has advanced to the next round of the competition after all four of the judges gave him yesses and a standing ovation for his unique act.
The original acrobatics routine involves Ocampo's specialty prop called the "leviwand," which creates an illusion wherein the performer seems to dance with a floating stick.
"That was so much fun. That was-I mean, beautiful. It was flawless. That was a very special show and it was different than anything I've seen," Hollywood actress Sofia Vergara remarked.
"That is an art form that I don't think we've seen. I've been here for a long time. That was beautiful. I loved it," Howie Mandel agreed.
The Filipino dancer was at a loss for words after AGT judge and supermodel Heidi Klum complimented him on his unique dance routine.
"I mean, you are mesmerizing to watch because you kind of wonder how you do it, and you move so beautifully and elegant. You are incredible. I loved it. It's very unique," Heidi Klum praised.
Ocampo confessed to Klum that he was her biggest fan, to which the supermodel replied: "I'm yours now."
The acrobatic feat also won the approval of the notoriously hard-to-please "America's Got Talent" judge Simon Cowell.
"I agree with Sofia. We haven't seen an act like this before. I think the fact that you've got the guts to do what you've done means, in life, you're gonna do amazing," Simon Cowell told Ocampo.
"All the hours that went into this paid off. Fantastic. Well done," Cowell adds.
Ehrlich Ocampo is the pioneer of the leviwand act on the Cirque du Soleil stage and is known for combining circus and magic on his mind-blowing shows. He frequently dances with various props of fire and light, including the leviwand, and the poi and hoop.
United Arab Emirates-born Filipino boy Peter Rosalita received Team Celine Dion's praise for his America's Got Talent audition during its Season 16 premiere.
LINK: Peter Rosalita received Team Celine Dion's praise
UAE-born Filipino boy Peter Rosalita gets Celine Dion praise for Got Talent audition
Filipino multi-voiced singer Marcelito Pomoy was hailed the 3rd runner-up of the 2020 America's Got Talent: Champions stage. Filipino duo Spyros Bros also wowed with their fiery diabolo act and reached the semifinals of AGT.
SEND CHEERS in the comments below to Filipino circus performer Ehrlich "Firechill" Ocampo for moving to the next round of the US-based talent show "America's Got Talent" (AGT) and WATCH him captivate judges and viewers worldwide here!
Good News Pilipinas is celebrating its 15th Anniversary in 2021 by giving away prizes! Subscribe to our Good News Pilipinas! TV YouTube channel and enter the raffle by sending us an email to editor@goodnewspilipinas.com
Facebook Comments