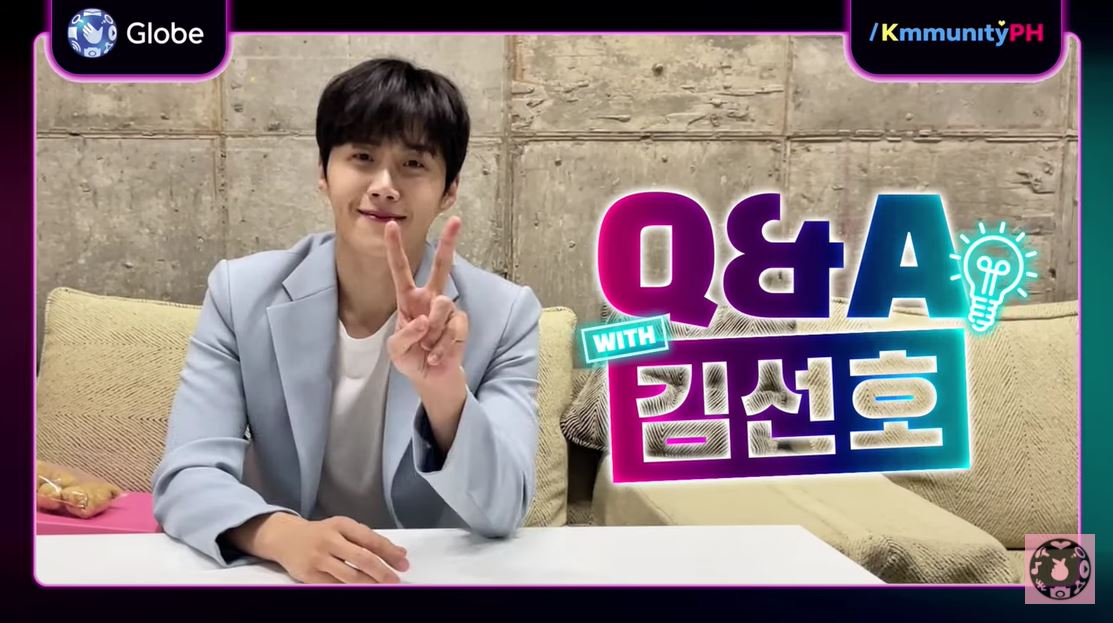 Korean drama breakout star Kim Seon Ho (Start-up) is seen tasting Filipino chicharon bulaklak (fried pork skin flowers), delivering a "harana" line, and speaking in Filipino in a pre-Valentine trending video released by Globe Telecom.
In the 5-minute video, the actor who portrayed the self-made brilliant investor Han Ji Pyeong in the hit Netflix Kdrama series "Start-up" is seen greeting fans as he unboxes Valentine's Day gifts from his Seonhohada fandom from the Philippines.
Kim Seon Ho, whose "Good Boy" image in the television series that starred Bae Suzy and Nam Joo Hyuk created worldwide support collectively known as Team Good Boy and propelled the actor to Kdrama star status, showed off two unopened boxes in the video.
The gift boxes turned out to contain the popular Pinoy snacks chicharon bulaklak (fried pork skin), prawn crackers, cheese rings, potato chips, chocolate fudge, and dried mango.
Kim Seon Ho welcomed the gifts as he admitted to like eating snacks and true to his good boy image, said he would share the gifts with his staff.
The Kdrama lead actor of Strongest Deliveryman (2017), Two Cops (Best New Actor, Excellence Award 2017-18), You Drive Me Crazy (2018), Welcome to Waikiki 2 (2019), and many other series and theater plays then answered some fan questions, including a fan request for him to do lines of a "harana (Filipino serenade)".
The award-winning rookie member of the variety show, 2 Days 1 Night (KBS Rookie Award 2020), was holding the chicharon bulaklak as he attempted to deliver a message of love for his fans and ended up having the snack serve as his flower offering.
He was earlier perplexed at seeing the snack but correctly guessed it was fried pork skin.
Asked what he would like to do if he visits the Philippines, Kim revealed he wanted to eat more delicious Filipino food after tasting some when he visited Cebu and enjoyed sightseeing in the island province. He said he looked forward to traveling again after Covid.
Kim Seon Ho addressed Filipino fans to thank them for their support and said he hopes to soon meet them face-to-face. He then announced his upcoming fan meeting for Filipinos on March 21, his first for a nation outside Korea.
"Kita tayo sa March 21," Kim Seon Ho said in Filipino as he invited fans to the Globe /KmmunityPH event.
The Valentine video released on February 13, 2021, led Twitter trends in the Philippines on the same day it was posted, eliciting varied appreciative comments from netizens.
"Where you at, #TeamGoodBoy​? 👀 If you think you couldn't be more in love with Mr. Dimples, here's an exclusive video of him eating Pinoy snacks to prove you wrong. 😋 Watch 'til the end because there's more! Kim Seon-Ho is about to #Reinvent​ the meaning of kilig this March," announced the Globe post.
Twitterverse exploded with comments that sent the hashtag #KimSeonHo once again on trending status, along with #GlobeKimSeonHo.
https://twitter.com/seonhohohorayyy/status/1360420419547787270
https://twitter.com/maddykonic7/status/1360463042140463111
https://twitter.com/seonhomyeon/status/1360406617997549568?s=09
Kim Seon Ho's heart-breaking Team Good Boy persona inspired Filipino pop-rock band Sponge Cola to release a single titled, "Siguro Nga". Watch it here.
SEND CHEERS in the comments below to the Philippines' Seonhohada fandom for Kdrama breakout star Kim Seon Ho who is treating Filipino fans with this Valentine's video:
https://twitter.com/enjoyGLOBE/status/1360393250499153921
Are you a Proud Filipino? Get more good news stories on Filipino Pride! Subscribe to GoodNewsPilipinas.com and our YouTube channel: Good News Pilipinas! TV
Facebook Comments