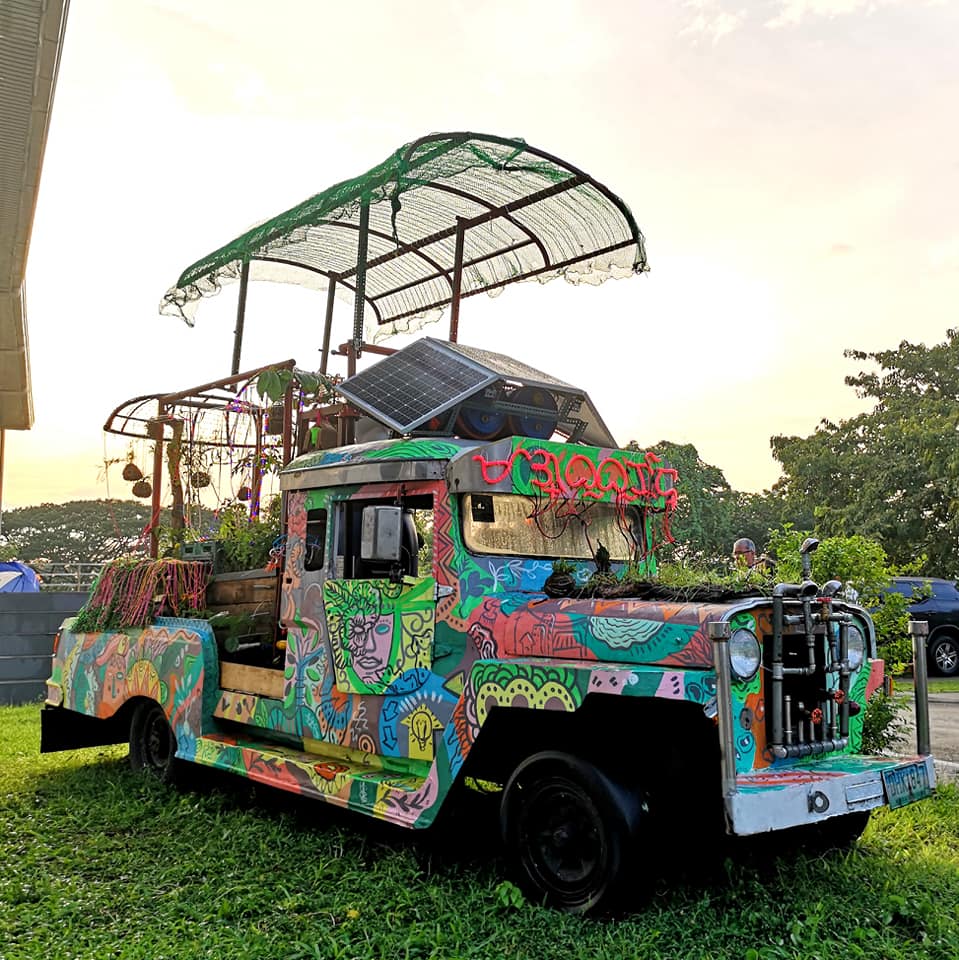 The iconic Philippine jeepney has been turned into an eco-friendly art project that doubles as a micro food forest.
Permaculture and entrepreneur Larry Gile transformed the carbon-emitting scrapped jeepney into a vessel that carries plant life-nourishing soil.
Gile calls his work the "Planter Jeepney" or "papa P", a diesel-powered transport that now bears a "Soil Bed Reactor" that acts as a filtering mechanism to eliminate or reduce exhaust emission to the atmosphere.
Planter Jeepney carries beds of plants and soil for both photosynthesis and aesthetic value.
The Planter Jeepney is using situ ecotechnology where the micro agro forest facilitates self-regulating microclimate then provides a habitat for all sorts of useful insects and birds as mobile green space. It maximizes soil and plant as an internal carbon sequestration system, and even reduces noise pollution.
A graphic neon light poetry bearing its name written in the Philippine ancient script of Baybayin actually use grow lights for the plants – an affirmation that renewable energy is the future, says Gile.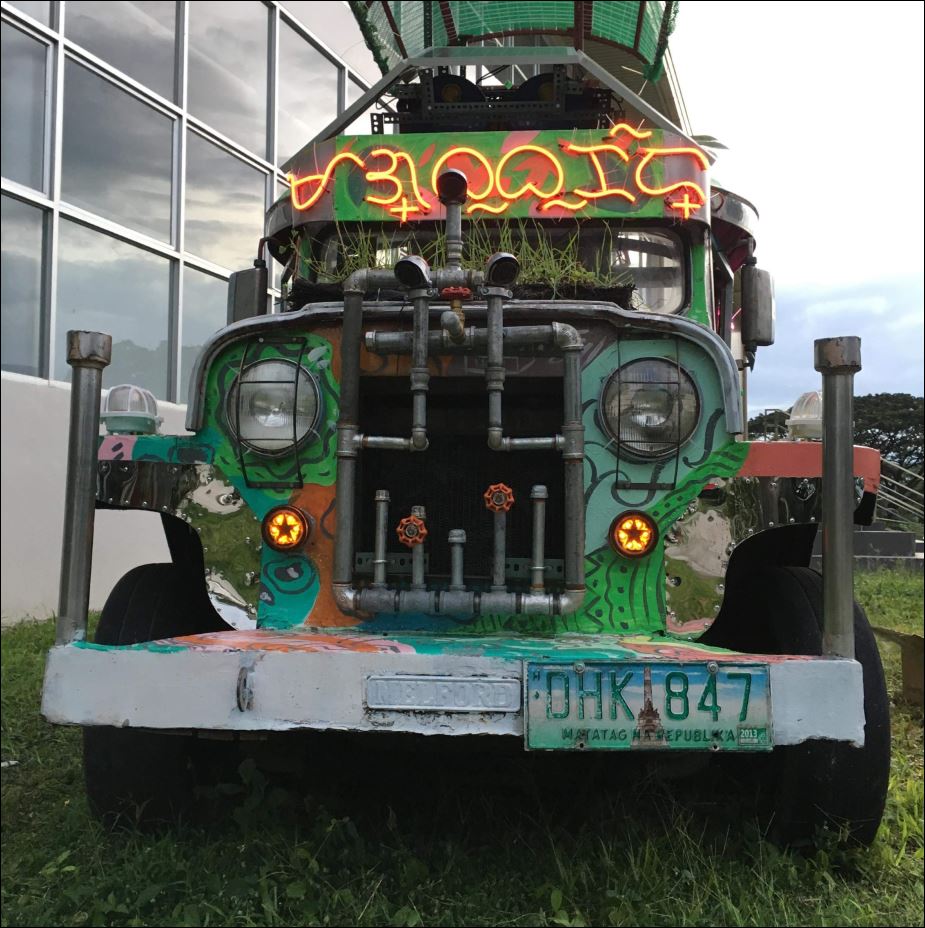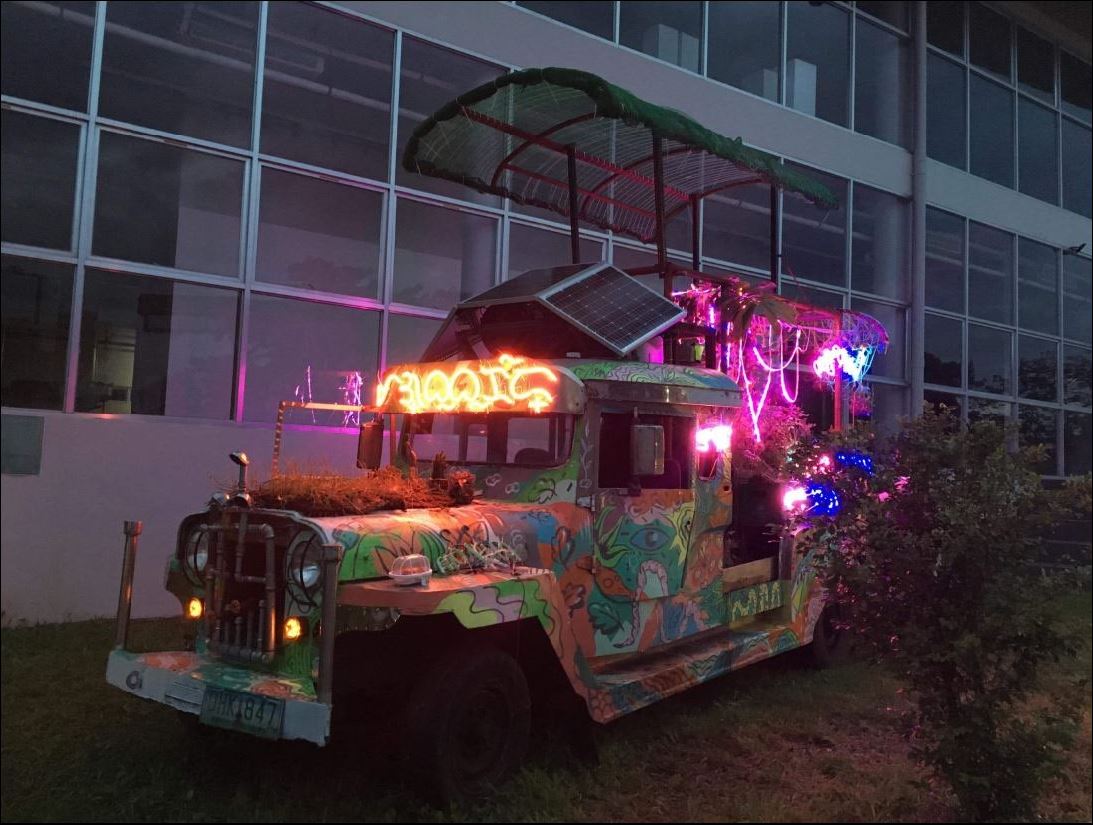 Specific technologies inside the Planter Jeepney include:
Soil as carbon capturing mechanism for bioregenerative filtration (Soil Bed Reactor) and microclimate planting substrate
Terra Preta Soil Bed Reactor as main filtration system for the diesel exhaust gas emission
Mushroom space to facilitate mycorrhizal colonization
The jeepney uses activated charcoal to control carbon dioxide and other emissions. Modified chamber is made to trap and store carbon dioxide.
Bokashi composting with vertical urban gardening solutions.
Proprietary designed Waterless, ease of use Organic Comfort Room to facilitate urine nitrogen and humanure compost harvesting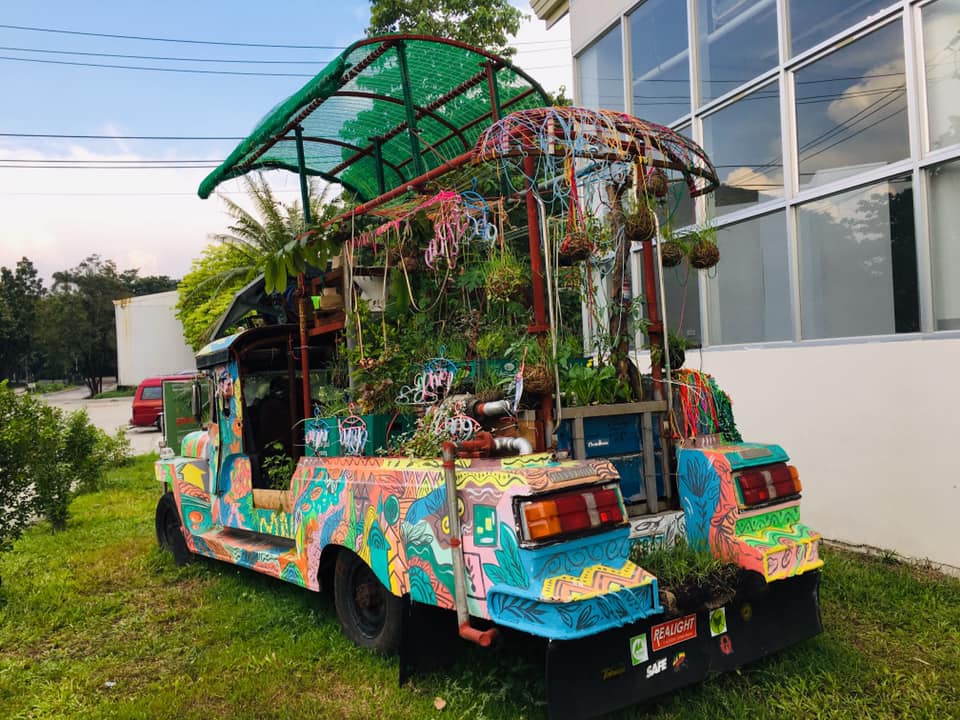 Larry Gile shared to Good News Pilipinas how he wanted to use an eco-friendly solution to the dilemma of the iconic Philippine jeepney first created by the Sarao family after World War II, now under threat of extinction as the government rolls out a transportation modernization program.
"One victim is the phase out of the iconic Philippine Jeepney due to reasons of modernization. A classic example of Filipino innovation and ingenuity will be erased in the Filipino consciousness and will be replaced with boxed type electrical mini buses that are powered by same dirty coal fired power plants," writes Gile in his artist notes.
The Planter Jeepney was driven by Gile and his team from its base in Las Pinas, south of Manila, to its current temporary home at the University of the Philippines College of Fine Arts (UP CFA) Arts and Design Garden in Diliman, Quezon City.
"One of my objectives in creating the Planter dyipni is to stir public debate about the state of environment, nature and urbanization and as demonstrator to generate novel understanding on biodiversity regeneration thru direct intervention, the practicality of the principle of circular economy, eliminating waste & continual use of resources. UP is ideal as a venue," the homecoming UP CFA student shared to Good News Pilipinas.
Gile says he chose to exhibit the Planter Jeepney at the UP as a center of discourse of debates on the jeepney phase out.
"I want to contra pose a cultural solution to the jeepney solution. Solution that is not 'business as usual'," adds Gile.
Larry Gile challenges Filipino engineers and scientists to create based on what is local and eco-friendly.
"If I would have a way, I will stop 'business as usual' phase out of the jeepney. I will dig deeper in its cultural value and make it one of the bases of its modern transformation. In the field of technology, icon of Filipino ingenuity & innovation din ang jeepney. In my use of situ ecotechnology I was able to create a scrapped vehicle and reintroduced it into a valuable piece of project. How much more the scientists and engineers. Madali mag create ng mura at valuable na projects, basta pag iisipan lang… at ang puso ay para sa marginalised stakeholders like the drivers and operators," Gile declares.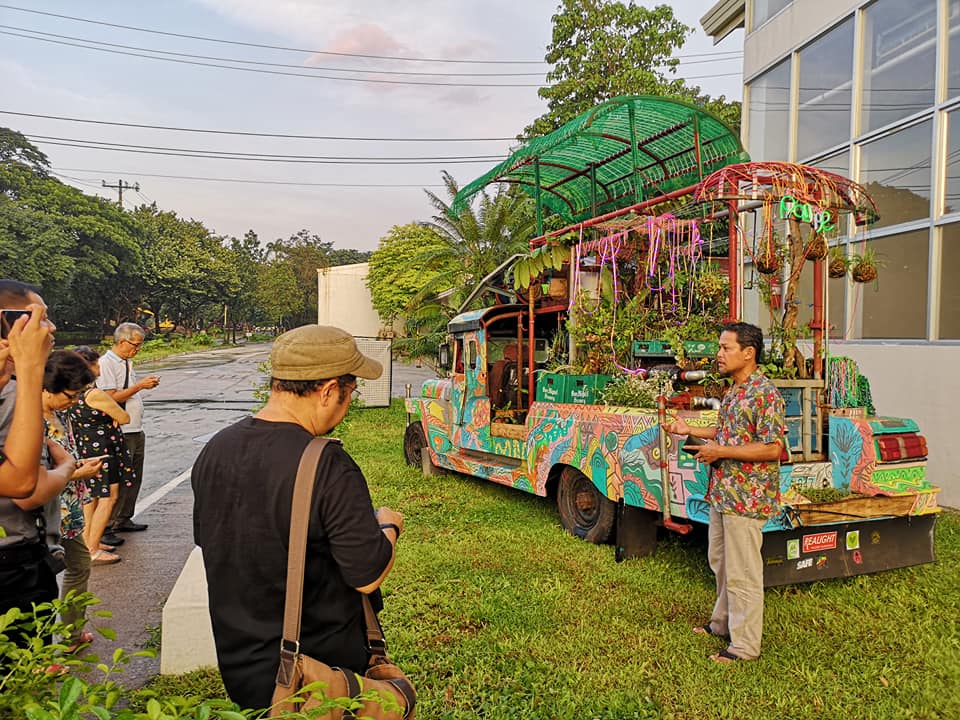 The artist, a former art student of the UP CFA in the 1990s, says his work mitigates negative side-effects of urbanization and climate change by proposing regenerative living. It also bears a message about the need to collect and preserve common scraps objects into valued art pieces.
"It's sort of a redemption from my self imposed hiatus in mainstream art production. I have waited for so long for the right moment when passion for art making will strike me. Eventually, permaculture design process guided me thru to art making. Then it led me to this concept of jeepney as a living mobile art installation," says Gile.
Larry Gile's PLANTER Anthropocene Paradox Spectacle #1 (Basta Driver Sweet Planter) is at the University of the Philippines College of Fine Arts (UP CFA) Arts and Design Garden in Diliman, Quezon City on exhibit until October 11, 2019.
WATCH papa P Planter Jeepney on the roads of Manila to UP Diliman in this video and SEND cheers in the comments below to Larry Gile for showcasing Filipino ingenuity and ways to save the Philippine jeepney!
Like, Follow, Subscribe to GoodNewsPilipinas.com Facebook, Twitter, Instagram, Good News Pilipinas! TV on YouTube, new story notifications and e-mail newsletters for updates on more Filipino Pride stories.
Facebook Comments