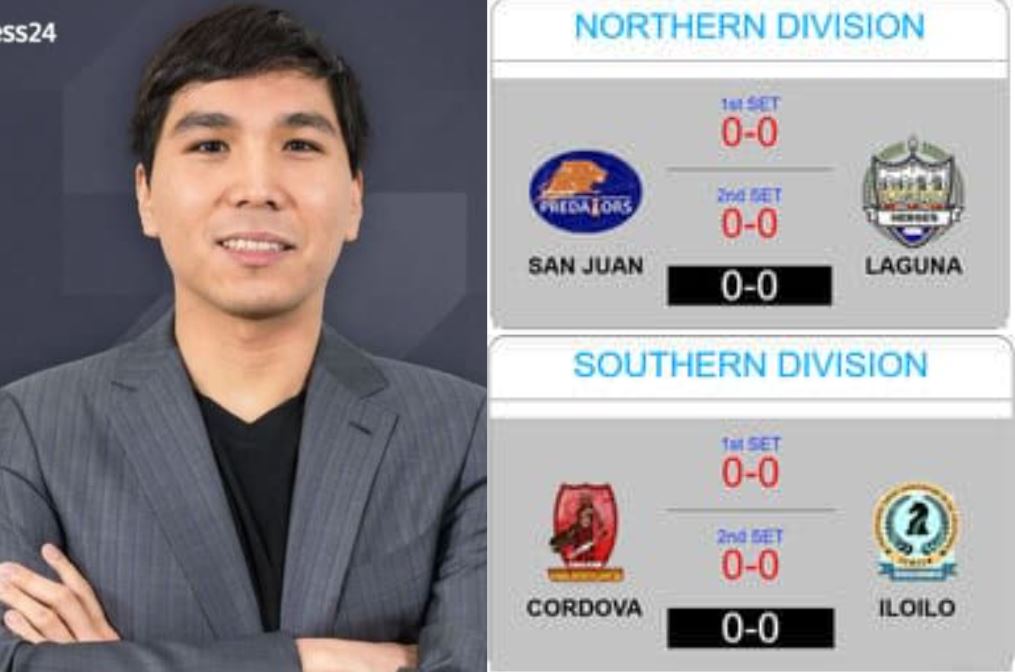 The Wesley So Cup Northern and Southern division finalists are all set for the final four battles to earn the Division Championship Titles and a berth to the Grand Finals of the Philippine Chess Association of the Philippines (PCAP) 2021 Reinforced Conference.
Tournament leaders San Juan Predators (Northern Division) and the Cordova Dutchess Dagami Warriors (Southern Division) will face their challengers Laguna Heroes and Iloilo Kisela Knights, respectively, in the division finals scheduled for July 31.
NORTHERN DIVISION
San Juan confirmed its finals berth after overwhelming Antipolo Cobras in the Northern Conference semifinals, 2-0, on the semifinals day held Saturday, July 24.
San Juan carries a win-loss card of 31-3 as it enters the division finals with import International Grandmaster Spanish Ukrainian Viktor Moskalenko.
Laguna bested Manila Indios Bravos in the semis which ended in an Armageddon match, 2-1, to earn the right to challenge San Juan in the division finals.
Laguna carries a tournament win-loss score of 26-8 going into the finals with Ukrainian import Kirill Shevchenko.
This is the second time San Juan and Laguna will meet in the division finals which Laguna won. The Laguna Heroes from the CALABARZON Region hold the distinction of being the winner of the first PCAP All Filipino Conference.
SOUTHERN DIVISION
Cordova won its Southern Division semis match against the Negros Kingsmen, 1-0.
Cordova carries a scorecard of 28 wins, 6 losses as it enters the division finals with import Israeli Grandmaster Nitzan Steinberg.
Iloilo bested Camarines Soaring Eagles in another Armageddon semifinals match, 2-1, for the right to challenge Cordova.
Iloilo's tour scorecard is at 27-7 as it enters the division finals with import Grandmaster Hovhannes Gabuzyan of Armenia.
The match-ups of the Wesley So Cup Northern Division finalists San Juan vs. Laguna and Southern Division finalists Cordova vs. Iloilo are scheduled to stream live on Saturday, July 31, on the PCAP Gaming Facebook page.
Twenty-four teams started the second tournament of the Philippines and the world's first professional national chess association named in honor of Filipino American Super Grand Master Wesley So.
The Wesley So Cup will have the following prize money all sponsored by the Super GM:
PHP 150k for Champion
PHP 75k for runner up
PHP 40k for 2nd Runner-up
PHP 20k for 3rd Runner-up
PHP 10K each for Best Player of the Conference, Best Import, and Finals MVP
SEND WELL WISHES in the comments below to the Wesley So Cup Northern and Southern division finalists for their upcoming battles!
Good News Pilipinas is celebrating its 15th Anniversary in 2021 by giving away prizes! Subscribe to our Good News Pilipinas! TV YouTube channel and enter the raffle by sending us an email to editor@goodnewspilipinas.com
Facebook Comments