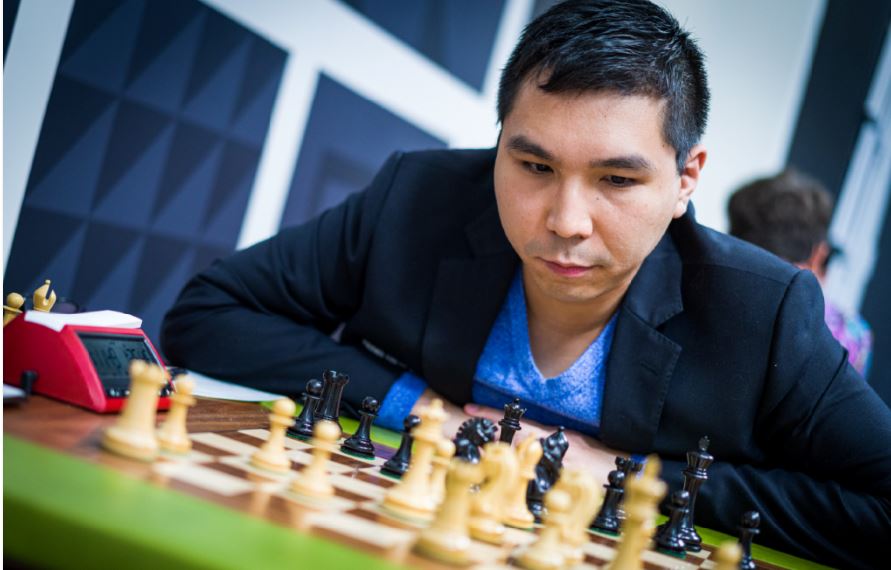 Wesley So has defeated hot wildcard Hans Niemann and expanded his Sinquefield Cup lead to give him a better position to win the event and defend his Grand Chess Tour (GCT) championship title in Saint Louis, Missouri, USA.
His new victory on the classical chess board gave the Filipino American Grandmaster four points from six games, keeping So in the Sinquefield Cup first rank for the third straight round.
As things stand, the two-time GCT champion seems poised to take his second Sinquefield Cup which he last won in 2016, the same year he first won the overall Grand Chess Tour title.
GM Wesley So beats hot wildcard Hans Niemann at #SinquefieldCup@GoodNewsPinas_ https://t.co/O2EM5RaJ8y

— Angie Quadra-Balibay (@AngieQBalibay) September 9, 2022
So has been quietly leading the final GCT 2022 event going into Round 6 on September 8 (September 9 Philippine time).
The three-time and reigning United State Chess Champion has maintained his lead after he drew his Round 5 match with fellow US team member Levon Aronian and grabbed the solo lead after his draw game against former World Champion Challenger Ian Nepomniachtchi of Russia in Round 4.
So was in solo 2nd going into the fourth round after winning against fellow US Team member Fabiano Caruana in the third round.
The fifth and final leg of the 5-event tournament started on September 1 with 8 full tour players and 2 wildcards including World No. 1 Magnus Carlsen and Hans Niemann. Carlsen has since withdrawn from the event which left only 8 full tour players vying for the overall GCT championship.
The 28-year-old from Cavite province in the Philippines won 2nd place in last year's Sinquefield Cup but eventually won the overall 2021 GCT tour championship which is determined by tour points accumulated from five events in the series.
Fil-Am GM Wesley So keeps his lead at #SinquefieldCup with just 3 more scheduled games to play before the end of the last GCT event #chessdrama@GoodNewsPinas_ https://t.co/iK4ARumAjn

— Angie Quadra-Balibay (@AngieQBalibay) September 9, 2022
GM So is seeking a historic third GCT title after winning twice in 2021 and 2016, a feat he shares only with World No. 1 Magnus Carlsen.
The grandmaster who started his career in the Philippines before moving to the United States to continue competing internationally must continue to earn top points with three more rounds to play at the final event of the 7th edition of the GCT to have a chance to overtake the current tour leaders and retain his champion title.
Two-time @GrandChessTour champion Wesley So remains undefeated at #SinquefieldCup on his way to possible historic third title in tourney #chessdrama @GoodNewsPinas_ https://t.co/8hxylUh8xr

— Angie Quadra-Balibay (@AngieQBalibay) September 9, 2022
The Filipino American chess player was leading the 2022 GCT board with 22.5 points after the first three events after a strong start placing 2nd at the Superbet Chess Classic Romania in May, and despite his 5th place finish at the Superbet Rapid & Blitz Poland also in May and tied for 4th rank at the SuperUnited Rapid & Blitz Croatia held in July.
So opted out of the Saint Louis event in August following the tour rules to only participate in 2 out of 3 Rapid & Blitz games.
After Saint Louis, So's 22.5 points dropped to 4th spot behind Frenchmen Maxime Vachier-Lagrave and Alireza Firouzja, and fellow American player, Levon Aronian.

If Wesley So wins the Sinquefield Cup, he will be awarded the full 12-13 points which would result in his scorecard improving to 34.5-35.5 tour points, an advantage that can overtake Vachier-Lagrave's 26.5, Alireza Firouzja's 25.5, and Levon Aronian's 22.5, depending on their performance in the ongoing final event.
The three players who score the most GCT Tour Points over the course of the 2022 Season shall be awarded bonus payments as follows: 1st USD 100,000 2nd USD 50,000, and 3rd USD 25,000.
Although Wesley So will no longer play a match against Magnus Carlsen at the Sinquefield Cup, he is set to defend his Fischer Random Chess Championship title against Carlsen and two other invited players in the Iceland event scheduled for October 25-31.
The 2022 Sinquefield Cup continues on Friday, September 9 (September 10 in the Philippines) with live coverage from grandmasters Peter Svidler, Yasser Seirawan, and Alejandro Ramirez starting at 12:50 PM CT (1:50 AM Manila time) on the Grand Chess Tour site and on the Saint Louis Chess Club's YouTube and Twitch TV channels until September 12.
SEND CONGRATULATIONS & WELL WISHES in the comments below to Wesley So as he continues to dominate the Sinquefield Cup on his way to a possible historic 3rd win at the 2022 Grand Chess Tour!
Good News Pilipinas is a Lasallian Scholarum Awardee. TELL US your good news story tips by messaging GoodNewsPilipinas.com on Facebook, Twitter, Instagram, or e-mail editor@goodnewspilipinas.com and WATCH Good News Pilipinas TV YouTube & Good News Pilipinas TikTok for more Filipino Pride stories!
Facebook Comments