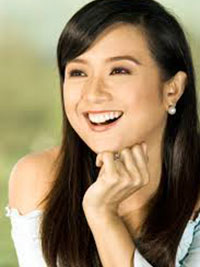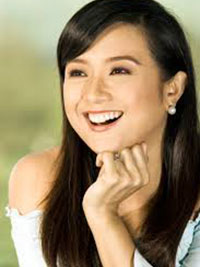 How do I love thee? Let me count the ways.
I love thee to the depth and breadth and height
My soul can reach, when feeling out of sight
For the ends of Being and ideal Grace.
I love thee to the level of everyday's
Most quiet need, by sun and candle-light.
I love thee freely, as men strive for Right;
I love thee purely, as they turn from Praise.
I love thee with a passion put to use
In my old griefs, and with my childhood's faith.
I love thee with a love I seemed to lose
With my lost saints — I love thee with the breath,
Smiles, tears, of all my life! — and, if God choose,
I shall but love thee better after death.
Such a beautiful poem by Elizabeth Barrett Browning (1806-1861). It is one of my favorites.
And so to politely borrow from her How do I Love Thee? here's my Why Do I Love Being a
Mom?
Let me count the ways…
I have my daughter and my toddler who inspire me each day.
Their love, faith and patience are always wonderfully tested.
Motherhood challenges me.
Each waking day is an opportunity to give my all and be the best mom that I can be.
Seeing my kids peacefully asleep, safely tucked in bed gives me joy.
Traveling is always fun and unpredictable — bonding with my kids, no matter how "kulit" they are.
When I'm about to leave the house, my daughter would beg me not to go.
Each day offers a new experience that's not found in any book except… the book of your life.
Kids say the darnest things! And I can publish a book just recalling how many. Allow me to share with you a part of my "collection" of anecdotes and quotes straight from my daughter's mouth. (She recently turned seven.)
When she was five years old:
"Mommy, is human pupu also good for the soil?"
When she was six years old:
"Mommy, I hope you won't win the lotto so you can give chance to others who want to win."
"Mommy, masakit ba manganak?"
My answer: "Yes, masakit. But don't worry, you will be able to tolerate the pain when you are
all grown up. You will be prepared for it. " 
"Eh, Mommy do nuns have babies?"
"No."
"Mommy, can I just be a nun when I grow up?"
Days after she asked me about giving birth and being a nun, we attended a wedding. In front of the Cathedral, she saw some nuns passing by and looking at the beautiful bride dressed in immaculate white.
My daughter looked at the nuns. "Mommy, ganun ba yung dress ng nuns?"
I answered in the affirmative. "The clothing is called a nun's religious habit."
"Ayoko nang maging nun. Bride na lang. I want to look like that bride! And I want to design gowns for nuns someday! I want the nuns to be fashionable, too."
Anya likes to eat cheese popcorn whenever we go see a movie. But she only likes to lick the cheese. Sayang naman kung itatapon yung popcorn so I would eat the popcorn. One time, Anya asked me, "Mommy, why are you eating the popcorn? I already licked it. Ewww, it's wet!"
I answered, "Kasi sayang if we throw it. Besides, I lovvvve laway!"
Anya reacted, "You like daddy's laway, too? Especially when you kiss?" (I was laughing while half-shocked at her statement.) 
The humor of my then six-year-old Antonia baffled me.
Two months ago, we went on a trip wherein we were with nuns for two days. Anya bonded with the nuns like Sister Maria Cecilia and Sister Maria Rowena of San Giovanni Rotondo, Italy.
After the trip, Anya would act very "nun-like" and ultra-conservative.
One time, I was wearing a V-neck blouse which showed a bit of my cleavage and Anya said, "Mommy, can you keep that blouse forever so that I won't ever get to wear it when I'm 16 years old?"
And another time, I was wearing a tube dress when we went swimming and she went: "Mommy, I can see your (pointing to my cleavage) line… that line on your chest!"
I assured her that it's okay that when a girl grows into a woman, she will have what you call cleavage.
And since she dreams of being a fashionista, stylist and designer, her goal in the future is this: To design new dresses for nuns.
One day, she showed me her designs for modern-day nuns. It amused me. The design was a nun's habit with lots of red hearts.
Anya went to the school clinic one time. I asked her what happened, was she sick? Her answer: "Tsika tsika lang with the nurse, Mommy." "Tsika tsika" talaga ang term.
My daughter is having crushes. She shyly admitted to us the name of her crush in school. Then she was quick to tell us, as if comforting us, "Don't worry Mommy, crush lang naman, hindi love."
I asked her: "Why? What's the difference between love and crush?"
Her answer: "Crush is when you are not sure of your feelings."
And love?
"Love is… yung sa inyo ni Daddy!" (Naks!)
(Tintin Bersola-Babao is the host and creative founder of PARENTin.TV, the first Philippine online parenting show. This article from PARENTIN TALK was first published in The Philippine Star.)
Facebook Comments