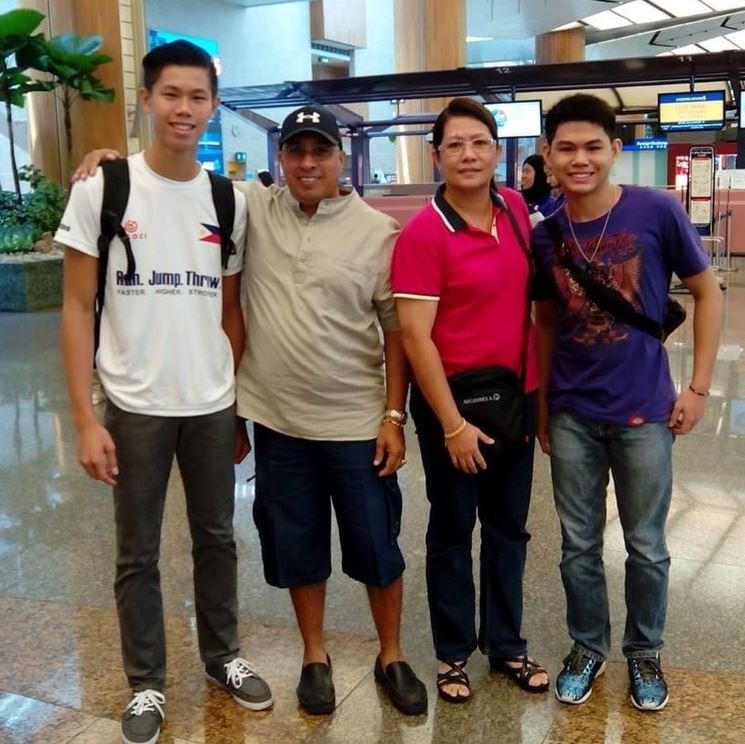 World Championships 2022 bronze medalist Ernest John "EJ" Obiena has pledged the promised 250 thousand cash reward from the Philippine Sports Commission (PSC) along with another 250k from his coaching team to help with the medical needs of fellow Filipino athlete, Asia's sprint queen Lydia de Vega.
The 26-year-old Obiena who broke the Asian record anew as he jumped to a Men's Pole Vault 3rd place finish in the July tournament held in Oregon, U.S.A., said that he was donating the PSC cash incentive as a tribute to De Vega who was a pioneer of the first World Championships in 1983.
The 57-year-old Lydia de Vega also held the Southeast Asian Games 200-meter dash and 100-meter dash records for 33 years until fellow Filipino athlete Kristina Knott broke them during the 2019 games hosted by the Philippines and at the Drake Blue Oval Showcase in Iowa in 2020.
"I am also here today because I am standing on the shoulders of giants. The legends of Philippines Athletics who paved a way for me. Who brought attention and success to athletics. I owe them a debt of gratitude.
I thank them for the route they have forged for us competing today.
39 Years ago, was the first-ever World Championships in 1983. Our leading participant in those inaugural World Championships was the legendary Lydia De Vega," wrote Obiena in his social media post after learning of the promised reward for breaking the Asian record.
EJ Obiena has his share of financial difficulties as he trains and competes overseas for the Philippines even after his previous funding issues have been cleared, but said he realizes De Vega who is fighting against cancer, needs the money more.
"I have just learned of the plans of PSC to reward me with 250,000 pesos incentive for breaking the Asian Record. This is deeply appreciated, and certainly needed since my funding is still yet to be sorted, despite the mediation agreement.
"However, on the flight back to Italy, it occurred to me that despite my own training needs, Mam Lydia needs this money more than I do. So, I am hereby pledging to gift these 250,000 pesos once paid, directly to the family of Lydia De Vega for her medical expenses," announced Obiena on July 28.
The new World No. 3 in Men's Pole Vault also said James and Carol Lafferty, his advisor and nutritionist respectively, will match his contribution, resulting in a total pledged amount of 500 thousand pesos.
Lydia de Vega's family has appealed for financial help with the mounting medical bills as the Filipina track and field champion continues to battle Stage 4 Breast Cancer since she was diagnosed four years ago.
Her daughter Stephanie de Vega Mercado issued the appeal on July 20 while providing updates about the medical condition of her mother.
"My dearest mother, Lydia de Vega, is in very critical condition due to complications caused by her Stage 4 Breast Cancer condition. She was diagnosed with this in 2018 and has been silently fighting the disease for the past 4 years. As the disease is progressing, her condition is quickly worsening despite undergoing many procedures including brain surgery.
I am requesting everyone to please pray for her in this desperate time of need. If anyone would like to assist financially to cover her medical expenses, any donation would be deeply and whole-heartedly appreciated maraming salamat po!
For any financial assistance, kindly deposit to the following account:
BPI Savings
3209 0956 44
Stephanie de Vega Mercado
You may also reach me through this number 09196005244"
SHARE THIS STORY to spread to appeal for help for Lydia de Vega, Asia's sprint queen who is battling cancer.
Good News Pilipinas is a Lasallian Scholarum Awardee. TELL US your good news story tips by messaging GoodNewsPilipinas.com on Facebook, Twitter, Instagram, or e-mail editor@goodnewspilipinas.com and WATCH Good News Pilipinas TV YouTube & Good News Pilipinas TikTok for more Filipino Pride stories!
Facebook Comments