The Xavier School Advanced Team and Philippine Science High School Intermediate Team were recognized as top performers at the World Math Team Championship held in Incheon, South Korea.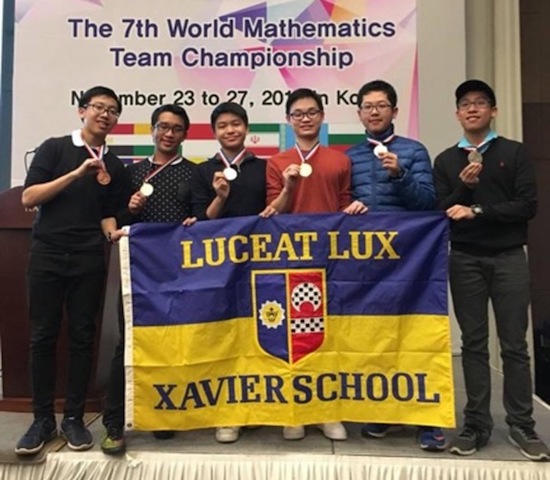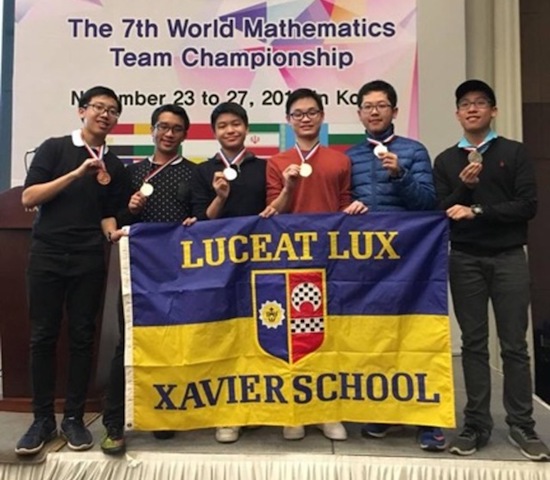 The two schools received awards for their aggregate scores in team, relay, and individual competitions.
The Filipino mathletes altogether won 3 gold, 7 silver, and 17 bronze, according to news reports.
The awardees:
Gold medal awardees:
Advanced Division – Sedrick Scott Keh (Xavier School)
Raphael Villaluz and Rafael Jose Santiago (Philippine Science High School)
Silver awardees: 
Advanced Division: Lorenzo Jaime Y. Flores (PSHS)
Alexander Go, Xuan Li, Mark Christopher Uy (Xavier) 
Intermediate Division: 
Jose Lorenzo P. Abad, Bert Joseph A. Tropicales, Dominic Lawrence R. Bermudez(PSHS) 
Bronze awardees: 
Advanced Division: 
Joaquin Jose S. Lopez, Rodrigo Dexter A. Perando (PSHS) 
Edward Akiro Manuel & Earle Anderson Ng (Makati Hope Christian HS)
Matthew Johan Uy (Xavier) 
Intermediate Division: 
Shoshannah B. Tiu, Josh L. David, Jose Tristan Tan, Mallory Gillian Cua, Haziel Vanessa C. Lim (MHCS)
Sinead Dylan P. Vallester, Frederick Ivan Michael T. Tan, Wesley Gavin Go Palomar (PSHS) 
Junior Division:
Shaun Nicolo V. Salazar (PAREF Southridge School)
Jerome Samuel D. Tan, Dean Alistair R. Yu, Jasmine Ngo, Kimberly Ang (MHCS)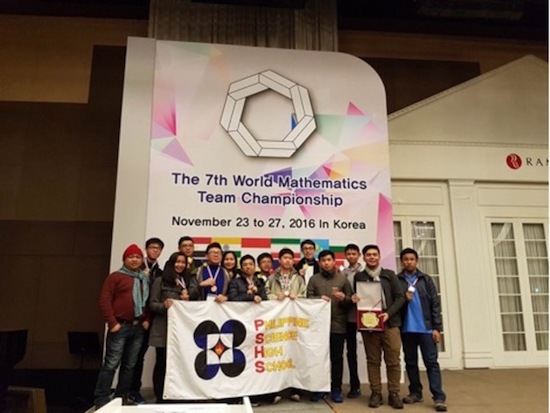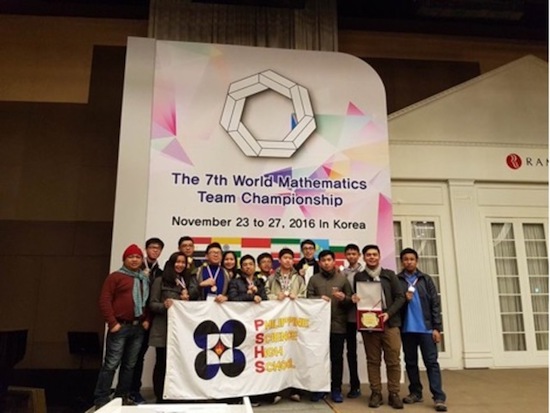 Merit Awardees:
Advanced Division: 
Lance Ricco L. Teng, Margarita Patrice S. Penson, Pei-Hsuan Lee, Arvin Christian S. Tan (MHCS)
Mikhaela Marie V. Diaz (PSHS)
Kimmayong Ayahao (Xavier) 
Intermediate Division:
Jarvy Larz San Juan (MHCS) 
Junior Division:
Kim Chan-E
Mikaela Alyn C. Motol 
The coaches of the respective teams are Jose Manresa Enrico Espanol IV (PSHS Advanced Team), Mario Danilo R. Lanura (PSHS Intermediate Team) and Roberto Ongaria (MHCS Teams).
The World Mathematics Team Championship (WMTC) is a competition that puts more emphasis on teams than on individuals.
Facebook Comments