If you want unique holiday gifts, then Bayani Brew should be on your want-to- give want-to-receive list.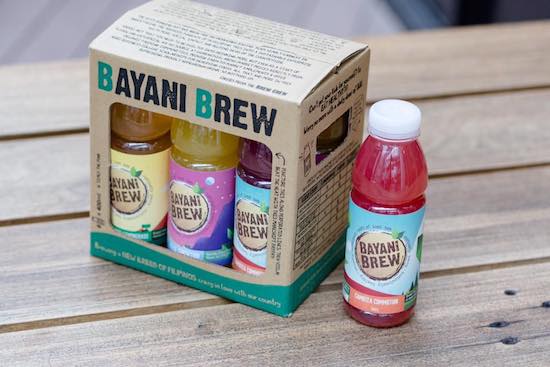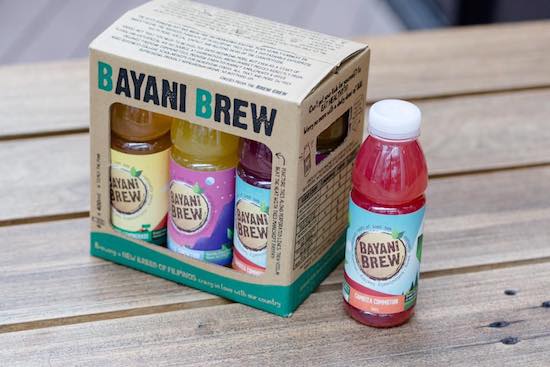 The Gawad Kalinga (GK) Farm's Ice Tea Brand, Bayani Brew, advocates giving and imbibing these drinks made from local and indigenous ingredients and sourced from organic farming communities.
The refreshing beverages come in three flavors:
​​Lipsmackin' Kick-Ass Lemongrass​:​ ​​​brewed lemongrass & pandan​ with calamansi (​400ml, ​​ready-to- drink​, 2.5 months​ shelf-life)​

Described as refreshingly light zest, the drink is brewed from organically-grown lemongrass and pandan, sweetened with raw brown sugar and a hint of calamansi. The subtly floral fragrance and greenish hue of pandan leaves lend a distinct earthiness to the classic brew, while the citrusy aroma and revitalizing qualities of lemongrass help relieve and rejuvenate.

Camotea Commotion​:​ ​​brewed sweet potato tops with calamansi (​400ml, ​​ready-to- drink​​, ​60 days shelf-life)​

The Bayani Crew admits the brew comes from the not-the- most-glamorous of crops, purple leaves of sweet potatoes AKA "talbos ng camote," which grow a lot like weeds. However, from those leaves come the brew's rich reddish hue, an anti-oxidative, anti-inflammatory compound know as polyphenol. The brew mixes fresh purple leaves of sweet potatoes, with zesty lemongrass, and the natural sweetness of raw brown sugar and calamansi extract.

M.A.D. Concoction​:​ ​​brewed moringa and alagaw with dalanghita (​400ml, ​​ready-to- drink​​, ​30 days shelf-life)

The Bayani Crew advertises this one as the Artiseasonal variant: M.A.D. Brewed from all-natural Moringa, Alagaw and Dalanghita. Tagged the "wonder leaf" for way too many reasons, moringa oliefera is rich in antioxidants and perfect for lactating moms. The "alagaw" (premna odorata), the 'no-one's- ever-heard- this' leaf before and 'we-swear- we- didn't-make- this-up' leaf actually aids in phlegm decongestion and flatulence. Capped with the citrus zing of our native midget orange, dalanghita, there's no reason why you shouldn't get MAD now (except for when dalanghita is out of season, sorry about that)
The Bayani Brew ice tea drinks that made it to the top 2 spot in the Rockwell UTT X series are actually products of the Bayani Brew mission to help elevate the situation of farmers "I'm impressed with the products that come out of Gawad Kalinga's Enchanted Farm. The social entrepreneurs from the farm know that you have to sell really good quality products first, and that the social cause is not an excuse to be mediocre," according to Our Awesome Planet.
The ingredients are from organic farming communities are from:
GK Enchanted Farm: Situated in Brgy. Encanto in Angat, Bulacan, the sprawling, verdant GK Enchanted Farm — a previously barren terrain, now revived and thriving — produces bundles and bundles of organic lemongrass, talbos ng camote, pandan leaves, and many crops essential to each bottle of Bayani Brew. The rapidly growing landscape is home to a sustainable farming community dedicated to learning, creating, innovating, and uplifting the lives of Filipinos in the countryside.
Samahang Agraryong Magsasaka ng Brtgy. Camachile: The crew of Bayani Brew partners with other farming communities, one of which are the agrarian reform beneficiaries of Brgy. Camachile in Dona Remedios Trinidad, directly sourcing at above-market prices as part of their mission of making subsistence farmers' hand-to- mouth existence a thing of the past.
The Bayani Crew gathers support for the products saying supporting Bayani Brew "means uplifting organic farming communities, augmenting the income of independent farmers, promoting sustainability, innovation, and responsible consumption."
The Bayani Brew Christmas 6-packs and 4-packs are offered as season gifts from Marketa PH.
Facebook Comments