Australian business process outsourcing company, TSA Group, is highlighting BPO operations in the Philippines with the opening of its second site in Manila.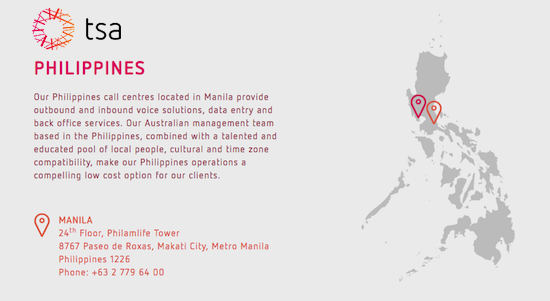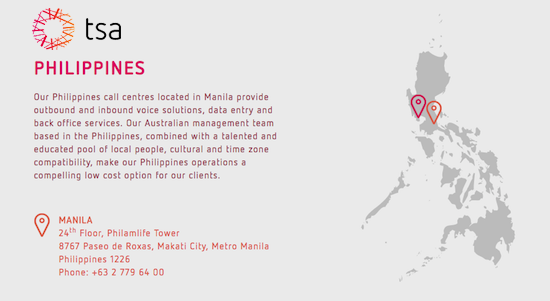 The 100% Australia-owned BPO company added a new facility at the Mall of Asia Complex in Pasay City, and is poised to expand its local workforce by 500 people. TSA currently employs 1,000 people in its 4-year- old Philamlife Makati site.
TSA's investment in the country's BPO industry now stands at over $9 million AUD.
TSA CEO Luke Kenny said the Australian company is confident of its business in the Philippines, "The Philippine operations have provided TSA the opportunity to become more competitive in the industries that it serves. We truly appreciate the business environment, the reliable infrastructure and the availability of quality talents."
"On the international front, TSA's success highlights what the Philippines can offer as a BPO destination, and that TSA is in the right location for the expansion of our business," Kenny added.
The TSA Group draws attention to its Manila operations on the company's website, identifying how its Australian management team based in the Philippines combined with "a talented and educated pool of local people, cultural and time zone compatibility, make our Philippines operations a compelling low cost option for our clients."
The company's new Five ECom site at the MOA would provide support for Telstra, Australia's largest telecommunication and technology company and one of TSA's major industry partners.
The two TSA sites in the country provide outbound and inbound voice solutions, data entry and back office services.
Facebook Comments