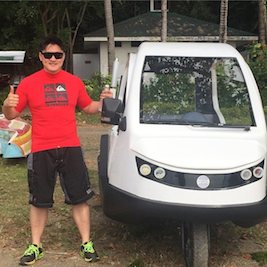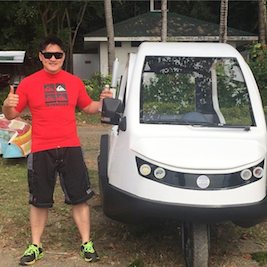 The Pinoy tricycle has undergone another makeover, thanks to the ingenuity of Filipino inventor Atoy Llave. The trike-boat is seen as a welcome invention especially now that the rainy season is here and with it the inevitable floods in this disaster-prone country.
The unique invention is the H2O Salamander, an amphibious tricycle that is part-boat and part-land ride which has been created to address multiple needs – a regular tricycle ride that can transform into a vehicle for rescue operations needs as well as the transport needs for folks to return to their normal daily work grind during times of flooding.
Salamander is touted as the first of its kind in the world, 100% made by Filipinos in H2o Technologies, a Filipino-run company, out of its Metro Manila base of operations.
The amphibious tricycle can fit 6 people. It has two versions, the 5Kw electric vehicle which runs on batteries and is also powered by solar panels, and the 250cc hydrogen-enhanced engine which can run on fuel while being environmentally-friendly. The vehicle is equipped with USB ports for emergency charging of mobile devices. On water the Salamander can run up to 6 knots. On land it can run up to 80 kmh.
Inventor Atoy Llave told media that the vehicle has a patent pending compartmentalized hull which allows the trike to float like a boat. "Once flooding arises, with a switch of a lever, the mud type, industrial grade propeller can travel even in flood waters," added Llave. The steering wheel can maneuver on both land and water, with a built-in rudder.
H2o cites its Salamander as the solution to the needs of 26,000 flood-prone barangays in the country – more than half of the 42,000 total number of barangays. The company is currently offering to lend its prototypes to barangays, prioritizing local use over international investors.
Llave says the cost of each Salamander is about 50,000 more than the regular tricycle but that it is exploring ways to further reduce the unit cost.
Facebook Comments