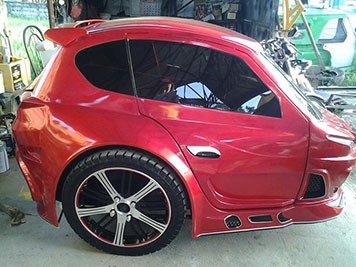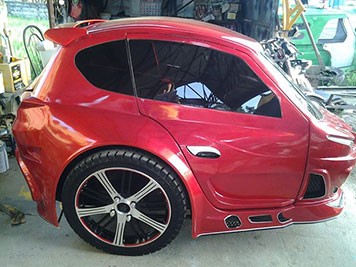 For both residents and visitors in the Philippines the jeepney, the baby bus, and the tricycle are uniquely Filipino vehicles used as common transport. Now make way for yet another Pinoy innovation: the Kotse-kel.
The kotse-kel is basically a hybrid of a tricycle and a car. The name is taken from kotse (car) and the last syllable of the Pinoy traysikel.
The two-seater kotse-kel offers plush seats, a cooler, and a back compartment as opposed to the traditional tricycle. It also looks just like a mini car attached to a motorcycle or motorbike.
The brainchild of Lyndon Olba, the kotse-kel was originally created to take Olba's kids to school.
Lyndon Olba customizes sidecars or passenger coaches and founded Blak en wyt sidecar fabrication for personal orders of customized kotse-kels. His one of a kind creation roams the streets of Bangar, La Union but it has not only captured the attention of locals but also netizens.
The internet republic has expressed amazement at the extraordinary invention because it not only gave the Filipino tricycle an updated and cool exterior, it also added comfort and respite from the tropical heat. The mini car look-alike is air-conditioned.
Lyndon Olba says that the customization of the vehicle is expensive and due to the nature of the project, it took him about five months to create. To date, the kotse-kel is for private or family use only but you can get your very own for 60,000 pesos.
Facebook Comments