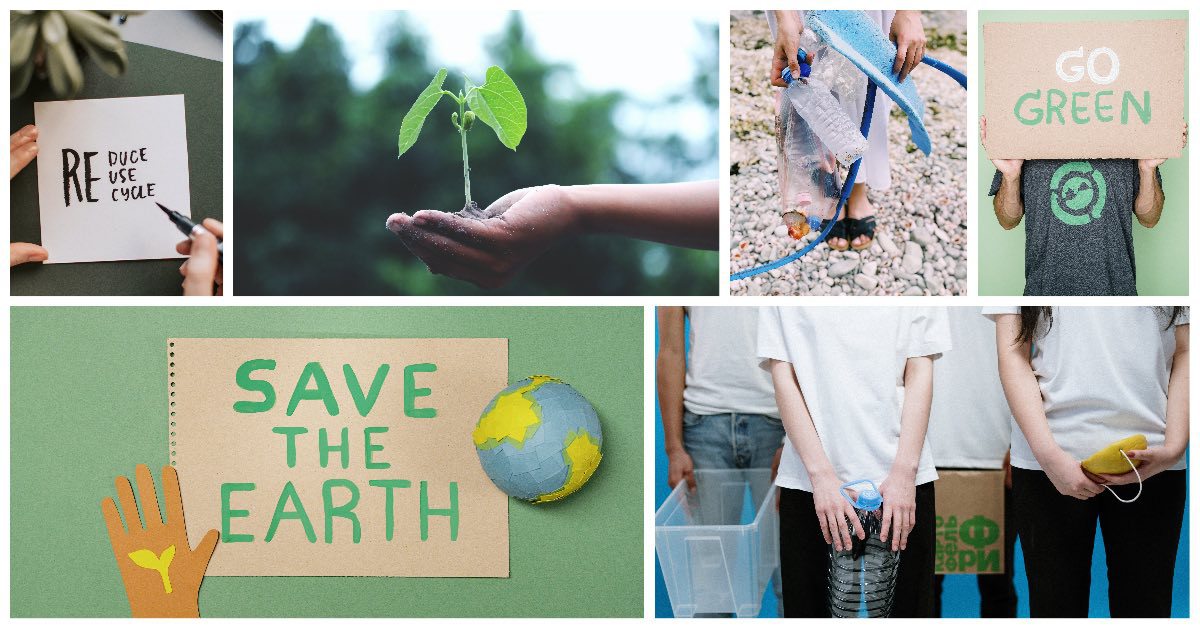 Here are 10 simple ways and activities to show love and appreciation for the planet this Earth Day and beyond.
Today, people from around the world are celebrating Earth Day on April 22, an annual global movement dedicated to raising awareness for environmental protection and other environmental issues.
The event is a time for people to come together to join efforts and initiatives worldwide that help prevent the deterioration of the environment and the planet. It's also a day for everyone to do their part and make a difference to save the planet, big or small.
The following are 10 simple ways and activities that you can take part in now or any day, to help save Mother Earth:
Plant trees
One of the most popular ways that people do to celebrate Earth Day around the world is by planting trees. Take part in your local community's tree-planting projects or donate to global reforestation efforts like The Canopy Project through the official Earth Day site, EARTHDAY.ORG.
Young Filipino artists earlier teamed up for the "Project: KAGUBATAN", an online art and technology exhibit and educational webinar series to support the World Wide Fund for Nature (WWF)-Philippines' water conservation and reforestation efforts in the Ipo Watershed.
Explore eco-friendly alternatives
Seek out more sustainable and eco-friendly alternatives to everyday products and essentials.
Check out this list of eco-conscious merchandise from the World Wide Fund for Nature (WWF) the Philippines and its partner organizations who are working together to give back to the planet.
Filipinos promoting an eco-conscious and zero-waste lifestyle earlier initiated wasteless community pantries that distribute free condiments and necessities in refillable containers to reduce plastic packaging use among locals.
Support local environmental groups
Publicly show support for local environmental groups in your area by joining their activities and events and make sure to tell your friends and family about how they can also participate.
Practice the 6 Rs: Reduce, Reuse, Recycle, Remove, Refuse, Rally
The official Earth Day site lists even more ways to combat plastic pollution. Aside from the 3 Rs of waste management – Reduce, Reuse, and Recycle – which all cuts down on environmental waste and pollution, the non-profit organization recommends three more: Remove, Refuse, and Rally.
Here's how we can practice these 6 Rs (Reduce, Reuse, Recycle, Remove, Refuse, Rally):
Reduce plastic waste
Reuse items more than once and avoid single-use bags, cups, and other products.
Recycle items instead of throwing them away.
Remove trash and pick up waste when visiting parks, beaches, and public places.
Refuse single-use items, such as plastic straws.
Rally. Take part in movements and urge local leaders in your area to adopt environmental policies, such as banning plastic bags and other single-use plastic items.
Compost food and waste
Go green and say no to food waste all year round by taking up composting.
Composting transforms food scraps into valuable fertilizer that enriches the soil. It also reduces food waste, an enormous contributor to climate change.
Check out these plant-based and 100% biodegradable phone cases that can be composted after use to reduce plastic pollution.
Ride your bike
A great way to reduce one's carbon footprint and greenhouse gas emissions in the environment is by riding a bicycle instead of driving a car.
Check out these three most bicycle-friendly cities in the Philippines.
Save electricity
Making small changes in one's lifestyle, such as conserving energy in our own respective homes, will have a big impact on the environment.
Something as simple as turning off lights and appliances when not in use can make a big difference when we all collectively work together to reduce energy waste and power usage.
Earth Hour Philippines encouraged Filipinos to turn off lights for an hour as a symbol of commitment to the planet and to bring awareness to climate change.
Conserve water
Conserving water is one of the many little ways that anyone can do to make a big difference for the planet.
Volunteer
Lend a hand to organizations that could use your help in activities that tackle environmental issues and climate change. You can even initiate a cleanup activity in your own area or advocate for climate education to inspire action to be taken for the environment.
Do one green thing every day
Change starts with ourselves. We can make more sustainable choices in our everyday decisions that can, in turn, make the world a better place and safeguard natural resources for future generations to come.
This year's Earth Day theme is "Invest In Our Planet," which stresses the importance of our voices and capabilities to take action for the planet and our climate. Practicing one small act that can help save the environment can make a big difference if we take collective action for the planet.
The University of the Philippines Visayas (UPV) is joining the World Earth Day celebrations in Iloilo City to call for urgent climate action.
HERE'S HOW TO JOIN Liter of Light's Earth Day Challenge to Build Light It Forward Solar Lamps
SHARE this article to show your love and appreciation for the planet this Earth Day and beyond.
Good News Pilipinas is a Lasallian Scholarum Awardee. TELL US your good news story tips by messaging GoodNewsPilipinas.com on Facebook, Twitter, Instagram, or e-mail editor@goodnewspilipinas.com and WATCH Good News Pilipinas TV YouTube & Good News Pilipinas TikTok for more Filipino Pride stories!
Facebook Comments