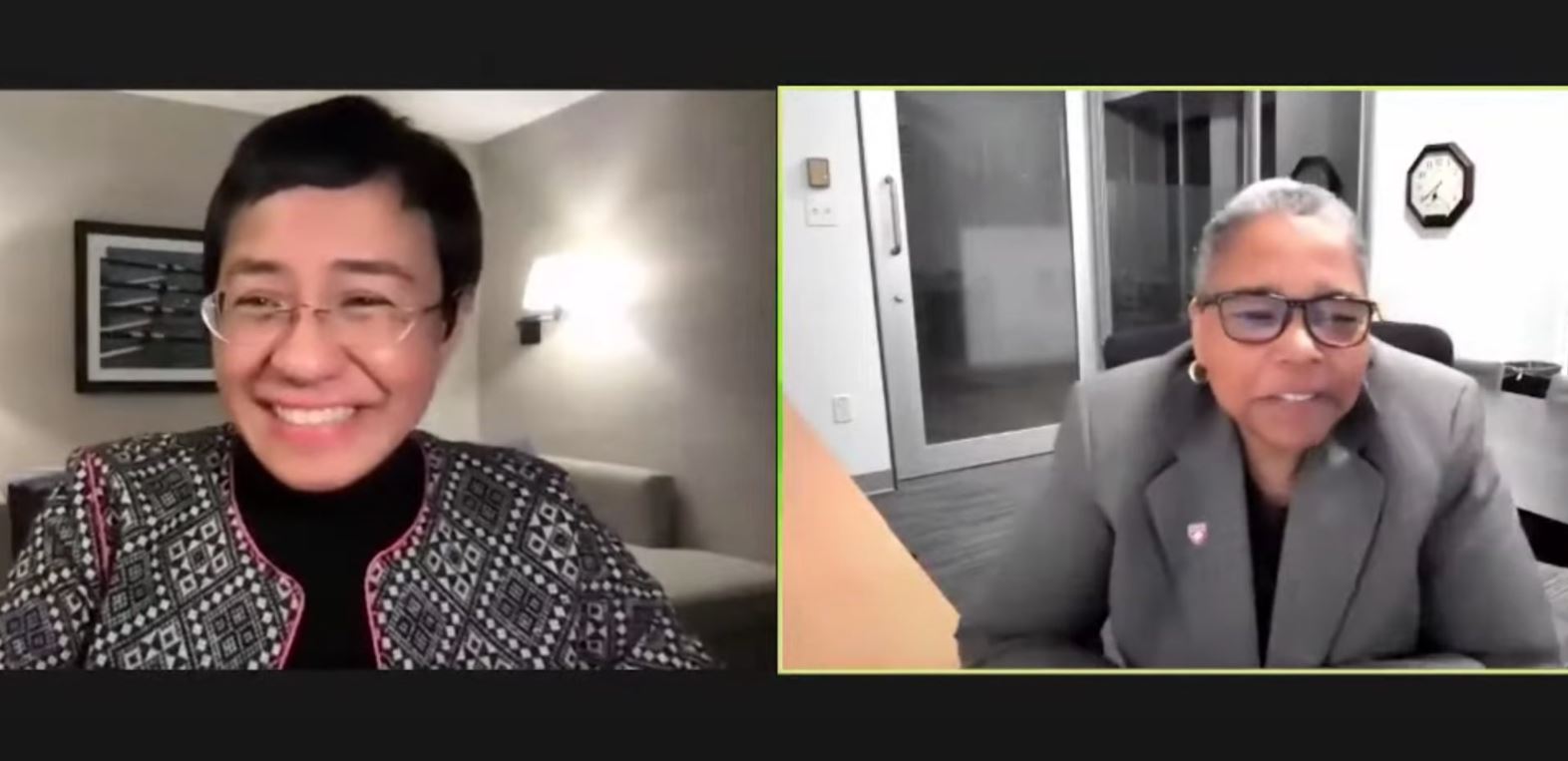 The first Filipino Nobel Peace Prize winner, Maria Ressa, has delivered this year's Salant Lecture on Freedom of the Press at Harvard Kennedy School (HKS).
The Salant Lecture on Freedom of the Press is delivered annually by a prominent journalist, scholar, or practitioner is named after Richard Salant, a former president of CBS News who was a defender of the freedom of the press as well as a champion of high ethical and news standards for the press.
Ressa, the CEO and co-founder of the Rappler news network, spoke about the state of democracy and journalism in the Philippines in the annual lecture hosted virtually by the university's Institute of Politics.
"The Salant Lecture is about freedom of speech, but what happens if the world turns upside down and freedom of speech is used to stifle freedom of speech? That is really what is happening right now," Maria Ressa said on November 16, 2021 (November 17, Manila time).
The hour-long discussion, moderated by Kennedy School professor Dr. Latanya Sweeney, also focused on the Filipino investigative journalist's work on combating disinformation networks that are associated with distorting online conversations and political discourse.
"One of the things we've learned is that when you say a lie a million times, it becomes a fact. People believe it. This is the age of social media," Ressa continued. "In Mark Twain's time, truth can catch up. And now, it literally changes our reality."
Ressa also stressed the dangerous impact of fake news spread on social media and its influence on elections in the Philippines.
"You can't have integrity of elections if you don't have integrity of facts," warned Ressa.
Ressa is currently a Shorenstein Center Fellow and Hauser Leader at the Center for Public Leadership at Harvard Kennedy School.
In October, the Filipino journalist was named the co-winner of the prestigious Nobel Peace Prize along with Russian journalist Dmitry Muratov "for their efforts to safeguard freedom of expression, which is a precondition for democracy and lasting peace".
Maria Ressa was the winner of the 2019 Shorenstein Journalism Award given by Stanford University in California.
SEND CHEERS in the comments below to first Filipino Nobel Peace Prize laureate Maria Ressa and WATCH her deliver this year's Salant Lecture on Freedom of the Press at Harvard Kennedy School (HKS) here.
Good News Pilipinas is celebrating its 15th Anniversary in 2021 by giving away prizes! Subscribe to this website and  Good News Pilipinas! TV YouTube channel and enter the raffle by telling us what you like about our stories in an email to editor@goodnewspilipinas.com
Facebook Comments