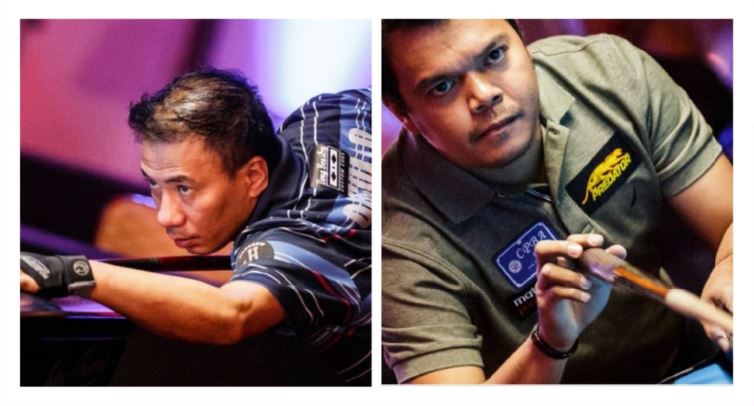 Four Filipino cue masters – Dennis Orcollo, Carlo Biado, Johann Chua, and Rodrigo Geronimo – are in the final 16 players of the 2021 US Open Pool Championship.
The Philippines' celebrated billiard players advanced to the knockout stage of the 9-ball tournament going into the final games in Atlantic City which had an initial field of 256 of the world's best players.
Dennis Orcollo, Johann Chua, Carlo Biado, and Rodrigo Geronimo are playing this Saturday, September 18 (PST) to get into the finals of the tourney.
Dennis Orcollo, the country's gold medalist in the 2019 SEA Games, is on an undefeated streak in the tournament. He beat Oliver Szolnoki of Hungary to take his spot in the final 16. Orcollo will next face European champion Mario He of Austria.
Johann Chua of Manila also has a clean slate going into the final 16 matches. He secured his slot after besting Mieszko Fortunski of Poland. Chua will face Canadian 9-ball champion John Morra in the next game.
https://twitter.com/MatchroomPool/status/1438691382634467328?s=20
Carlo Biado, the 2019 World 9-Ball Runner-Up, struggled to get his spot after playing in the losers' bracket. Biado won over fellow Filipino Jeff De Luna and Jayson Shaw of Scotland to get a berth in the knockout stage. Biado is set to meet David Alcaide Bermudez, Spain's World Pool Masters two-time winner.
Rodrigo Geronimo also played in the losers' bracket but got into the final 16 after defeating Neils Feijen, the Netherlands' World 9-ball champion. Geronimo is scheduled to play against Denis Grabe, Estonia's Euro Tour two-time winner.
Legendary billiard master Efren "Bata" Reyes was the last Filipino to win the US Open in 1994.
Good News Pilipinas is celebrating its 15th Anniversary in 2021 by giving away prizes! Subscribe to this website and  Good News Pilipinas! TV YouTube channel and enter the raffle by telling us what you like about our stories in an email to editor@goodnewspilipinas.com
Facebook Comments