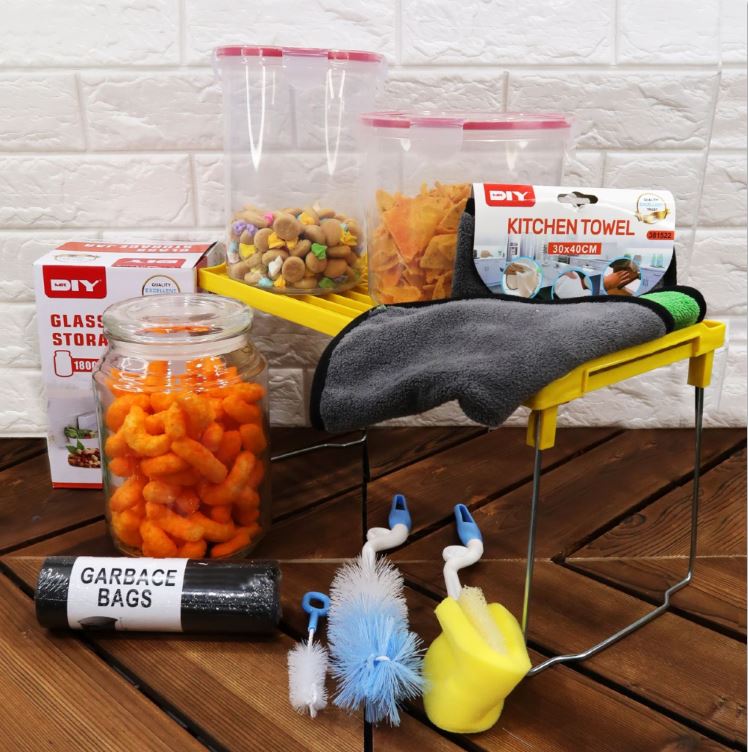 Here are 5 ways to use household essentials such as the storage jar, food container, bottle brush, kitchen towel, dustbin and an eco-friendly garbage bag to practice an eco-friendly lifestyle, as recommended by MR.DIY.
The one-stop shop for home improvement shared the following tips in time for the celebration of Earth Month in April that encourages the public to learn and practice sustainability to make the world a better place.
These five (5) household essentials from MR.DIY promises great value for money and can be useful to help everyone kickstart their journey towards a more sustainable and waste-free lifestyle:
Glass Storage Jar
Glass Storage Jars have become a symbol for zero waste movement, and for all the good reasons. These glass jars from MR.DIY are incredibly useful, a great eco-friendly alternative to single-use plastic containers, and can be used as storage for your everyday food items.
Bottle Brush Set
Need to get into a tight spot to clean? MR.DIY's bottle brush set is the perfect zero-waste tool for the job. Great for tall bottles, baby bottles, and even coffee pots.
Bottle brushes are essential because they can reach deep into the bottle of deep objects such as non-dishwasher safe glassware. This helpful item can help you clean a variety of bottles, from small baby containers to tall tumblers.
Food Container
Whether you're storing pantry staples or leftovers, food containers from MR.DIY will be perfect for any occasion! Food containers play the most crucial role in ensuring food safety. They protect the food from contamination, improve the shelf life of the product, and maintain the freshness of the food items.
Kitchen Towel
MR.DIY's kitchen towels are ideal for achieving your waste-free cooking area. This reusable towel is a fantastic alternative to disposable paper towels and is a great sustainable housewarming gift for a friend's new home. These cloths can also be used as hand and face napkins.
Dustbin and Eco-friendly Garbage Bag
Having dustbins and garbage bags in the corners of your house keep your home cleaner and safer for the family! Garbage bags are useful for messy or wet trash, such as food waste, and they can also be used to wrap garbage in order to reduce odor. And with MR.DIY's eco-friendly material, your zero-waste lifestyle continues.
These five items, among many others that can help you continue your zero-waste journey, are now available at MR.DIY's stores nationwide.
More efforts towards the practice of a sustainable lifestyle include the conversion of plastic wastes into eco-bricks for construction and the use of reusable face masks.
Good News Pilipinas is a Lasallian Scholarum Awardee. TELL US your good news story tips by messaging GoodNewsPilipinas.com on Facebook, Twitter, Instagram, or e-mail editor@goodnewspilipinas.com and WATCH Good News Pilipinas TV YouTube & Good News Pilipinas TikTok for more Filipino Pride stories!
Facebook Comments