Jollibee Food Corporation awarded 6 hero families and gave special citations to three other families during the 7th Jollibee Family Values Awards (JFVA).
The families were "recognized for their selfless dedication towards creating a positive impact in their communities through various advocacies" after months-long search for outstanding Filipino families in the Philippines and around the world.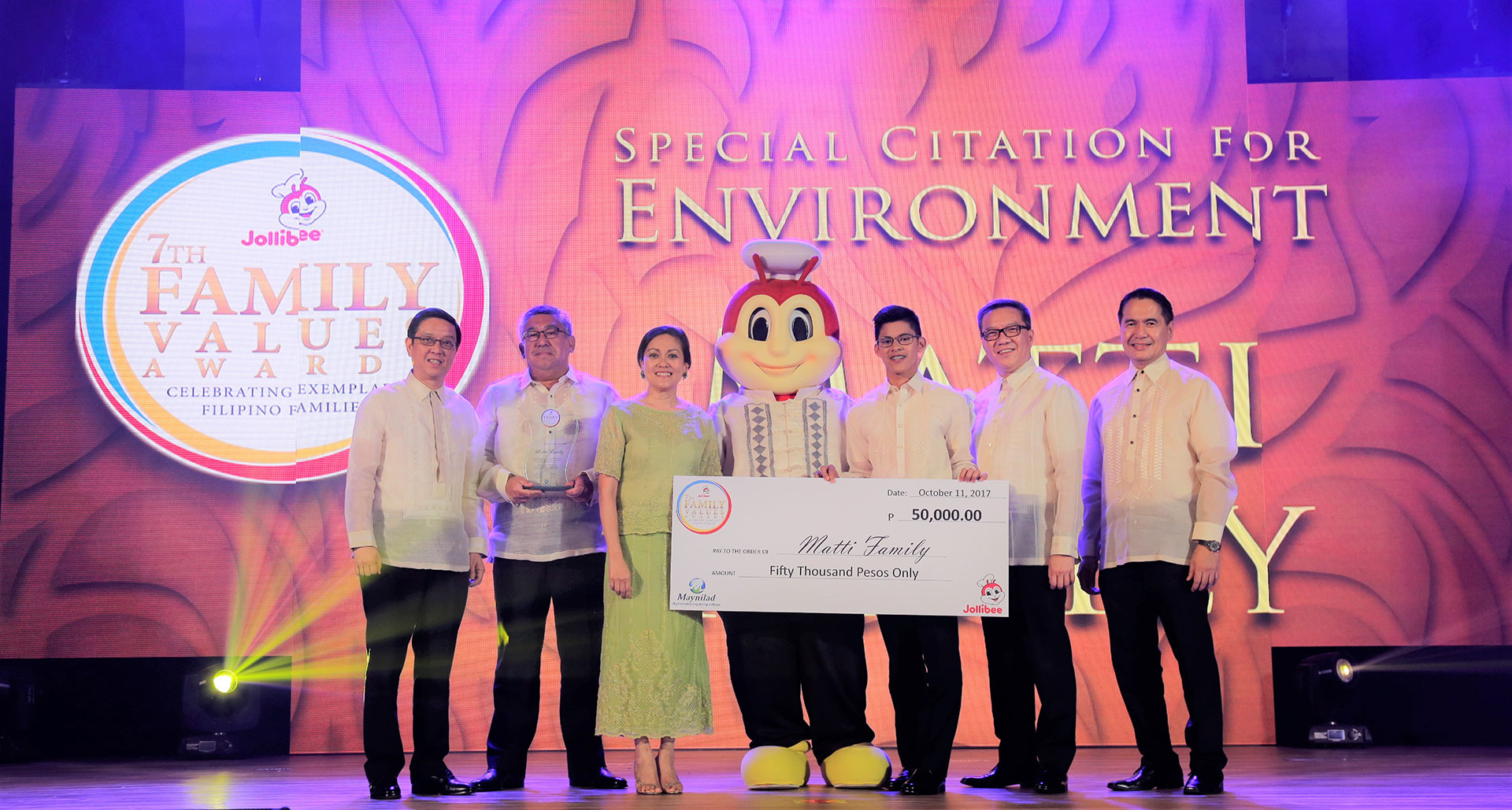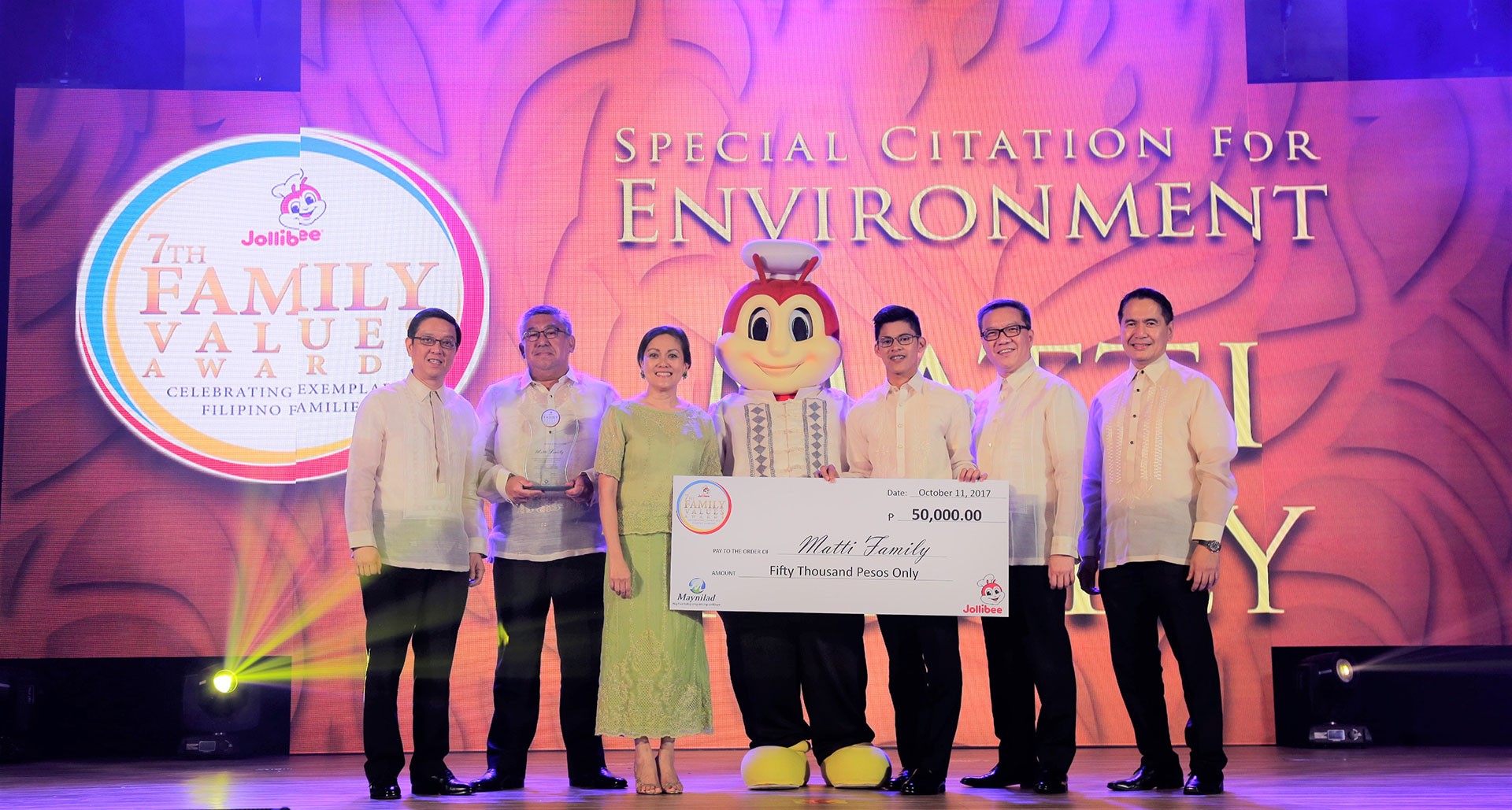 The 7th JFVA awardees are:
Ramon and Auditha Dickson and family of Abra, for their free dental and medical missions to the far-flung villages of their province;
Simeon and Agnes Felix and family of Pasay City, recognized for their 20/20 project of providing free eye check-ups and glasses to those in need;
James Patrick and Mylene Matti and family of Taguig City, for nurturing the environment and caring for the welfare of farmers with sustainable organic farming practices;
Alvin and Rina Macalintal and family of Oriental Mindoro, for their Balay-Lakoyproject to house dedicated Mangyan students;
Arcie and Hazel Mallari and family of Rizal, for Silid Aralan, Inc, learning hubs dedicated to maximizing the potential of learners;
Juvenal and Erlin Castro and family of San Jose, California, named as Jollibee-Coca-Cola OFW Family of the Year, for breaking boundaries in bringing books and educational materials to Filipino children.
Read Related Story: Pinoy Family Heroes Honored by Jollibee
Jollibee also conferred special citations to families focused on specific advocacies:
Recipients of the Special Citation for Education (co-presented with National BookStore) are Rey Dennis and Janice Caballero and family of Negros Oriental, for bringing learning closer to the youth through the Gaba-An Youth Lead Foundation
Recognized for their feeding program for underprivileged children, the Special Citation for Children (co-presented with Children's Hour and AIESEC) was given to Arnel and Alma Borela and family of General Santos City
Leopoldo and Fe Acula and family of Taguig City received the Special Citation for PWDs for their Future Vision Sighted, Inc. which provides care for the visually-impaired members of the community
Aside from being recognized as 7th JFVA winners, the Matti family was also awarded with the Special Citation for Environment (co-presented with Maynilad).
The winning families each received a P300,000 cash prize, a brass trophy by sculptor Michael Cacnio, and P10,000 worth of Jollibee gift certificates. The special citation recipients were each given P50,000 in cash, a plaque, and P3,000 worth of Jollibee gift certificates.
Read Related Story: Advocacies of Pinoy family heroes hailed by Jollibee
"Recognizing these families is more than applauding them for what they have contributed in nation building, but for the positive impact of their advocacies in our society and for future generations. For Jollibee, the Filipino family is at the core of the brand, and we remain committed in reinforcing and in promoting these values we hold dear," said Jollibee Philippines President JJ Alano.
"It is our pride and honor to recognize these exemplary families who have made their communities better with their advocacies, but more than that, they serve as inspiration of how powerful Filipino family values can be in nurturing and contributing to building a better nation."
The 9 hero families were chosen from among 15 finalists reviewed by a selection committee co-chaired by Senator Sonny Angara and Ateneo de Manila President Fr. Jett Villarin.
Facebook Comments