An e-magsasaka platform that envisions to convert farmers into agri-preneurs won the championship and a P250,000 cash prize for Team Agriviz of the Asian Institute of Management ( AIM ) at East-West Seed's Innovation Olympics held at 8 Waves Waterpark and Hotel in Bulacan on April 25, 2018.
Team Agriviz, composed of Aiah Sarmiento, Gorby Dimalanta, Aaron David, and mentored by East-West Seed's Downstream Marketing Manager Dexter Difuntorum, takes great pride in their e-magsasaka online platform which hopes to address two of the major problems of our farmers: lack of direct access between buyers and growers and lack of market information between buyers and growers.
The e-magsasaka online platform hopes to minimize the involvement of middlemen which would increase the farmers' revenue to at least 20% and keep the prices of vegetables more affordable for the consumers.
The platform would have a database where buyers could find the farmers that could provide the produce that they need. At the same time, the farmers could also use the database to find the market to sell their produce.
Team Agriviz bested two other student groups from University of the Philippines Los Banos, Team PocketFarm and Team i-Agriventures .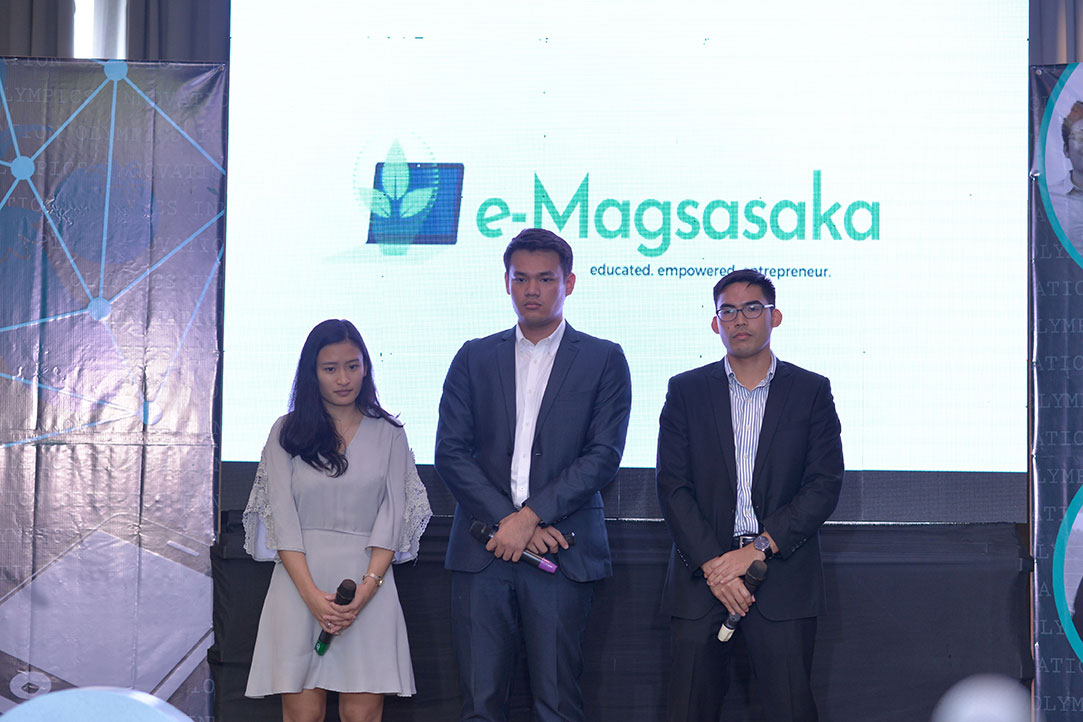 Learning and Innovation
Innovation Olympics 2017 was launched as part of the East-West Seed's 35th anniversary last year with the theme, "Growing Opportunities." East-West Seed, founded in 1982 by Dutch seedsman Simon Groot and Filipino seed trader Benito Domingo, is the first integrated vegetable company in the Philippines and one of the 10 biggest tropical vegetable seed producers in the world.
"One of the major pillars of East-West Seed is learning and innovation. And so far, we have trained and enabled close to 50,000 smallholder farmers on proper vegetable farming techniques," Henk Hermans, East-West Seed Philippines General Manager, said.
Innovation Olympics, he adds, is a manifestation of East-West Seed's commitment to address the two biggest problems facing vegetable farmers in the Philippines.
"Farmers represent the 2nd poorest sector in the Philippines. This sad reality results in our young people's disenchantment of pursuing a career in agriculture. The average age of Filipino farmers is 57-59 years old that is why we have to inspire our youth to discover the beauty of farming. We at East-West Seed know that there is money in vegetable farming and it could be a solid route in improving the lives of our people. Another problem is that farming practices in the Philippines are outdated and majority of our farmers are reluctant to use technology in farming making their work labor intensive and unsustainable," Hermans said.
Through the Innovation Olympics, East-West Seed hopes to harness the minds of the youth to come up with their own innovative technological intervention. Students from different multiple backgrounds come up with sustainable solutions to improve productivity in vegetable farming, effectively addressing two major farming concerns: integration of technological innovations to improve vegetable production and to inspire the youth to consider farming as a professional goal and be ambassadors of modern day agriculture.
Team Agriviz, Team i-Agri Ventures and Team Pocket Farm emerged as the top 3 finalists last September 2017 and were given seed money by East-West Seed to pilot their projects in their chosen communities and assess its feasibility for 6 months.
"East-West Seed will continue to pursue ways on how to better equip Filipino vegetable farmers, inspire the youth to use their passion for technology in coming up with more innovative ideas for the farming sector and hopefully influence them to become the new breed of Filipino farmers," Hermans adds.
Facebook Comments