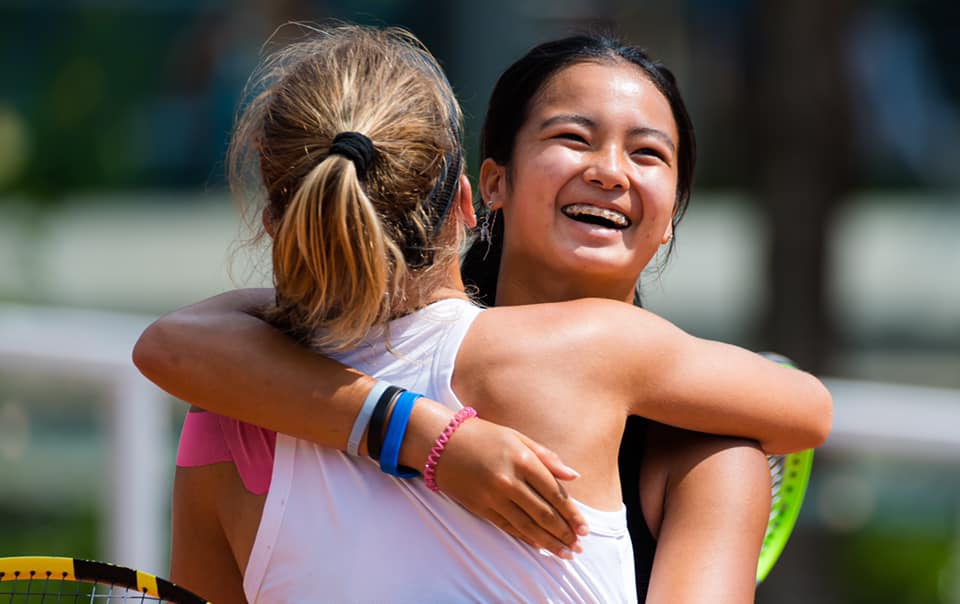 Filipino tennis star Alexandra "Alex" Eala and her Russian partner Oksana Selekhmeteva are all set to battle for the French Open Grand Slam Girls' Doubles title after defeating the 2020 Roland-Garros Junior Champions in the same tournament that witnessed Eala's historic junior Grand Slam singles semifinals appearance.
The Filipino-Russian tandem secured the finals berth after overwhelming their Italian opponents on June 11, 2021, at the Roland-Garros court in Paris, France.
The tournament's No. 1-seeded pair limited last year's tour winners Eleonora Alvisi and Lisa Pigato to just 3 wins in two sets, 6-2, 6-1, to gain the ticket to the 2021 French Open finals.
The 16-year-old Eala and 18-year-old Selekhmeteva have been displaying their dominance in the Girls' Doubles tournament, fending off the aggressive challenge of No. 5 seeds Petra Marcinko of Croatia and Natalia Szabanin of Hungary in the quarterfinals, dominating Sofia Costoulas of Belgium and Laura Hietaranta of Finland in their Round 2 match, and sweeping Evialina Laskevich of Belarus and Alina Shcherbinina of Russia in the Round 1 opener.
International Tennis Federation (ITF) Juniors World No. 3 Alex Eala and ITF No. 10 Oksana Selekhmeteva are clashing with the No. 8-seeded pair of ITF No. 12 Maria Bondarenko (Russia) and ITF No. 36 Amarissa Kiara Toth (Hungary) on Saturday, June 12, the 123rd Philippine Independence Day.
The Philippines' Alex Eala is gunning for another Grand Slam Doubles title after a historic win at the 2020 Australian Open Girls Doubles championship with Priska Nugroho of Indonesia. Eala and Nugroho have a winning history with five Girls' Doubles Championships won during the Young Stars Tournaments in Europe.
With her French Open finals appearance, Eala is keeping her pledge to do well for the Philippines after earlier bowing out of the Singles tour.
SEND CONGRATULATIONS AND WELL WISHES in the comments below to the Philippines' Alex Eala and Russia's Oksana Selekhmeteva for downing the Roland-Garros Juniors defending champions to nab a French Open finals berth!
Good News Pilipinas is celebrating its 15th Anniversary in 2021 by giving away prizes! Subscribe to our Good News Pilipinas! TV YouTube channel and enter the raffle by sending us an email to editor@goodnewspilipinas.com
Facebook Comments