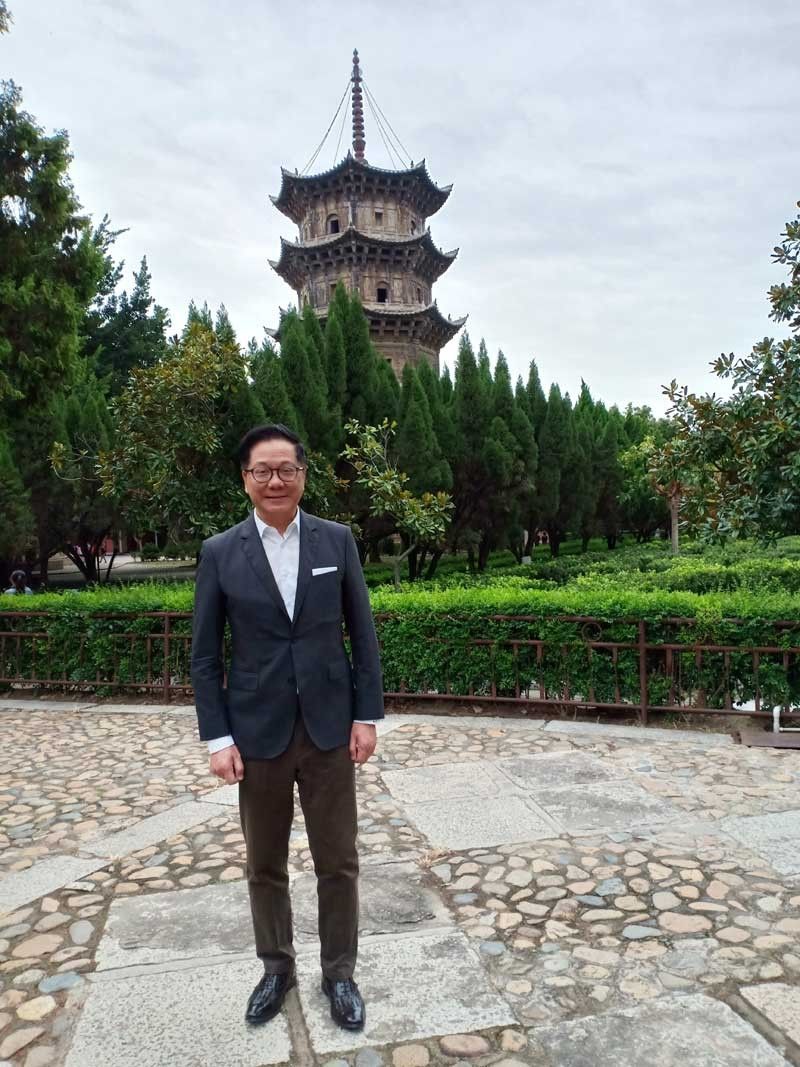 Not a few of the world's inspiring rags-to-riches success stories through the ages are talented immigrants who traversed geographic distances, overcame poverty and socio-cultural challenges, then excelled as outstanding nation-builders and trailblazers.
One such success saga is the dramatic life story of Alliance Global Group (AGI), Megaworld and Emperador founder Andrew Tan. He just recently returned to the land of his birth to launch his first-ever real estate project in China called the "Megaworld One Nanyang."
I heard his firm Quanzhou Megaworld Properties Limited is privately funded by Andrew Tan and not part of his publicly listed Megaworld. The project's unique logo is a gold-colored pineapple, perhaps because the word for pineapple in Quanzhou's Hokkien or south Fujian language is "ong-lay," which rhymes with the phrase meaning "prosperity is coming."
Eldest son Kevin Tan said the project will develop 16 elegant buildings, 11 stories each, on 31,000 square meters of land. A full 100,000 sqms. of the land will be devoted to gardens, greeneries and traditional south Fujian-style courtyards. To be completed by 2021, its contractor, China Construction Group, is the world's No. 23 biggest firm on the "Fortune 500" list.
Leading the guests of honor at the festive Oct. 11 groundbreaking rites at the project site — located in Fengze district of the ancient seaside city of Quanzhou (pronounced "Chuanchow") — were Speaker Gloria Macapagal Arroyo, Senator Sonny Angara, Deputy Speaker Arthur Yap, Monetary Board official Peter Favila among others. A burst of multicolored fireworks ended the ceremony.
Many of Asia's business taipans said they respect Speaker GMA for her bold economic reforms and strong leadership. In her speech, Speaker Gloria M. Arroyo cited Andrew Tan's leading AGI into becoming a Philippine multinational, with investments in Britain, Spain and now competing with global giants in the largest China market. Andrew Tan speaks fluent Hokkien, and he delivered all his speeches in both English and Mandarin.
The receptions to celebrate Megaworld One Nanyang project launch were all held at the posh Quanzhou Guesthouse inside a hall with one giant round table with 90 seats for all guests.
The former poor boy Andrew Tan flew back to Quanzhou with some guests on a private jet of his Resorts World Manila. His wife Katherine, his eldest son (the 39-year-old the newly-elected AGI chief executive officer Kevin Tan), relatives, AGI top executives like Kingson Sian and other guests flew via Philippine Airlines (PAL) from Manila to Jinjiang International Airport in only two hours. The humble PAL president Jaime Bautista was personally at the NAIA 2 airport check-in counters and greeted us on the morning of the flight.
Also invited to witness this project launch were leaders of business organizations like Philippine Chamber of Commerce & Industry (PCCI) chairman emeritus Francis Chua and stockbroker wife Betty Chua, PCCI official Jesus Varela; Federation of Filipino Chinese Chambers of Commerce & Industry (FFCCCII) led by president Domingo Yap, honorary presidents Tan Ching and Alfonso Siy, vice presidents William Gosiaco and William Castro; PhilExport leader Sergio Luis-Ortiz; Jr.; Anvil Business Club honorary chairman Bernard Go, this writer, and president Patrick Cua; the 110-year-old Liong Tiak association of the Go clan led by president Tiong Rosario; former Pagcor chairman Efraim Genuino, etc.
Quanzhou was a medieval era global seaport visited by Marco Polo.
Andrew Tan was born to a humble family in the rural Si-king village in the county of Chendai (pronounced "Tan-Teh" in Hokkien), in county-level city of Jinjiang (pronounced "Chingkang"), under Quanzhou (pronounced as "Chuanchow"), Fujian province, southeast China.
Quanzhou is well known as the ancestral hometown of many overseas Chinese immigrant taipans all over Southeast Asia and Taiwan. In fact, Taiwan's so-called native "Taiwanese" language is actually Hokkien, Minnan or south Fujian language of Quanzhou and nearby Xiamen.
Before the 19th century Opium Wars by the Western powers and the Japanese military invasions against China, Quanzhou was one of the world's top two port cities from the 11th to 14th centuries. It was visited by thousands of foreign travelers like Italian Marco Polo and Arab traders; Quanzhou then thrived as a cosmopolitan seaport with diverse Christian churches and China's oldest Muslim place of worship called the Ashab Mosque.
After the project groundbreaking ceremony, Andrew Tan immediately went to meetings studying industrial powerhouse Quanzhou's booming real estate industry. I also joined him to visit historic Kaiyuan Temple with its famous East and West Pagodas, iconic symbols of his hometown.
Migrating with family to Hong Kong at age 4, then to Manila as a teenager.
Andrew Tan's parents were the late Tan Ha and Lim Soon Ti. His mother just passed away in the morning of Oct. 14 at age 91, two days after his return from Quanzhou.
The tycoon recounted that he was four years old when his family migrated to Hong Kong, then they moved to Manila, Philippines when he was about to study college. Tan had briefly studied at Quiapo Anglo-Chinese High School — where, coincidentally, another self-made immigrant entrepreneur, Henry Sy of SM Group, had decades earlier also spent his early student years.
Wife Katherine Lim Tan said Andrew's late mother was a loving yet very strict parent whom Andrew wanted to impress with good academic studies. His kin also recounted how during heavy rains in Fujian, Andrew's mother used to carry him on her back to protect the child from floods.
It was touching to witness how far the hardworking and visionary Andrew Tan has come from humble beginnings; how he has become a major contributor to Philippine economic progress through his factories, BPOs and tourism projects; how he also never forgot his roots and has come full circle to undertake his first realty venture in China in his birthplace of historic Quanzhou City.
Wilson Lee Flores' writings appear with permission on GoodNewsPilipinas.com Mondays.
(Wilson Lee Flores is a multiple award-winning writer, journalist, Kamuning Bakery artisanal breads savior, and Pandesal Forum moderator. This column was previously posted on his Bull Market Bull Sheet column on the Philippine Star. His "KuwentongPanadero" inspiring stories are found on Pilipino STAR Ngayon. Follow @wilsonleeflores on Instagram, Twitter, and Facebook.)
Facebook Comments