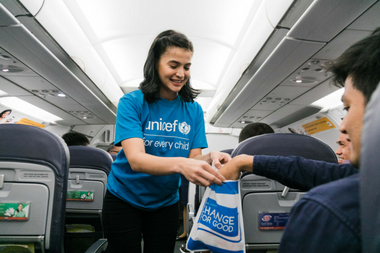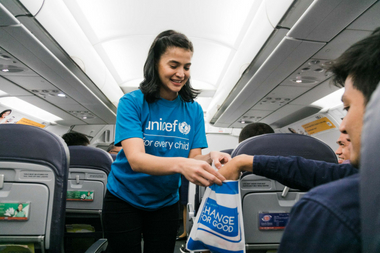 Popular celebrity endorser Anne Curtis recently surprised Cebu Pacific Air passengers onboard a Cagayan de Oro to Manila flight when she personally joined the crew in collecting donations for the UNICEF Change for Good program.
Curtis, a UNICEF Advocate for Children, helped collect donations to help fund lifesaving health and nutrition programs for children in the Philippines.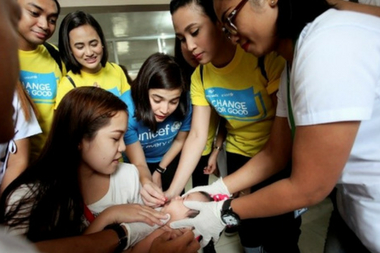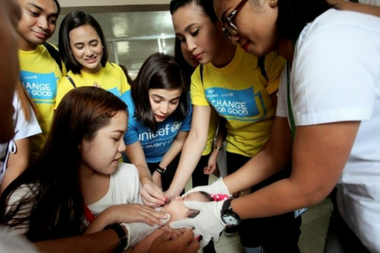 "Collecting donations on board gave me a chance to tell passengers just how much their spare change can make a difference in children's health and nutrition," said Curtis in a UNICEF report.
The television host and film actress related how she went to Bobon, Northern Samar and saw the need for children and trained health workers to combat malnutrition and other diseases.
"So the next time you see a flight attendant bring the Change for Good bag down the aisle, please give your spare change. Any amount, no matter how big or small, goes a long way for children's health and nutrition,'' Curtis exhorted passengers.
In her Instagram post Curtis revealed the donations will benefit the 1000 Days UNICEF program which benefits children most in need especially in their first 1,000 days of life. Curtis has been helping the program since 2015 when she started her UNICEF advocacy.
"I am proud to be part of a project that is making a difference in this world and will continue to use all my social media platforms to raise awareness and help inspire others to make a difference in the world and help our fellow countrymen," the Filipino-Australian celebrity declared.
https://www.instagram.com/p/Bkw0CXsA8X1/?taken-by=cebupacificair
The Change for Good program was launched in 2016 with Cebu Pacific as an innovative global partnership between UNICEF and the international airline industry. The alliance is designed to collect spare currency from passengers and convert these into life-saving materials and services for vulnerable children around the world. Since its launch in 1987, it has generated over US$160 Million for children in need.
Cebu Pacific is the first airline partner of UNICEF for Change for Good in Southeast Asia and the only partner in the Philippines. It is also the only local airline partner who raises funds to benefit children in its home country.
Facebook Comments