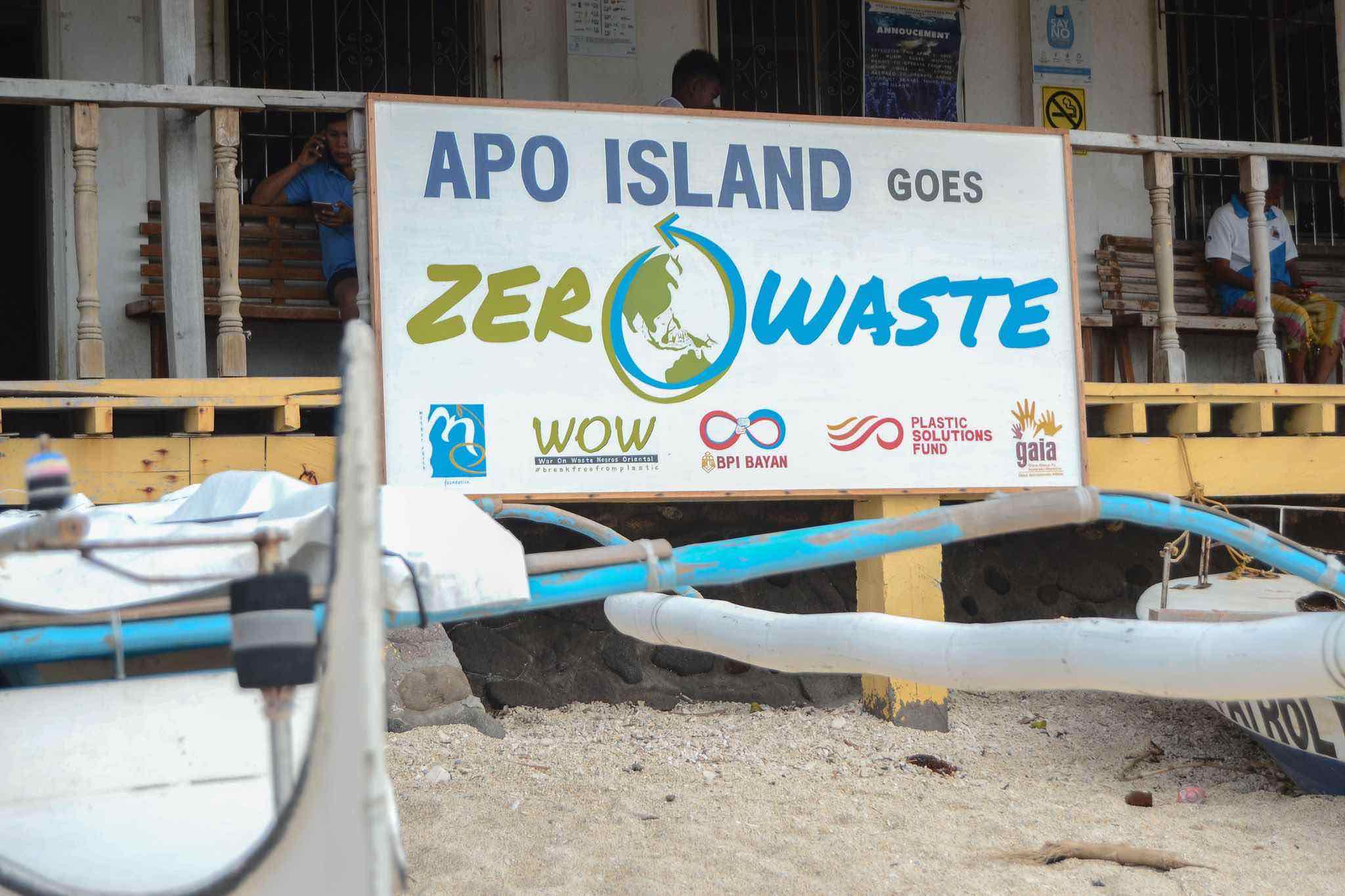 Apo Island in Negros Oriental has been hailed as the first island barangay in the Philippines to adopt zero-waste practices.
The island community located in the town of Dauin was recognized by the Global Alliance for Incinerator Alternatives (GAIA) for implementing waste management systems and methods introduced by the War On Waste (WOW) Negros Oriental group in 2020.
"We want to recognize Apo Island for their amazing work on their Zero Waste journey. We want to acknowledge their hard work and to encourage them to sustain it and do more," said GAIA's Asia Pacific Regional Coordinator Froilan Grate in a press release dated September 18, 2021.
"This is unique: Apo Island is the first Zero Waste Island Barangay in the Philippines," Grate added.
The zero-waste initiatives and practices implemented by the village include the conduct of information campaigns to inform households about proper waste segregation, the implementation of a door-to-door segregated waste collection system, the use of composting methods, and the establishment of a decentralized Materials Recovery Facility (MRF).
Community members are also training on waste assessment and brand audits to identify waste composition and help design a waste management system that will work for the island.
Currently, Apo Island has seven waste workers, four MRFs, and an ordinance regulating single-use plastics in the island.
The residents of Apo Island, including waste collectors and barangay officials, also continue to support the Zero Waste Cities Project (ZWCP), an initiative by GAIA Asia Pacific and ten other members that promote decentralized solid waste management, enabling waste reduction policies, identifying and reducing wastes, and creating jobs in collecting and handling recyclable materials, among others.
GAIA is a worldwide alliance of more than 800 grassroots groups, non-governmental organizations, and individuals in over 90 countries.
Apo Island is a well-known tourist hotspot home to pristine white beaches, dive spots, and a protected marine sanctuary.
Towns in the country that have similarly adopted zero-waste policies and practices include Samar and Leyte which are improving their waste management with programs that allow residents to collect plastic wastes and barter them in exchange for rice and other food products and Ilocos Norte which is building eco-bricks from plastic wastes and discarded materials.
SEND CHEERS in the comments below to Apo Island in Negros Oriental, the first island barangay in the Philippines to adopt zero-waste practices.
Good News Pilipinas is celebrating its 15th Anniversary in 2021 by giving away prizes! Subscribe to this website and  Good News Pilipinas! TV YouTube channel and enter the raffle by telling us what you like about our stories in an email to editor@goodnewspilipinas.com
Facebook Comments