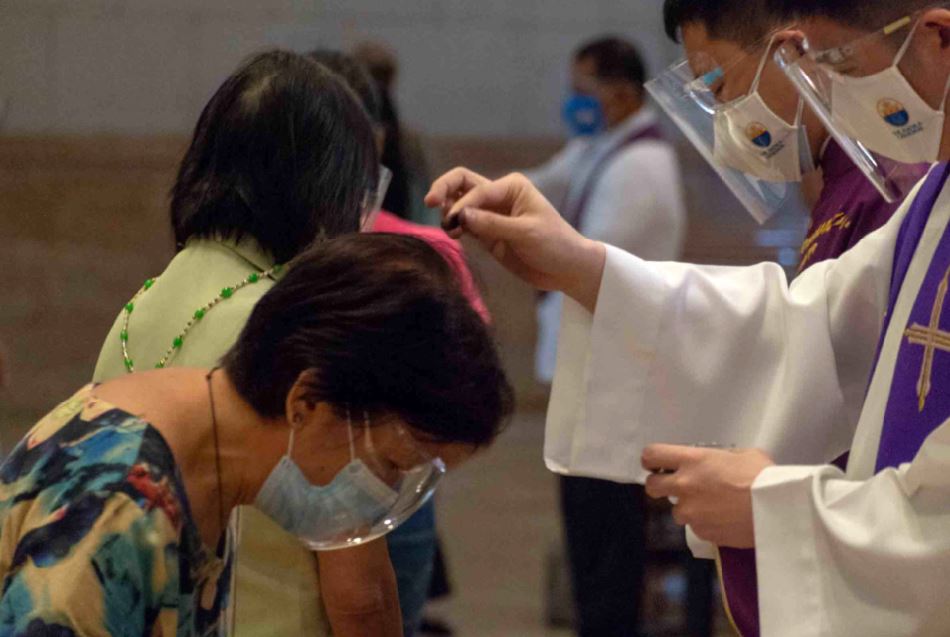 Ash Wednesday in the Philippines is being marked on February 17, 2021, for the second straight year amid the coronavirus pandemic and with additional guidelines from the Catholic Church.
In 2020, the Philippines marked the Lenten Season with Catholics still going to churches for Ash Wednesday and church leaders adjusting traditional practices amidst the COVID-19 concerns.
Last year's Lenten Season in the predominantly Catholic nation in Southeast Asia began the 40-day religious observation in February with priests sprinkling ashes on the crown of the head instead of marking the forehead with a cross to avoid body contact, following the new guideline. Families were also encouraged to celebrate at home instead of the church considering the health safety restrictions.
For Lent 2021, the Catholic Bishops' Conference of the Philippines (CBCP) released additional guidelines to allow the use of alternatives to ashes from old palm branches, the bringing home of blessed ashes from church, and the marking of foreheads.
The CBCP Episcopal Commission on Liturgy's chair Bishop Victor Bendico of Baguio listed the following additional guidelines:
The use of ashes from dried branches of leaves of plants or trees since many parishes will find it difficult to secure old palm branches blessed in the celebration of Palm Sunday of 2020
The giving of a small plastic sachet containing blessed ashes to be brought home to family members who are unable to go to church due to the restrictions
The receiving of ashes from family members using the parish guide for family prayer and imposition of ashes
For those who wish to have the ashes on their forehead, cotton balls can be used in applying the ashes on their forehead
For the priest to say the formula for distributing the ashes once to everyone present, rather than to each person
The church also asked for continued prayers for the healing of many and the end of the pandemic, prayers of gratitude to God for the gift of vaccines, and for the wisdom and compassion for government leaders in the just and equitable distribution of the vaccines.
SHARE in the comments below, what are your stories of Ash Wednesday and Lent in the Philippines amid the coronavirus pandemic?
Are you a Proud Filipino? Get more good news stories on Filipino Pride! Subscribe to GoodNewsPilipinas.com and our YouTube channel: Good News Pilipinas! TV
Facebook Comments