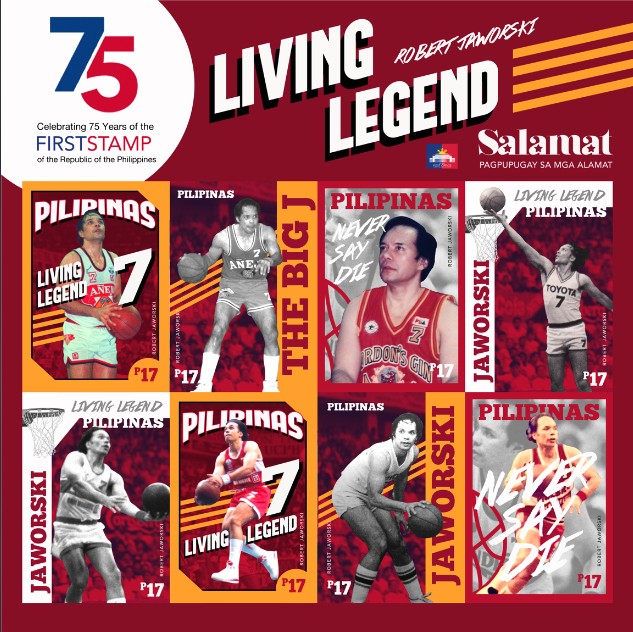 Philippine basketball's Barangay Ginebra legend Robert "Bobby" Jaworski Jr. has been honored with the newest commemorative stamp from the Philippine Postal Corporation (Post Office).
The Post Office launched the first-ever stamp featuring basketball great Jaworski of the widely-popular Barangay Ginebra ball club to kick off the celebration of the 75th anniversary of the first-ever stamp of the Republic of the Philippines.
Seventy-five years ago, in 1946, the Post Office issued the first stamp bearing the inauguration of the Philippine Republic.
The Post Office has since then honored the Philippines' world-renowned talents and outstanding individuals who have made their mark on the international stage including Filipina Miss Universe queens Catriona Gray and Pia Wurtzbach and golf champion Yuka Saso.
On the occasion of the launching of Robert Jaworski Living Legend Stamps, the Post Office commemorates another remarkable milestone in the history of the country with the opening of "sALAMAT, Pagpupugay sa mga Alamat (ATribute to Filipino Legends) a three-part series of postage stamp issuances featuring:
Living Legends: World-Renowned
Living Legends: Outstanding Filipinos
Never Forgotten personalities that have made a mark and contributed greatly in their chosen fields here and abroad.
"This is our own little way of thanking and honoring these outstanding Filipinos in their chosen fields of endeavor in celebration of the 75 years of the first stamps issued in the Philippines as a Republic". Postmaster General Norman Fulgencio said.
According to the Postmaster-General, the Filipino people in this country are the most valuable asset and the real treasure a country could have.
"Naniniwala po kami na ang tunay na yaman ng Pilipinas ay tayong mga Pilipino (we believe that the real treasure of the Philippines are the Filipinos themselves) – their talents, characteristics, and the Filipino spirits", Fulgencio said.
He added, "We are deeply honored to the family of Senator Robert Jaworski and his family for allowing us to feature his greatness in the Philippine Stamps. It is more fitting for his status as the sports "Living Legends" who personified the 'never say die' spirit to be the opening salvo for our upcoming stamps featuring outstanding Filipinos to give hope and strength for Filipinos in the midst of this pandemic.
"The stamp teaches us an important life lesson, that when it seems hopeless and you are about to give up, amazing things can still happen, if we keep the faith", Fulgencio said.
The Post Office will feature new innovations in postage stamp designs to spark interest and excitement for people of all ages. The stamp shall be the medium to inspire and fully appreciate the achievements and pride of the country and people.
This forms part of the "Hatid Malasakit" campaign of the Post office to modernize the mail system in order to better serve the public. The Filipino people deserve no less than the best postal service by global standards.
Good News Pilipinas is celebrating its 15th Anniversary in 2021 by giving away prizes! Subscribe to this website and  Good News Pilipinas! TV YouTube channel and enter the raffle by telling us what you like about our stories in an email to editor@goodnewspilipinas.com
Facebook Comments