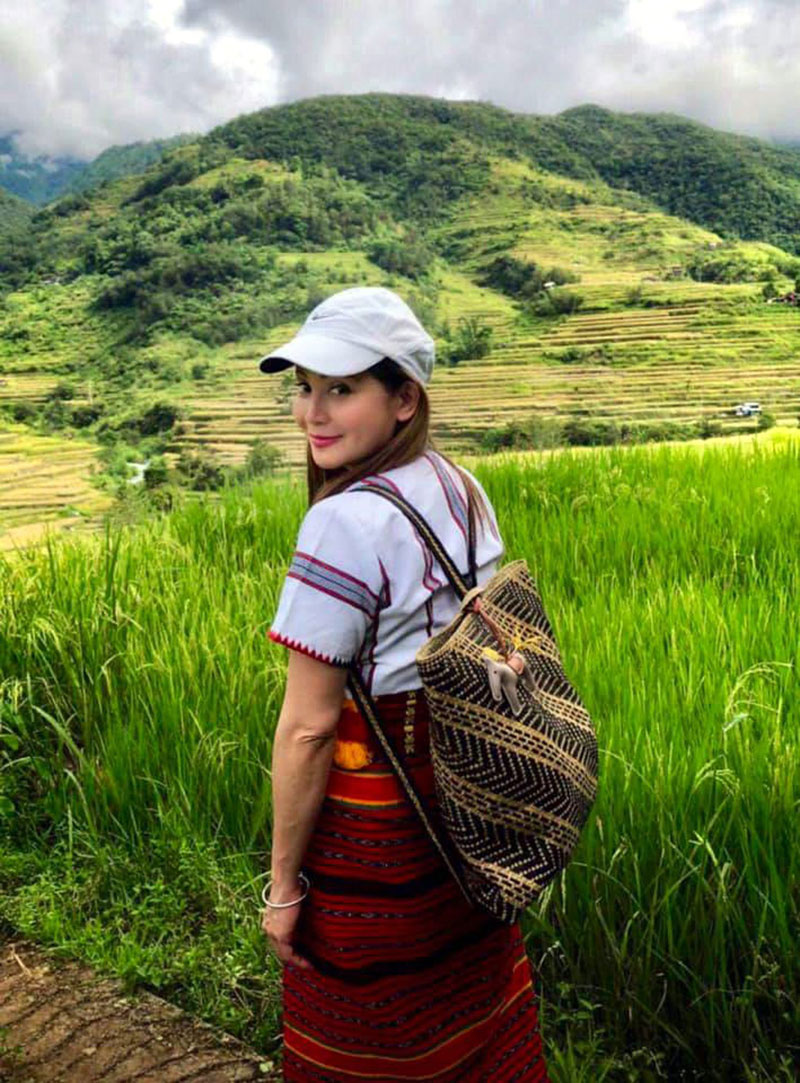 "The Romulos are kuripot, this is one reason why I'm matipid. In our new tourism promotions campaign at the DOT, we focus on social media because it's free.'"
After the Philippines achieved an all-time record of 7.1 million tourist arrivals last year, Department of Tourism (DOT) Secretary Bernadette "Berna" Romulo Puyat on Feb. 18 successfully relaunched the seven-year-old tourism slogan with the hashtag #ItsMoreFunInThePhilippines plus a new logo and font at the National Museum of Natural History (a pre-war structure which was formerly the DOT building).
An economics college (cum laude honors) and masteral graduate from the University of the Philippines (UP), she taught there before becoming deputy cabinet secretary under President Gloria Macapagal Arroyo, then agriculture undersecretary under GMA and President Noynoy C. Aquino, and now DOT secretary under President Rody R. Duterte.
Among the many guests at the DOT slogan's festive relaunch were Department of Interior and Local Government (DILG) Secretary Eduardo Año, National Museum chairman Evangelina Lourdes "Luli" Arroyo-Bernas, Secretary Puyat's parents — Development Bank of the Philippines (DBP) chairman Alberto Romulo and Lovely Romulo — Asian Dragon publisher & Destileria Limtuaco CEO Olivia Limpe Aw, chef/restaurateur Margarita A. Fores, BBC host Rico Hizon, STAR columnist Tim Yap, Suyen Corp./Bench chairman Ben Chan, SSI Group Inc. president Anton Tantoco Huang, celebrity chef Erwan Heussaff, furniture designer Kenneth Cobonpue, Francisco Tiu Laurel, Jr. of Frabelle, YouTube comedian/singer Mikey Bustos, GMA 7 actor Drew Arellano, restaurateur Happy Ongpauco-Tiu and many top influencers.
Secretary Puyat gave the STAR an exclusive interview. Here are excerpts:
Philippine STAR: Philippine tourism is now booming, what are your targets for 2019 and the coming years?
Secretary Berna Romulo Puyat: We hope to welcome 8.2 million foreign tourists this year. Last year, we had 7.1 million tourists, despite the six-month closure to rehabilitate Boracay island, we still had a 7.43 percent increase in tourist arrivals. Boracay alone attracts one million tourists per year.
Under our National Development Plan (NTDP), which we made with the private sector, our targets are 8.2 million tourists this year, 9.2 million in 2020, 10.4 million in 2021 and 12 million in 2022.
Apart from your grand-uncle Carlos P. Romulo and your father Alberto Romulo, who were both foreign affairs secretaries, who was the first prominent Romulo? A local Chinese entrepreneur from your ancestral hometown Camiling told me that one of your forebears owned a school there.
That was my grandfather Gilberto Romulo who owned Camiling College. My great-grandfather Gregorio Romulo — father of Carlos and Gilberto — was the first governor of Tarlac province.
What are common traits of the Romulos, if any?
We're kuripot (stingy) (Laughs), Very Ilocano. We're not magastos (spenders). We value money because it's hard-earned. Before we spend, we usually think twice, thrice or more because money doesn't grow on trees.
All the more when it comes to handling government money, we are very conscious about how public funds are being spent because that's the people's money. This is one reason why when I was at the Department of Agriculture and now DOT I'm matipid (thrifty). In our new tourism promotions campaign for #ItsMoreFunInThePhilippines, we focus on social media because it's free.
Your dad, ex-President GMA and President Duterte uphold an independent foreign policy that has benefitted our tourism. Any advice from your dad on public service?
My father would always say: "Power is fleeting, it is not forever, don't get attached to it." He said that I should do good in public service, that it is my reputation which I will bequeath to my children.
I heard that anti-colonial revolutionary Dr. Pio Valenzuela was also your ancestor?
Yes, he was my maternal great-grandfather. My mother Lovely Valenzuela Tecson-Romulo's mother Rosa was the daughter of the hero. When I visited Dapitan City in Mindanao, I saw two statues of Dr. Jose Rizal and Dr. Pio Valenzuela side by side. They were friends.
Dapitan is impressive as a tourist destination. That's where Rizal and Josephine Bracken lived, there's a museum there, a beautiful church, there's a garden there where Rizal made a map of the whole of Mindanao.
I knew your late father-in-law, the visionary industrialist Vicente "Teng" Puyat. How many years have you been a widow now?
Yes, my father-in-law was really ahead of his time, he put up Mom & Pop Greenhills. He invested in agriculture. He had locally grown products and named them after his children, like Angelo's strawberries, Giselle milk, and Dave mangoes named after my late husband. I've been a widow for nine years. My husband Dave — who was a bar topnotcher, No. 4 — died in March 2010 when I was 40 years old.
Do you still have plans of remarrying?
I'm now in a relationship with the DOT. When you're serving in government, you don't have much time. Like last night, I had only four hours of sleep. Work is almost 24 hours a day and seven days a week. I do my work with passion. What I'm doing doesn't feel like work because I love it, and tourism is very apolitical. We work with people regardless of political color.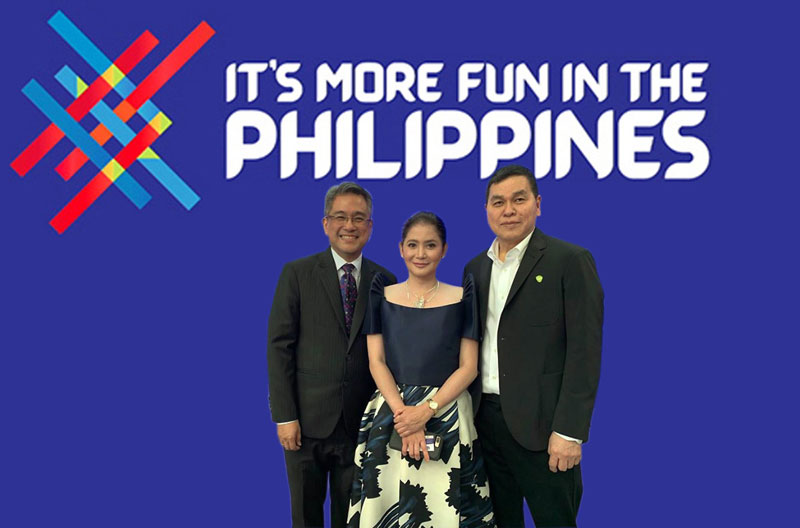 How many years have you been in government?
I taught at the UP School of Economics for 14 years, though I didn't consider it government then, but it's a state university. You add 12 years in the Department of Agriculture, now DOT, I've already served in government for 27 years.
Is it true that you're President Duterte's favorite in the Cabinet?
There are only two girls in his cabinet, Secretary Briones and me, that's why he's very nice to both of us.
What kind of a boss is President Duterte?
President Duterte is very hands-on, he's very detailed and hardworking. He always listens to all of us. Sometimes our monthly Cabinet meetings last up to 2 a.m. because he's very meticulous and thorough.
How meticulous is he?
Like this launch of our new tourism promotion campaign of #ItsMoreFunInThePhilippines, I presented it first to the Cabinet and I requested that it be last on the agenda since it's just my presentation. President Duterte still went over it, he made comments and suggestions, asked questions.
Why did President Duterte unilaterally close down Boracay at the height of the summer tourism peak season?
President Duterte was concerned about first the environmental integrity of Boracay and second the health of all foreign and local tourists. He saw the cesspool and felt it was already unsafe, that's why he had Boracay closed on April 26 last year, wala siyang paki (he didn't care) even if it was the height of the summer tourism season. When Boracay was to be reopened, he said he no longer had to go but he just sent the three of us there, Secretary Roy Cimatu and Secretary Año.
After Boracay and Manila Bay, which of our mismanaged tourist destinations does President Duterte want to rehabilitate next?
What President Duterte told me, after Boracay and Manila Bay, he wants all our Philippine tourist spots to strictly follow all the laws para malinis at maayos (for cleanliness and order). Now we are rehabilitating Manila Bay; the next places the government hopes to clean up include Panglao in Bohol province, El Nido in Palawan province, next will be Siargao, Coron, Baguio City.
You said you've no plans of remarrying, what about Congressman Charlie Cojuangco who I've heard has courted you?
We still talk. When I was undersecretary, I had more time. Now as DOT secretary, it's all just work for me now. I rarely get to see Charlie, he's now in Tarlac running for reelection.
Is it true that President Duterte has a crush on you because he's known to admire beautiful women and I saw his speech before mentioning something like that?
The President said that in jest, to lighten the mood of the audience. The President is just palabiro talaga (he really likes to joke).
President Duterte recounted that he was surprised when he first met you, that unlike other USecs or secretaries who're usually boring men in barongs, you're pretty and young. He also said he wasn't listening to what you were saying, but just looking at you? When was this?
That was in 2014, I was Agriculture USec and I had brought potential investors for cacao in Davao, and the President was then mayor of Davao City. I texted Sonny Dominguez, whom I addressed as "Tito Sonny," so President Duterte thought I was his niece and he was shocked to see that I was the USec he was scheduled to meet.
What are the places that are not yet famous but you feel should become top tourist destinations?
I have yet to visit Negros Oriental province, I heard it's beautiful there in Dumaguete. The Apo Reef in Occidental Mindoro is famous with Europeans for diving. I like Siquijor, its beaches, the faith healing culture. I actually love Camiguin island, its lanzones festival and the Mantigue island is very beautiful. I admire Dapitan in Mindanao.
Isabela province in the north has delicious foods like their pancit cabagan, organic lechon, kutsinta plus their beautiful churches. Our hometown of Camiling is known for the most delicious chicharon Camiling which non-locals call "bagnet."
How come you work very hard but do not look stressed? How do you relax, what are your health secrets?
I watch Netflix (laughs). My two children are already working. I have three dogs in the house — a labrador named Miyuki, a beagle named Kahlua and a pug called Biggie. In the car, I take power naps. I also go to Dr. Aivee Teo. If I have time, I hope to go back to running. Before the DOT, I used to do a running circuit workout two or three times a week, now wala na (no more). I've also started a keto vegetarian diet, I'm trying it now.
Name some women leaders whom you look up to as role models or inspiration?
My neighbor and batch mate Grace Poe. I've known her since I was 13 years old. What I like about Grace is that she has remained down to earth.
The other woman I most admire is my mom because it's not easy being married to a government official and yet she has stuck it out. She takes great care of our dad.
I saw Ben Chan and other business people at the launch. I heard you've partnered with the private sector to help promote Philippine tourism?
Yes, we at the DOT are grateful for the support of the private sector like Cebu Pacific Air under Lance Gokongwei, Philippine Airlines under Jimmy Bautista. Even Air Asia is helping. Tony Tan Caktiong's Jollibee will help promote Filipino foods all over the country. Ben Chan is planning to launch his Bench summer ads promoting different places in the Philippines. His brother Carlos Chan of Oishi will also help promote Philippine tourism in China and Vietnam. Hertz is also helping us. I've also met with Dusit hotels, they're investing in several new projects.
Any message to the public on your new DOT campaign?
I encourage people to help post on social media with the hashtag #ItsMoreFunInThePhilippines. I want them to be part of the fun. This campaign is 100 percent crowd-sourced. It's not me or the DOT telling the whole world how beautiful the Philippines is but your pictures, so it's more fun!
Our campaign will use photos, videos and reviews of Filipinos and foreigners in posters and other marketing materials. Instead of paying each person, the DOT will make a $10 donation under each user's name to the World Wide Fund for Nature.
The good news is tourism now already accounts for 12.2 percent of our economy or the GDP and it employs five million people, our NTDP goal was to climb only 10 percent by year 2022. In domestic tourism, our goal was also to have P86 million by 2022, but we're now already at P96 million, so we have to recalibrate.
Another message for our people: Let us help President Duterte realize his vision of clean and sustainable tourism. When we take care of our environment, may forever sa tourism (there's forever tourism).
Wilson Lee Flores' writings appear with permission on GoodNewsPilipinas.com Mondays.
(Wilson Lee Flores is a multiple award-winning writer, journalist, Kamuning Bakery artisanal breads savior, and Pandesal Forum moderator. This column was previously posted on his column in the Philippine Star. His "KuwentongPanadero" inspiring stories are found on Pilipino STAR Ngayon. Follow @wilsonleeflores on Instagram, Twitter, and Facebook)
Facebook Comments