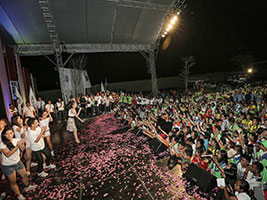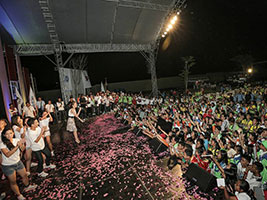 Student journalists from Team CALABARZON brought home the over-all championship award at the 2015 National Schools Press Conference (NSPC).
Campus press representatives from the provinces of Cavite, Laguna, Batangas, Rizal, and Quezon surpassed other regions to retain the best performing region standing for the second straight year.
In the English language division, CALABARZON elementary team took 1st places in Science and Health Writing, and Sports Writing.
In the High School level for both English and Filipino divisions, the team from Southern Tagalog region was also ranked 1st for Feature Writing, Copy Reading and Headline Writing, Editorial Cartooning, and Photo Journalism. The team also placed 2nd and 3rd in Radio Broadcasting.
The National Schools Press Conference (NSPC) is the biggest journalism competition in the Philippines both for public and private schools in elementary and secondary level. The whole contest starts with the competition of schools within their own district. The top students for every category then qualify to compete in the Divisions Schools Press Conference (DSPC). Student journalists who top in the division move on to join the Regional Schools Press Conference (RSPC) where they will have to outshine other RSPC qualified students coming from other regions. Student journalists who pass the qualifications of the RSPC compete in the NSPC.
Facebook Comments