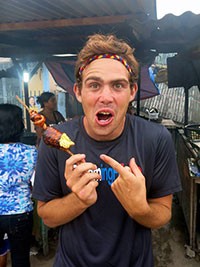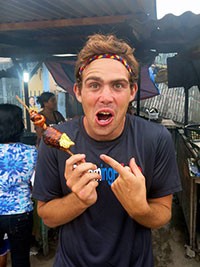 Many travel bloggers and foreigners alike have remarked at the beauty of the Philippines and its unique culture. But have you ever met one who fell so completely in love with the country that he now wants to become a true-blue Filipino?
Meet "Pinoy at heart" Kyle Douglas Jennermann of Kulas of Becoming Filipino, a Canadian national who, in 2013 spent two-and-a-half months in the country. Before coming to the Philippines, Kulas was working in Hong Kong – and then Super Typhoon Yolanda struck, devastating Tacloban City and other parts of the Visayas.
"I was with Filipinos at that time in Hong Kong and seeing the way it affected them, I just wanted to do something," he says.
He decided to quit his job and flew to Cagayan de Oro where he ended up packing relief at a Red Cross station. He went to Tacloban about two weeks after the typhoon on a relief mission. Afterwards, he set up OneTacloban described as no "red tape, no politics, no bulls" with his Filipino friends. It was able to raise P500,000 in donations and helped in reopening up a school for children.
He now currently resides in Cagayan de Oro which is also where he became known by a Pinoy nickname, Kulas. He runs a blog, #BecomingFilipino, where he documents his experiences and his journey to become a Filipino. He describes his blog as "the journey of a 26 year old Canadian trying to 'Become Filipino.' Simply put, I am not Filipino. I don't have a Filipino passport and it would be almost impossible for me to get one. Truth is I will never be able to say 'I am Filipino'."
He's been delighting social media as he blogs about himself eating balut, singing the crab song in Tagalog, and riding a carabao, to basically just trying all the things that make up the unique Filipino culture. He also says he needs proud Pinoys to help him with creating a list, but not just any list, a list that will help him in #BecomingFilipino. If you're interested in helping him, you can reach him in his blog, #BecomingFilipino or his Facebook page, Becoming Filipino.
It's inspiring to learn of someone who can look beyond the tough challenges the Philippines is facing, and wholeheartedly want to become a part of the country. Maybe that is also because it's just more fun in the Philippines. This Canadian blogger is sure one proud Pinoy at heart. How about you? Are you a proud Pinoy?
(This story is a part of the GoodNewsPilipinas.com series on Foreign Bloggers who Love the Philippines. – The GNP Editor)
Facebook Comments